Save 20 hours of work per month – Human Resources
Saving 20 hours of work per month by automating some of the internal processes of your human resources department (such as payroll management or vacations within the template) can be very simple. By optimizing your time you can dedicate more resources to improve the work environment, deal with employees and help them grow within the company.
If you are the person in charge of the human resources in your company, surely you will know that every month some same tasks consume a lot of time. Review documents, update the holiday excel, payroll, update the organization chart … many of these tasks do not add any value to the employee and do not improve their conditions within the company. Following these easy tips you can save more than 20 hours of work per month. Isn't that worth it?
How to save 20 hours of work per month while managing the human resources of your company
Excel works well and has been useful all these years … but it's time to let it go. Unless you are an excel guru,you will probably be investing more time than you should on time off management. Excel functionalities are limited and it does not have a simple nor friendly interface.
Factorial is an HR software that manage employee absences that simplifies the process of time off requests, saving you a lot of time. We are the first human resources software that offers this premium functionality for every company.
The operation is simple, the worker initiates a session in the employee portal of Factorial, chooses the dates in the calendar and sends the request for absence through the platform. In this way, the person who controls the absences receives a notification and can decide whether to approve or reject the request. Automatically the employee will receive a message with the decision of the person in charge.
Upload everything to the cloud
Storing the entire template on the same computer is risky and not safe. The chance of losing everything in case the computer is lost or damaged is high and implies a big responsibility for the company. In addition, by relying on only one device, people management will be complicated and hindered. Imagine having a copy of everything accessible from any device at any time and protected at all times. Factorial's cloud software is much more efficient and secure.
Use a software created for HR managers
When you do not have to figure out things, everything is much easier. What's the point of creating complex formulas, columns and cells when there is already a software that has been specially designed to solve in detail all the needs of HR managers? By creating processes and systems for your company you are consuming a large amount of time and resources.
The worst thing about an organizational chart is not the time you spend to create it, it's keep it updated. In companies with large turnover rates it can be complicated to keep the organization chart updated taking into account all the other tasks that needs to be done. The reality is that it ends up being the last priority of the HR department. In conclusion a significant loss of time.
This is where our smart human resources software can be useful. For Factorial it's very easy to read the names and positions of the employees who join or leave the company and automatically readjust the organization chart so that it is kept up-to-date.
Obtaining reliable data that allows you to support a decision or a proposal from the human resources department to company managers is not always easy. Depending on the HR software you choose, you will find an incredible data source. In Factorial you can automatically run HR reports.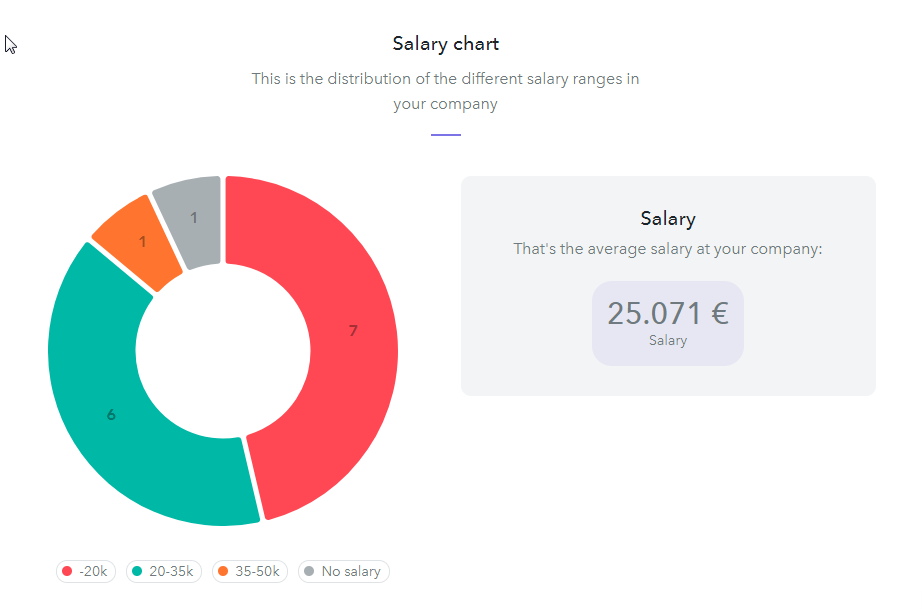 Reports of age, gender, average salary, seniority, staff turnover or absenteeism are some of those that you can obtain in just one click.
If you want a program that can automate for you all the heavy work start using Factorial now and save 20 hours of work per month.