According to a report by the Human Capital Institute, 20% of employee turnover happens within 45 days. This figure suggests that the process of onboarding new employees is a critical factor in retaining newly recruited talent: first impressions matter. And a major aspect influencing how effectively you pave the way for happy and productive employees is the quality of your onboarding documents.
In this guide, we will discuss what onboarding paperwork is and which documents you need to provide your new starters with when they join your company. We will also look at how to write onboarding documents and share a sample onboarding document template. You can use this as a checklist to help you guide your new employees on a path to success.
What are Onboarding Documents?
Let's start at the beginning: what is onboarding? And what is the difference between onboarding vs. orientation?
Employee onboarding is the process of integrating new hires into the company. In contrast, orientation is more about showing new starters where the break room is and where different departments are located. When done well, onboarding helps new hires feel welcomed and integrated, leading to job satisfaction which, in turn, results in increased employee engagement. Proper onboarding also leads to less turnover, higher employee motivation, and increased production.
A crucial component of the offline or digital onboarding process is the quality of onboarding documents you give your new starters on their first day working for you. These are the documents that new employees need to review and sign when they first join your business. These papers range from government forms to records specific to their role and to your business. Aside from legal requirements, the right onboarding paperwork will help new hires get off on the right foot and blend into your company culture.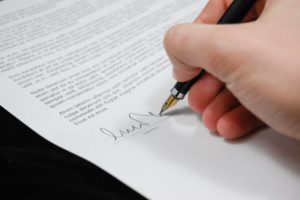 Documents Required for Onboarding
There is a range of onboarding documents that you need to provide new employees when they first join your company. Some are legal requirements; others relate to your company's policies and procedures. Others again are relevant to the role an employee will be undertaking. Generally speaking, though, they can be broken down into four categories of HR onboarding forms:
Legal forms
Job-specific documents
Company-specific documents
Payroll and benefits documents
Let's break these down.
Here are the 8 must-have onboarding documents for new hires.
W-4 Form
Let's start with the legal documents.
The first thing you need to get your new hires to sign is a W-4 form. This is a tax document required in the United States for all new hires. The IRS uses it to determine how much pay should be withheld for taxes on every paycheck. You can download this directly from the IRS website. All new hires must complete the W-4 form before they can receive their first paycheck.
Unless you are in one of the nine states that do not have income tax, employees will also need to complete a State Withholding Certificate. This is required so that state taxes can be paid where appropriate.
I-9 Form
The other legally required form you need to include in your welcome kit is the I-9 form. This is an employment eligibility form, and it must be completed and returned to you within 3 days of an employee's start date.
As an employer, it is up to you to verify that your hire can legally work based on their citizenship, visa, resident, and immigration status. If you don't, you could end up with serious fines and penalties. You do not need to submit the employment I-9 form or officially verify documents. However, will need to produce them if an immigration officer requests employee documents.
Employment Offer Letter
Now let's move on to non-essential but arguably vital onboarding documents for new employees. The first of these is your employment offer letter. This is your official offer of employment, and it should list the following important details:
Job title
Job description
Start date
Starting salary
Direct manager
Benefits eligibility
Any contingencies, such as passing a drug test and/or background check
The employee must sign a copy of the letter to officially accept the position and the terms contained in it.
Employment Contract
Following on from the offer letter, you also need to provide new hires with an employment contract. This is a written agreement relating to their roles and responsibilities.
An employment contract can include any of the following:
General position responsibilities
Wage or salary
Employment duration
Benefits
Non-compete or non-disclosure agreements (not required but recommended to protect your intellectual property, systems, and processes).
Emergency Contact Info
You should also include a document requesting emergency contact information for at least two individuals who you could call if an accident or emergency were to happen. You should ask for names, phone numbers, and email addresses.
Employee Handbook
The next step is providing all the onboarding documents employees will need in order to understand and agree to your internal policies and procedures. This includes dress code, policies, company values, code of conduct, etc., and should be included in an employee handbook.
Your employee handbook should also include information about your company's mission statement. This includes your goals, your overall purpose, and how you intend to get there (your strategic plan). This may vary by department.
Make sure you include detailed information about your company's time-off policy so that there's no confusion later down the line. This includes procedures for requesting PTO, vacation hours, sick days, jury duty, etc.
Employees must sign an acceptance form so that you have written proof that they agree to comply with all your policies and procedures.
Organizational Chart
You also want new hires to understand the structure of your company and how they fit in from day one. The best way to do this is by providing them with a copy of your organizational chart. An organizational chart is a diagram that visually conveys a company's internal structure by detailing the roles, responsibilities, and relationships between individuals within an entity. This will help them understand who they report to and who reports to them.
Payroll and Benefits
The final vital form you need to include in your onboarding documents welcome kit relates to payroll and benefits.
Firstly, you need to collect all relevant data so that you can pay your new employees. For example, if your company offers direct deposit as a way of delivering paychecks, you need to provide new hires with a direct deposit form. This document collects bank account details for processing payments, and it is the most efficient way to ensure new employees are paid on time from their first paycheck.
You should also consider including a benefits brochure to introduce new starters to any additional compensation schemes that are available to them. This might include medical insurance, career advancement opportunities, or retirement plans, amongst other benefits.

How to Write Your Onboarding Documents
Your onboarding documents represent one of the first impressions a new starter will get of your company. This is why it is important to create a well-organized onboarding paperwork process. It will help new employees understand what's expected of them and how they fit into the overall structure of your company. It will also help them feel comfortable and appreciated right from the start. In other words, it will set them off on the right foot for a productive employee lifecycle, right up until they reach your final offboarding process.
There are a number of onboarding best practices you should keep in mind when you write your onboarding documents and design your onboarding paperwork process
Firstly, your onboarding process should include a mixture of actionable tasks the employee needs to sign, read, and do. Try to make it as interactive as possible.
Secondly, make sure you include documentation about your company culture and norms.
Also, make sure to include team-specific resources that your new employee might need.
Help new hires settle in by including a glossary of company jargon and a who's who cheat sheet.
Make the stressful onboarding experience more navigable by pairing your new hire up with a buddy: a more-experienced team member who can show them the ropes.
Consider using a document management system like Factorial HR to handle your entire onboarding process. You can make a number of savings with HR onboarding software, plus it makes the whole process much more streamlined, automated and efficient.
Most importantly, make sure you create and use an onboarding document checklist to ensure all new starters are provided with all vital documents in their welcome kit.
Sample Onboarding Documents Template
Let's finish by discussing the importance of using an onboarding document checklist to make sure your welcome kits include all the important information. This will guide your new employees and help them transition into your company and their roles much faster.
Aside from the new hire onboarding paperwork we have already discussed, your onboarding checklist should also include information on:
New employee orientation
Introduction to company culture, mission and values
Role of the employee
Goal setting
Job training
Dates for check-ins
Meetings with other employees or superiors
Finally, if you're not sure where to start with your checklist, why not take a look at our sample onboarding checklist? You can use this free template to track each stage of your onboarding process. It covers everything from publishing job offers to preparing your onboarding documents and welcome kits. This will help you welcome your new starters and help them quickly transition into the newest productive and motivated members of your team.