It is important and enjoyable to stay informed as well as inspired.
It's time to get into the realm of HR podcasts – your relaxed guide to the latest in this field. I would like you to imagine that you are drinking your favorite coffee while experts and thought leaders share their insights right into your ears.
The purpose of this article is to provide you with a list of HR podcasts that we think are not only informative but also engaging.
From the future of work to building better workplace cultures, they cover everything. These podcasts are perfect for your morning commute or a leisurely afternoon break.
TABLE OF CONTENTS

HR Works: The Podcast for Human Resources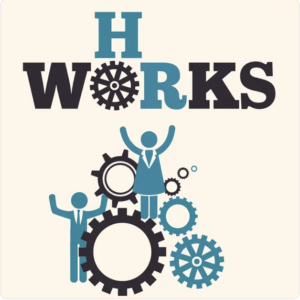 ⭐️⭐️⭐️⭐️⭐️
"HR Works: The Podcast for Human Resources" is designed to provide clear, relevant, and actionable information on topics that matter to HR professionals. The podcast is part of the HR Daily Advisor​​.
Three episodes here:
HR Works Podcast Presents Pages of HR: How to Deal with Ageism in the Workplace (Part II)  – Features Patti Temple Rocks discussing ageism in the workplace and steps to create an anti-ageism organization​​.
HR Works Podcast 264: From IC to Manager – Setting Your Newest Leaders Up for Success – Dr. Trish Holliday discusses challenges and skill gaps for new managers transitioning from individual contributors to leadership roles​​.
HR Work Break: What Is 'Tethered Nomading?' – Explores the concept of 'tethered nomading' with Audra Nichols, discussing the importance of flexible work in the context of a return to office settings​​.
Digital HR Leaders with David Green
⭐️⭐️⭐️⭐️⭐️
The "Digital HR Leaders with David Green" podcast series features host David Green speaking with senior HR leaders who are driving a data-driven and digital HR agenda. The podcast emphasizes the need for HR professionals to become more digitally and numerically literate, focusing on skills necessary to process, produce, and leverage digital information to create business value. The discussions revolve around how HR can prepare for the future and what HR leaders need to do to be ready for the Future of Work​​.
David Green, the creator and host of the podcast, facilitates conversations with various experts and thought leaders in the field of HR, offering insights and strategies for transforming HR practices in line with digital advancements and the evolving workforce landscape​​​​.
Three episodes here:
Nestlé's 4B Methodology to Strategic Workforce Planning (an Interview with Alex Browne): This episode dives into the strategies of strategic workforce planning at Nestlé, highlighting their "4B methodology" and discussing the role of technology and skills anticipation in HR​​.
Unmasking Common Myths Around Remote Work (an Interview with Nick Bloom): This episode features a conversation with Nick Bloom, exploring the evolution of remote work, its impact during the pandemic, and common myths and misconceptions about remote and hybrid work​​.
How to Democratise Strategic Workforce Planning (an Interview with Alicia Roach & Chris Hare): In this episode, David Green discusses the democratization of strategic workforce planning with Alicia Roach and Chris Hare, focusing on the latest HR tech developments and strategies for effective workforce planning​​.
Bringing the Human back to Human Resources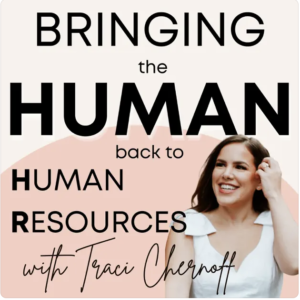 ⭐️⭐️⭐️⭐️⭐️
"Bringing the Human back to Human Resources" is a podcast hosted by Traci Chernoff, a Senior Director of Employee Engagement with 10 years of experience in critical HR leadership roles. The podcast focuses on the intersection of people and business, aiming to destigmatize perceptions of the HR field. It emphasizes the centrality of people in every business and explores how to balance human elements with business needs​​.
Three episodes here:
Double the Surprise: A Special Announcement: Traci shares a secret she's been keeping for the last nine months​​.
Raising Awareness for Foster Care and Adoption Benefits in the Workplace (feat. Rita Soronen): This episode features Rita Soronen discussing the importance of foster care and adoption benefits in the workplace​​.
Exploring the Power of Corporate Social Responsibility (feat. Joshua Driver): Features Joshua Driver, Founder of Selflessly, discussing the impact of corporate social responsibility programs​​.
Honest HR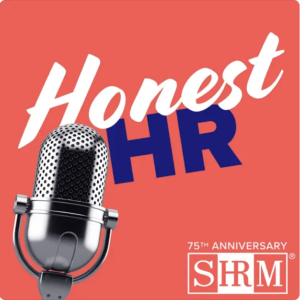 ⭐️⭐️⭐️⭐️⭐️
"Honest HR" is a podcast from the Society for Human Resource Management (SHRM), aimed at HR professionals, people managers, and team leads. The show is co-hosted by Amber Clayton, Wendy Fong, and Monique Akanbi, who engage in honest, forward-thinking conversations and share relatable stories from the workplace. The discussions challenge traditional practices in HR, promoting new perspectives and innovative approaches. By listening to this podcast, HR professionals can contribute to creating better workplaces and a better world. It is also approved to provide SHRM-CP/SCP recertification PDCs during qualifying episodes​​.
Three episodes here:
Marijuana in the Workplace: What's HR to Do?: Host Amber Clayton is joined by attorneys Dana Feinstein and Travis Nelson to discuss the evolving legal landscape and HR approaches to marijuana in the workplace, focusing on compliance, accommodation, and policy development​​.
Karl Ahlrichs on HR's Using AI Ethically and Responsibly: Host Wendy Fong talks with Karl Ahlrichs about the responsible and ethical use of AI in HR, including the development of critical thinking skills necessary for leveraging these technologies​​.
Kelly Hermann on Creating Accessible, Inclusive Workplaces for Employees with Disabilities: This episode features a discussion with Kelly Hermann on strategies for creating more accessible and inclusive workplaces, especially for employees with disabilities​​.
Redefining Work
⭐️⭐️⭐️⭐️⭐️
"Redefining Work" is a podcast that explores the evolving landscape of work. Hosted by Lars Schmidt, it features conversations with big thinkers and doers who are shaping the future of work. The podcast highlights mavericks, innovators, boundary-pushers, creators, builders, and convention crushers, providing real insights, experiences, and stories from business leaders worldwide. It's a conversational format podcast that delves into various aspects of the modern workplace and its future.
Three episodes here:
The Impact of GPTs on HR Explained: Discussing how Generative Pre-trained Transformers (GPTs) are revolutionizing Human Resources, including their applications in HR tasks and ethical considerations.
Working Toward Racial Equity With Dianna Langenburg and Debbie Green: An episode focusing on racial equity in the workplace, featuring insights from the W.K. Kellogg Foundation's Dianna Langenburg and Debbie Green.
Mastering HR Leadership in the New World of Work: Introducing a new course tailored for HR leaders to navigate the dynamic landscapes of modern workplaces.
Diagnosing The Workplace: Not Just An HR Podcast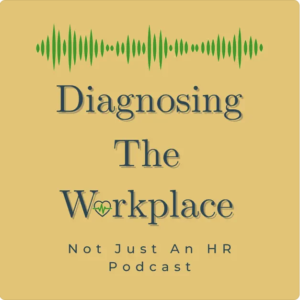 ⭐️⭐️⭐️⭐️⭐️
"Diagnosing The Workplace: Not Just An HR Podcast" is hosted by James and Coby from Roman 3. The podcast focuses on diagnosing issues and prescribing solutions to today's most important workplace challenges. It covers a range of topics relevant to HR management, organizational capacity building, and workforce development.
Three episodes here:
"How Can We Make Data-Driven People And Culture Decisions?": This episode emphasizes the importance of collecting the right data to inform People and Culture decisions and suggests thinking beyond surveys to gather valuable data.
"What Is The Cost Of Doing Nothing About Your Workplace Culture?": Discussing the hidden costs associated with typical workplace culture challenges and the concept of Labour Value Loss.
"Why Do Companies Default To Using Policies As Weapons?": Examining the common practice of using rules, standards, and policies as tools of control within organizations.
TalentCulture #WorkTrends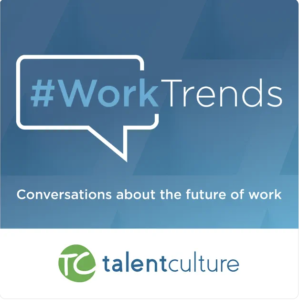 ⭐️⭐️⭐️⭐️⭐️
"TalentCulture #WorkTrends" is a podcast hosted by Meghan M. Biro, focusing on the changing landscape of work. The show features discussions with experts, HR tech vendors, and HR practitioners about what inspires them in the world of work. It offers insights into how work is evolving and helps listeners stay current with trends and developments in HR and workplace culture.
Three episodes here:
Creating & Maintaining a Positive Employee Experience: Thomas Kunjappu, CEO and Co-founder of Cleary, discusses how scaling companies can approach employee experience.
ENCORE: How Gamification Can Build Inclusive, High-Performing Teams: An encore presentation focusing on the potential of gamification to enhance team building and performance.
Trust in the Workplace: Featuring Daniel Callaghan, CEO of Veremark, this episode explores the importance of trust in the workplace and strategies for building it.
HR Happy Hour Network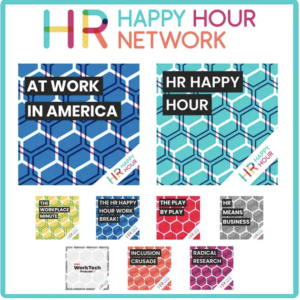 ⭐️⭐️⭐️⭐️⭐️
The "HR Happy Hour Network" podcast, hosted by Steve Boese, Co-Chair of the HR Technology Conference, and Trish McFarlane, CEO of H3 HR Advisors, focuses on human resources, management, leadership, and workforce technology. It is known as one of the longest-running and top downloaded HR podcasts.
Three episodes here:
HR's Role in Promoting Financial Wellness and Reducing Money Stigma: Discusses the stigma around financial wellbeing in the workplace and HR's role in addressing it.
UNLEASH Conversations: Exploring HR Meta Trends for 2024: A conversation examining HR trends for 2024 in workforce management and retention.
Innovation and Customer Success in HCM Technology: Focuses on advancements and innovations in HR technology.
DriveThruHR – HR Conversations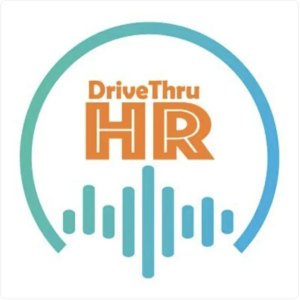 ⭐️⭐️⭐️⭐️⭐️
"DriveThruHR – HR Conversations" is a captivating and easy-to-digest podcast that covers a variety of topics relevant to HR professionals. The 30-minute shows feature discussions with guests and hosts on subjects like HR Technology, Recruiting, Talent Management, Leadership, Organizational Culture, and Strategic HR. The podcast is hosted by Mike VanDervort, Robin Schooling, Crystal Miller Lay, and Dwane Lay, offering an occasionally irreverent but always insightful take on HR-related topics.
Three episodes here:
"Avoiding the Dreaded Doom Loop with Andrew Shatte' of meQuilibrium": Discussing the impact of "doom loops" on employee and team productivity and how to prevent and break these cycles.
"Elevating the Employee Experience and Internal Comms w/ Carolyn Clark of Simpplr": Focusing on enhancing the employee experience and internal communications in the workplace.
"Jon Hyman and Michael VanDervort – Labor Relatedly Ep 16": A discussion on various labor relations topics, including recent negotiation outcomes and new rules in the field.
Nine To Thrive HR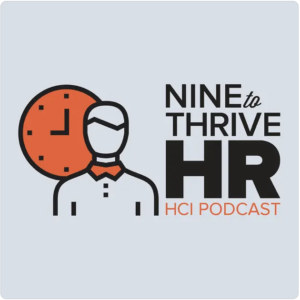 ⭐️⭐️⭐️⭐️⭐️
"Nine To Thrive HR" is a podcast by HCI Podcasts that provides fresh content for solving human capital issues. It is designed for those who seek insights but have limited time. The podcast features leading HR practitioners from Fortune 1000 companies, thought leaders, authors, and academics covering a broad range of topics from talent acquisition and analytics to engagement, retention, and development.
Three episodes here:
Supplement Human Capabilities: AI's Role in HR Transformation: Discusses AI as a collaborative tool with human capabilities, focusing on leveraging AI for personalized employee experiences and the impact of AI on HR.
Emotional Regulation: The Real Deal with Jen Hope: An insightful conversation on the importance of emotional regulation in leadership development and the practice of self-compassion.
Unlocking the Power of Workplace Listening: Explores effective listening in the workplace, offering tips to improve listening skills and achieve better communication balance.