The benefits of an efficient onboarding process can be felt well beyond a new hire's first weeks. During onboarding, businesses intake vital employee data and set expectations that directly influence the success new employees will have in the company.
Studies show that while onboarding is key to improving retention, few employees are satisfied with the onboarding process. With HR Onboarding Software, both employees and employers benefit from a streamlined system that not only saves time and money but also makes a great first impression.
In this post, we'll discuss the onboarding tools that can help your business reduce paperwork and tedium. With HR Employee Onboarding Software, new hires will quickly feel at home— and ready to get to work.
---
Why is HR Onboarding Software so important?
HR Onboarding Software has revolutionized hiring. Manual onboarding with paper forms is slow-going, with stacks of paperwork, white-out, sticky notes, and terrible handwriting. HR managers are left to decipher these documents, input data into various systems, and then file everything for future use. Costly mistakes are hard to spot and any sloppiness will haunt the business down the line.
Additionally, from the perspective of new hires, antiquated pen-and-paper systems are unprofessional. Your employees probably prefer to save time and energy by doing things online. That way, they can easily review their forms and modify mistakes on their own. Software not only boosts productivity, it also increases employee engagement and helps new hires to feel more informed.
HR employee onboarding software improves the experience for both employees and employers. With specialized tools like automated workflows, centralized filing, and easily-accessible training materials, software limits costs and maximizes efficiency.
The Rise of Employee Self Onboarding
Onboarding is a very important process but it can be costly. There are not only hard costs, such as the paper and ink used for forms and training materials, but there are also lost labor costs for both HR managers and new hires. Many businesses are currently looking toward employee self onboarding as a way to provide a top-of-the-line onboarding experience at a fraction of the cost.
HR Onboarding Software creates an automated workflow, which directs a new hire from one task to the next. Once employees fill out the correct forms, the relevant information is sent to the departments that need it. Detail, for example, about benefits, PTO tracking, or overtime is available through the platform. That means HR spends less time spent answering redundant questions. Onboarding becomes employee self-service.
This certainly saves the HR department time. Imagine that at this company, an HR manager makes $50,000/year which is about $24/hour. Every hour that spent stacking forms, directing questions, and filing paperwork is an hour not spent on other more pressing tasks. For example, maybe an HR professional usually spends 10 hours onboarding a new employee. With software, they only need to spend 2. That's a full 8 hours saved: $192/new hire. Now multiply that by every new hire. If a small business hires 10 people a year, the savings could be around $1,920/year.
Calculating the ROI of HR Employee Onboarding Software
In order to determine how much HR employee onboarding software can save your business, let's break down the onboarding process into parts. What are the snags your HR team may be getting caught on? Where is the most money being spent? Let's look at the numbers.
Preparing New Employee Paperwork
When it's time for a new hire to join the team, it is up to the HR department to send over the contract and paperwork to get things moving. Analog contracts involve printing costs, mailing costs, and valuable work hours lost to paper shuffling. HR will also need to review employment paperwork for legibility and completion and get everything filed away for future reference.
HR onboarding software can get rid of the hassle of paper contracts and mail! With electronic signature capabilities, employees will be able to sign contracts digitally. Once countersigned and reviewed, the contract is stored in a centralized document manager.
Assemble, Route, and Approve New Employee Paperwork
Contracts are only the first step! Employees must also fill out federal I-9 forms and W4s, along with state tax information. Depending on the field, new hires may have to submit background checks or drug testing information. They'll also need to organize direct deposit information, emergency contact forms, and workplace policy acknowledgment forms.
HR will also need to send requests to IT, payroll, and organize equipment provisions. Usually, they'll have to review each piece of paperwork and make sure that any necessary information is forwarded to the relevant departments. However, with automatic workflows, employees go from one document to the next without HR's oversight. There are fewer mistakes.
HR spends a lot of time managing paperwork, but new hires spend a lot of time filling it out! Many forms may ask for the same information over and over again. Employees giving their information online will be able to work much faster than those writing by hand. Multiply those time-saving per hire, per year and you start to see a big difference.
Digital information is also easier to archive! New hires will like the autonomy of being able to review their information online through the employee portal. Meanwhile, HR will appreciate the easy-to-navigate employee database. Bonus: not bogging employees down in mountains of paperwork can have positive effects on their satisfaction!
Time to Productivity Costs
One of the most expensive parts of hiring is the time it takes for a new employee to get adjusted, up-to-speed, and down-to-business. Some studies show that it can take up to a week for new hires to start working productively! HR employee onboarding software can significantly cut down on this time. It not only speeds along the paperwork process, but it can also give employees direct access to training materials, so they can become familiar with important people, places, and ideas.
With efficient onboarding through software, employees will be ready and eager to contribute faster than ever before.
Manual vs. Digital Onboarding: Cost Analysis
Here, we've compiled your savings into a hand chart. Using a Taleo Research White Paper and data from iCims, and CPS HR Consulting, we've estimated the hours HR spends on different tasks. Guessing, for the sake of simplicity, that both the HR professional and the new hire receive $24/hour, we've included a breakdown of hourly costs of onboarding.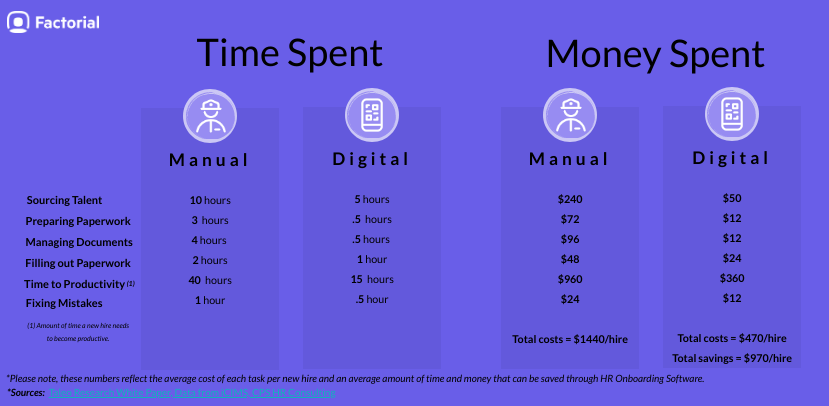 Best Employee Onboarding Software for Small Business
The data speaks for itself! In short, investing in HR onboarding software is a good bet for your business. How can you find the best onboarding software in 2023?
We recommend you look for something which offers all the most important capabilities. You need a document manager, automatic workflows, electronic signature capabilities, and an employee portal. You need an onboarding software that will integrate with the rest of your HR processes– everything from payroll variations to time off management. This might sound like a lot to ask of one little software, but don't worry! The best HR onboarding software is closer than you think.
Written by Valerie Slaughter