HR Reports and Analytics
Did you know that HR reports and analytics can significantly help your business grow?
In this article, you will find a comprehensive guide to the 7 Best HR Reports & Analytics Software for 2023.
TABLE OF CONTENTS
1. Factorial: Comprehensive HR Management Software that includes HR Reports & Analytics.
Factorial HR Reports & Analytics ⭐️⭐️⭐️⭐️⭐️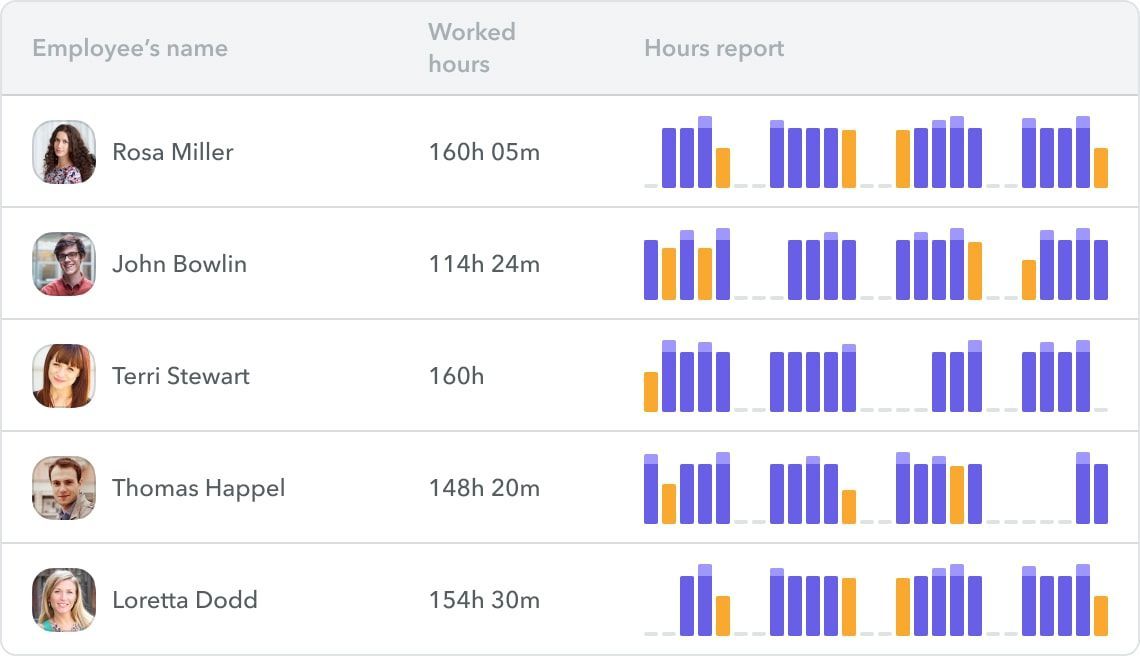 Factorial's HR Reporting and Analytics feature helps you gain valuable insight into your workforce and business performance by generating custom reports, visualizing data, and leveraging analytics.
By using Factorial's HR Reports Software, you will gain inspiring knowledge, and useful data that will help you stay for the long-term.
These, specifically, are the 3 ways Factorial's HR Reports and Analytics feature will help you optimize your performance:
Generating Custom Reports: Factorial will allow you to create custom reports using data from your Factorial account.
Visualizing Data: Factorial offers different visualization formats, including predefined reports, galleries, and customizable dashboards.
Utilizing Analytics for Decision-Making: By utilizing analytics capabilities within Factorial's HR Reports and Analytics feature, your leaders will gain deeper insights into ERG dynamics and identify patterns or trends.
Click here to try our Factorial's HR Reports Software for 14 days!

PROS
✅ Generate custom reports.
✅ It offers HR Reports for performance management and comes with an analytics panel.
✅ It tracks your employees' time-off data.
✅ Manage your company's time and attendance data.
✅ Centralize surveys and performance evaluations on a single platform.
CONS
❌ Factorial is exclusively designed for small and medium-sized businesses, although soon it will be accessible to larger enterprises.
❌ The platform boasts a user-friendly and intuitive interface. However, in certain cases, especially when integrating with external APIs, it might be necessary to contact support.
2. Paycor: HR analytics software for analyzing employee engagement and retention
Paycor HR Report & Analytics ⭐️⭐️⭐️⭐️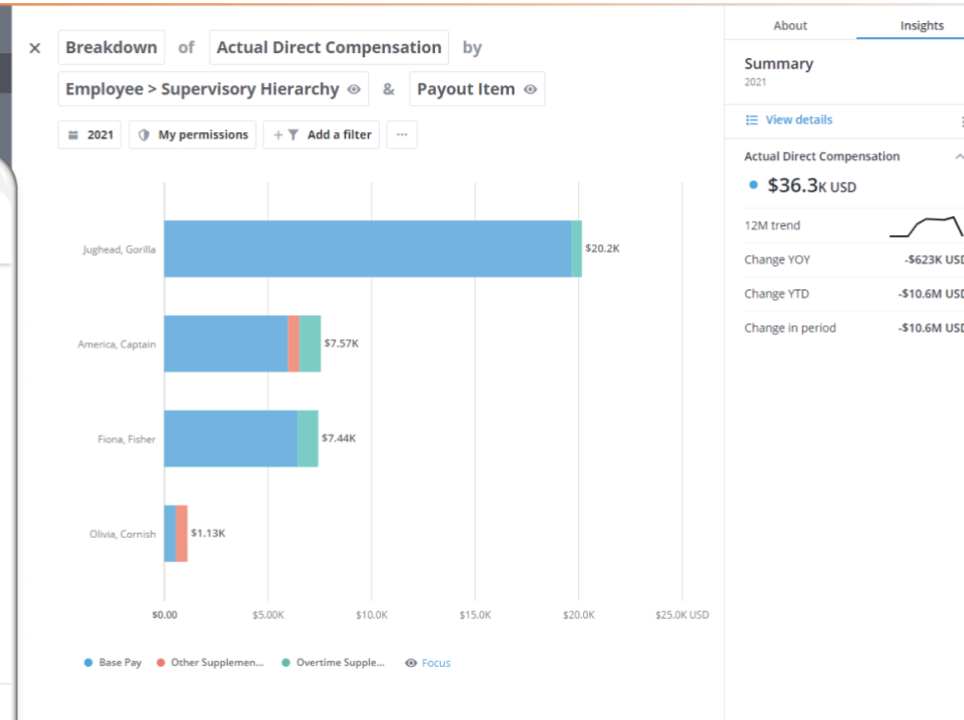 Paycor is a comprehensive system for managing human capital that includes a robust HR analytics component. By utilizing data from payroll, attendance, and benefits, Paycor's HR analytics module offers valuable insights into workforce patterns. These insights can be leveraged to enhance HR decision-making, pinpoint training and development requirements, and monitor employee involvement.
Paycor provides a range of visualization tools designed to simplify complex data. Users can readily identify trends, compare performance against benchmarks, and make well-informed decisions regarding their HR strategies. These visualization tools enable data sharing in a format that is easily comprehensible and digestible for colleagues and decision-makers.
PROS 
✅ It integrates well with the payroll software. Makes processing payroll much more efficient than manually.
✅ It's simple to see new company memos and clock in/out on Paycor.
✅ From a payroll processing point of view it is very easy for a small company.
CONS
❌ The user interface of the platform is less intuitive compared to other systems, and there have been numerous instances where users were unexpectedly logged out before they could clock in or access specific features of their account due to technical issues.
❌ The company's customer support appears to be consistently overwhelmed. It is challenging to reach a dedicated customer service representative as they are occupied attending to a large number of clients.
❌ Despite appearing to be an all-in-one software, the features are not well integrated and do not work as expected.
3. Crunchr People Analytics: Best comprehensive data integration
Crunchr HR Report & Analytics ⭐️⭐️⭐️⭐️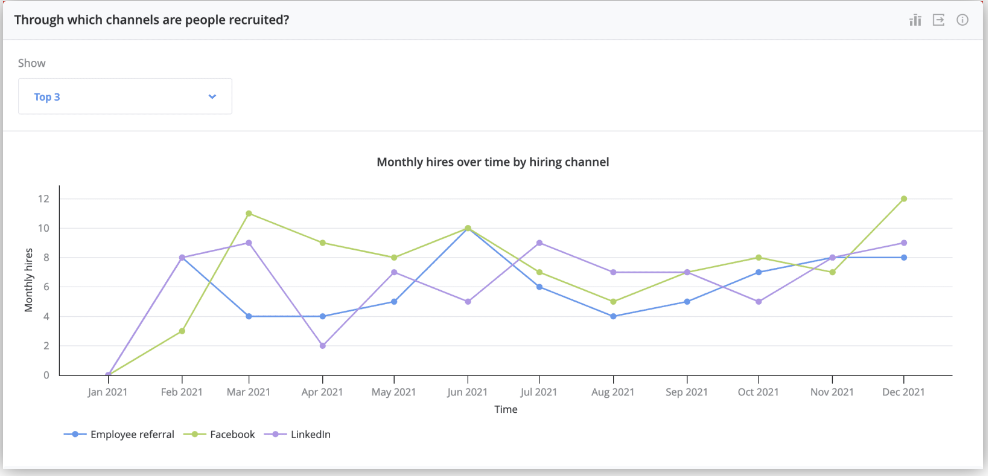 HR data is often dispersed across various software platforms, posing challenges for businesses to obtain a comprehensive overview. Crunchr People Analytics streamlines HR data from multiple systems such as applicant tracking, HRIS, and payroll software into a single, user-friendly analytics platform. This consolidation simplifies the analysis process and enables the extraction of valuable insights.
Crunchr offers a wide range of pre-designed dashboards, ensuring that new users can quickly adapt to the software. These HR analytics dashboards are also fully customizable, empowering users to create personalized displays that highlight the information most pertinent to their specific requirements. 
PROS
✅ Analyzes data across the organization to create employee profiles.
✅ Develops data models that are clear, easy to understand, and useful for decision-making.
✅ Using dashboards to meet retention and diversity goals is a must.
CONS
❌ The pricing information for the product/service is not readily available on the website, making it difficult for potential customers to access transparent pricing details.
❌ The user-friendliness of the product/service is limited, indicating that it may not be as intuitive or easy to navigate compared to other options.
❌ The modules beyond Workforce and Stories are not as developed or refined in terms of their functionality and features.
4. Trackstar: Software for competitive benchmarking capabilities
Trackstar HR Report & Analytics ⭐️⭐️⭐️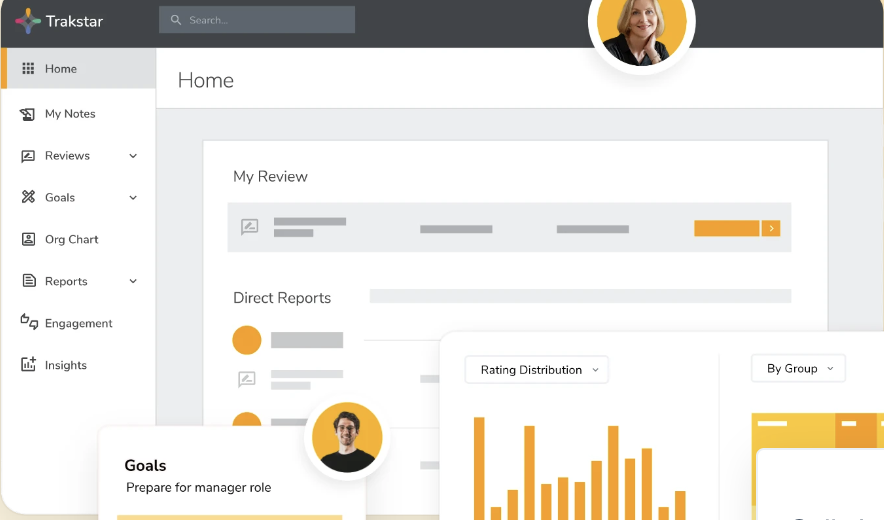 Using Trakstar's cloud-based HR platform, workforce analytics are seamlessly integrated with performance management, learning management, and applicant tracking. Trakstar lets you gain insights into employee performance, training and development initiatives, and hiring efficiency.
The decision to select Trakstar stems from its ability to facilitate the monitoring of employee engagement, performance metrics, indicators of company culture, employee turnover rates, and other potential risks. With access to such data, you can make informed strategic decisions to enhance your organization. Trakstar's robust filtering capabilities and customizable reporting options allow for swift identification of trends and gaps, comparison of data over time, and the creation of targeted action plans.
PROS
✅ The appraisal is one process that stays open all year long. One can continuously make notes and track progress.
✅ Ability to receive timely feedback from employers, as well as see a list of employee goals to be always reminded of priorities.
CONS
❌ Clunky User Experience: Some users have reported that Trakstar initially felt clunky and difficult to navigate, resulting in a less-than-smooth user experience.
❌ Lack of All-in-One Solution: Trakstar is not an all-in-one solution for HR, payroll, and performance management.
❌ Limited Personal Customer Service: Customers found the customer service experience lacking as it primarily relied on phone communication and remote support.
❌ Lack of Mid-Year Review Functionality: Trakstar lacks the capability to conduct mid-year or quarterly reviews, limiting the ability to provide timely feedback and keep employees on track throughout the year.
5. Visier: Best for actionable insights
Visier HR Report & Analytics ⭐️⭐️⭐️⭐️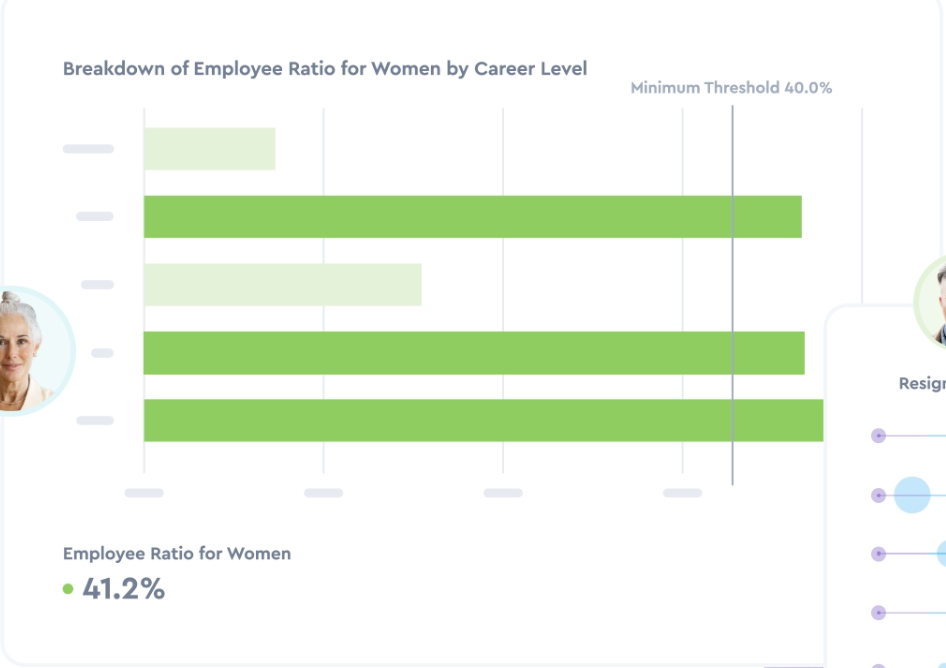 Visier is a people analytics platform that uses AI to analyze HR data and provide actionable insights and recommendations. The platform offers a wide range of analytics tools that address various HR concerns. One of the most relevant tools is predictive analytics. This can analyze an employee's risk of exit by analyzing HR and payroll data along with the last two years of history.
This allows managers to get ahead of the issue and work harder to retain at-risk employees. Visier can also create career roadmaps that suggest potential future paths for employees based on their internal job history. This facilitates workforce planning and advancement conversations.
Finally, Visier offers a simple, powerful, cost-effective package called Visier People Essentials, which helps businesses move the needle on their top workforce challenges.
PROS
✅ It is used to hire the right employees. In fact, it provides valuable information and answers many questions.
✅ Individual performance can be shown, making problems easier to spot.
✅ Communication with the other departments is instantaneous, and reports are clear and easy to understand.
CONS
❌ The mobile application needs a lot of work to reach the level of the computer software.
❌ Since it is a web-based application, some of its features may be delayed if the internet connection is low.
❌ According to some users, there is no provision for storing significant documents within the application. In addition, there is no provision for creating a secure backup of internal data within the application.
6. Deel: Platform for analyzing a distributed workforce.
Deel HR Report & Analytics ⭐️⭐️⭐️⭐️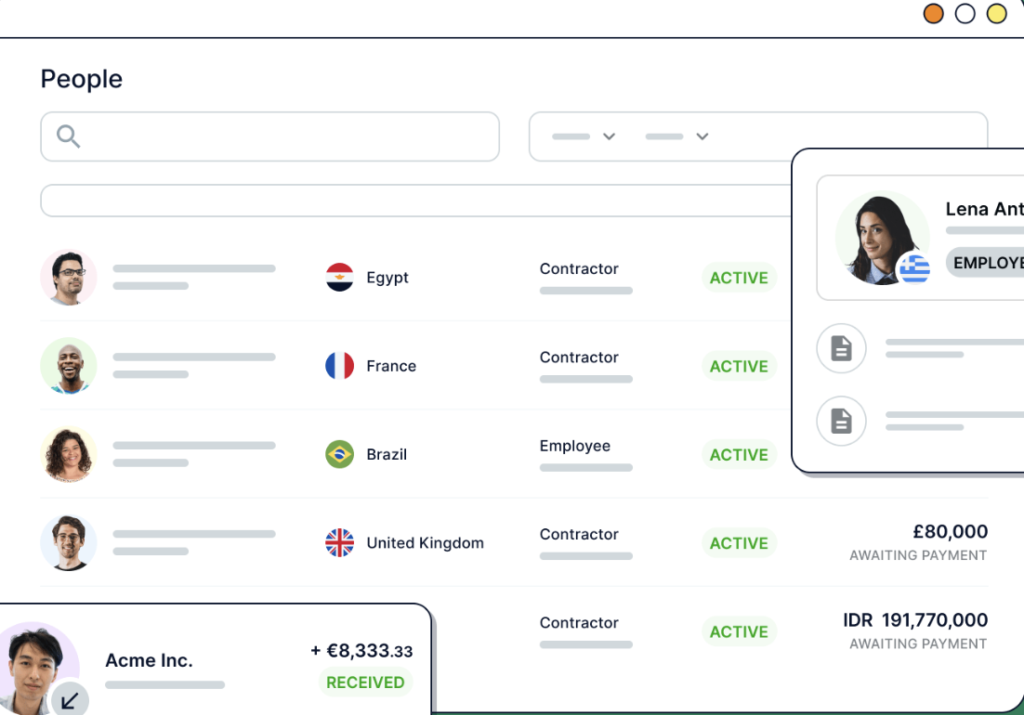 Through Deel, you can hire contractors in 150 different countries without worrying about local laws, complicated tax systems, or international payroll issues. As your human resources department performs, you will be able to track workers and equipment.
This platform simplifies HR for teams with contractors and employees across the globe. Its analytics features can help you understand global costs and anticipate compensation increases.
Deal has added several new features over the past year, including integrated Slack tools and global payroll. By using Slack plugins, your organization will have a transparent organizational chart, self-service PTO management, and referral tracking. Their UI is intuitive and easy to use, with actionable reports that help you decide where resources should be allocated.
PROS
✅ It offers seamless compliance and management in over 150 countries. This makes it easy to hire talent from around the world without setting up foreign entities.
✅ Customer support is usually available within minutes.
✅ Deel documents well its processes. You can find a lot of information on how to use it.
CONS
❌ There is sometimes a clunky user interface. Deel constantly updates their platform.
❌ Pricing might be expensive.
❌ Software bugs are occasionally encountered. Teams outside of the customer service department are not as helpful as the customer service department.
7. Niikiis: HR data for analysis digitalizing the entire employee cycle.
Niikiis HR Report & Analytics ⭐️⭐️⭐️⭐️

As a cloud-based, all-in-one HR application, Niikiis helps SMEs acquire all the HR data they need for analysis, digitizing the entire employee lifecycle in the process. HR managers can create custom reports with visual charts using Niikiis, including attendance, absences, productivity, etc. By making informed decisions and storing all data in a single location, you can reduce turnover, ensure wellbeing, and meet all legal obligations.
PROS
✅ Niikiis allows companies to easily track their users and business metrics by conducting sublibraries from their employees.
✅ Niikiis is easy to use and allows HR managers to have all the information in one place.
✅ Low cost.
CONS
❌ It is sometimes the case that the tool's development and evolution do not follow the same pace as the company's needs.
❌ Nikkiis support team has too much control over information that might be better managed by managers.
---
Click here to try Factorial's HR Reports Software for free!