Choosing employee vs. independent contractor
Today's business leaders eventually all end up facing the independent contractor vs. full-time employee dilemma. But there's no need to scratch your head so much with this, we're here to help. When you start a new business, you will invariably decide that you need help. Most small business owners start out by hiring outside contractors to do work for them, but at some point, you may decide to hire an employee or two.
Employee vs. Independent Contractor
Okay, so getting that spare pair of hands you need can be achieved in several ways, but depending on where you are, it's very important that you think about whether you need one or the other. Which one is better?  
For the employee part…
When you hire an employee, you get the advantage of being able to completely control and direct that person's work during work time, to train the person in the way you want the job done, and to require that person to work only for you.
You have few restrictions or limitations on what you can assign to the employee or about your ability to terminate the employee without paying out a contract.
On the other hand, for contractors…
You can assign duties and impose a deadline and work product, but you cannot tell that person how to get the job done. An independent contractor can work for others, can often set his or her hours of work, and often provides his/her own tools.

The Pros and Cons of Employing People
Pro
Depending on the job they are doing, it may be cheaper to employ people than to use independent contractors or agency workers.
Con
You have to run a payroll, deduct tax and such tedious processes that add more time to your workflow.
Pro
They are more likely to stick around, buy into your values and provide continuity for your customers and clients.
Con
You have less flexibility to increase or decrease your workforce at short notice because they have employment rights.
Pro
If you give feedback, training, and opportunities to develop, they will often deliver better value to your business over time than a contractor or agency worker.
Con
If they are not doing a great job, and not listening when you give them feedback, you have to go through a formal process to get them to improve or leave.
Pro
You can decide what kind of employment contract to offer, to meet the needs of the business, and you have control over their work.
Con
You are vicariously responsible for their actions when they are acting on your behalf, including breaches of Health and Safety legislation.

Okay, so an employee or an independent contractor?
If you've looked at all the pros and cons of taking on employees and decided that you're not ready for all strings, you may decide to take on a contractor.
But before you take anybody on and start handing over some of your hard earned money, make sure that you know what you're looking for so you don't just offer a job to the first person you get chatting to in the pub. Think about what the business needs, and what you've got already, so you can focus on filling the gaps.
When to Consider Hiring an Employee
Basically, you should consider hiring an employee if:
The work needs to be done under your supervision
You want to control the hours of work and the tools and equipment used by the worker
If this is a long-term need, and
If this work is essential to your business and not a peripheral job. For example, a marketing person is essential, while other positions probably aren't.
So, When to Consider Hiring an Independent Contractor?
When the work is not central to your business
The work can be done by a professional who doesn't need much supervision
The work is a short-term project that will be completed in a defined period of time
The worker has the professional expertise or is someone who needs little supervision.
Video: Choosing employee vs independent contractor
Some explicit differences…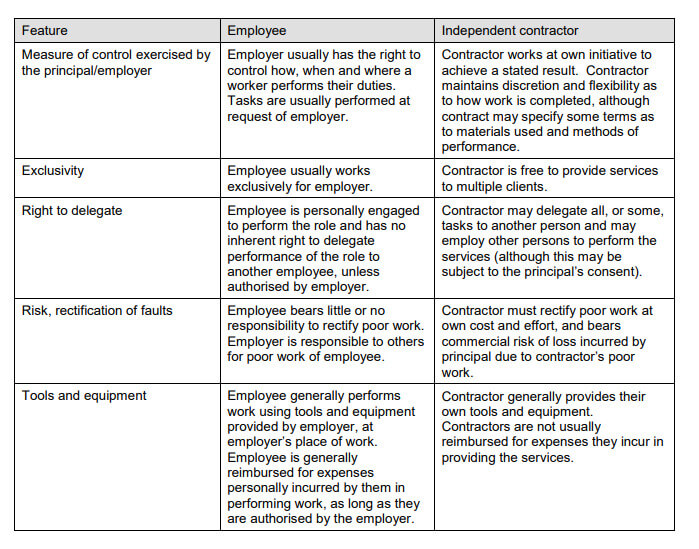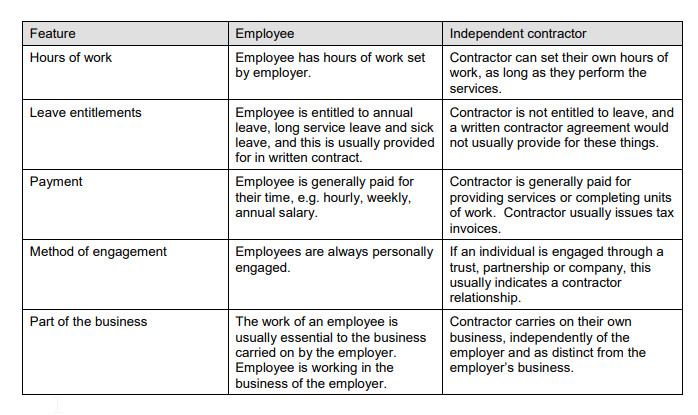 The contractor vs. employee issue involves more than just semantics. Due to the overlap between these roles, it's important to study the relevant law (and ask a labor lawyer) before making hiring decisions. But these are the basics of it all. As your business grows, ask yourself whether maintaining a staff of full-timers is in your company's best interest. Analyze your team's work hours vs. performance. Most workplaces are trending toward greater flexibility now. Son in this climate, your business will probably find that a hybrid approach works best. For example, you can maintain a low overhead by only providing workstations, benefits, and job security to key employees. You can attract young, mobile talent by offering temporary (and even off-site) employment opportunities. Just remember to keep legal and keep it fair.
This post is also available in: Español