Electronic Signature Software
We're entering the digital age, so it's essential to find out what software is best for electronic signatures. In this article, we'll talk about the top seven e-signature solutions, revealing their features, benefits, cons, real reviews, etc.
Different business needs can be met with a wide range of options.
Explore this comprehensive e-signature software guide to make informed decisions about your next electronic signature software.
TABLE OF CONTENTS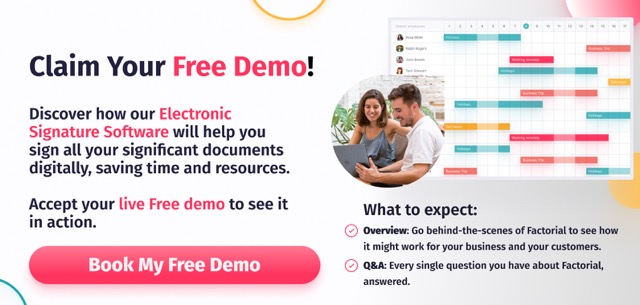 What is an Electronic Signature Software
With the rapid evolution of the digital world, pen-and-paper signatures are quickly being replaced by electronic signatures, which are convenient and efficient. Electronic signatures, also known as e-signatures, aren't just cool, but they're also a legal and trusted way to sign electronic documents.
The technology has gained global recognition for seamlessly integrating into a variety of processes, completely replacing handwritten signatures.
Benefits of an Electronic Signature Software
E-signatures have advantages far beyond replacing ink on paper.
E-signatures have gained legal validity on an international level, transcending geographical borders and regulatory complexity. Trust, efficiency, and cost-effectiveness are the hallmarks of this digital revolution.
⭐️ Trust
E-signatures are legal, trusted, and enforceable around the world.
⭐️ Efficiency
E-signatures also offer efficiency. Physical signatures take time, so e-signatures can cut that process.
⭐️ Cost-effectiveness
 Besides reducing paper usage and associated expenses, businesses can save with e-signatures.
Factorial Electronic Signature Software ⭐️⭐️⭐️⭐️⭐️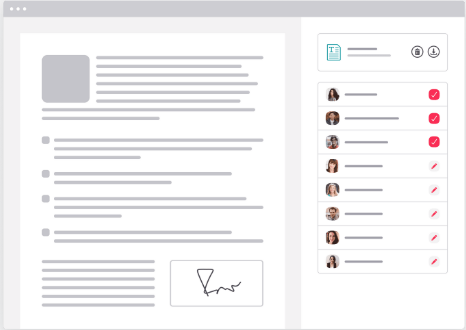 Factorial's Electronic Signature Software helps you modernize contract signing, agreement signing, and all sorts of other paperwork. It transforms the traditional paper-based signing process into an easy digital one with a focus on efficiency and security.
Key Features:
Digital Document Signing: Move beyond paper and ink. Factorial allows you to sign all your significant documents digitally, saving time and resources.

Effortless Employee Signature Requests: Request one or more employees' signatures for each document, simplifying the approval process and ensuring accurate records.

Automated Document Storage: Once signed, documents are automatically saved, eliminating manual archiving and reducing administrative burden.

Top-tier Security: Factorial's digital signature system adheres to the highest security standards, ensuring your documents are signed with the utmost confidence.

Compliance and Legal Validity: Our digital signature technology meets stringent security requirements and is compliant with the eIDAS safety standard, ensuring that your electronically signed documents are legally sound and recognized.

Reliable Time Tracking: Employ Factorial's software to have employees sign their timesheets, guaranteeing accurate working hours records. This prevents absenteeism and ensures compliance with time tracking regulations.
PROS
✅ Efficient Digital Signing Process: Factorial's software streamlines the document signing process, saving you time and reducing administrative overhead by eliminating the need for physical signatures.
✅ Automated Document Storage: Documents are automatically saved after signing, providing a hassle-free way to maintain an organized digital record of all signed documents.
✅ Top-notch Security: Factorial's commitment to meeting stringent security requirements ensures that your documents are signed with the highest level of security, safeguarding sensitive information.
✅ Legal Compliance: The digital signatures generated by Factorial's software are compliant with the eIDAS safety standard, providing you with legally valid and recognized electronic signatures.
✅ Time Tracking Integration: Factorial's software enables employees to sign their timesheets, ensuring accurate and reliable recording of working hours. This feature helps prevent absenteeism and ensures compliance with time tracking regulations.
✅ User-friendly Interface: The comfortable and reliable electronic signature system is designed to be user-friendly, ensuring that both you and your employees can seamlessly navigate the software.
✅ Demonstrated Success: The fact that Factorial is trusted by thousands of companies globally speaks to its proven track record and effectiveness in meeting diverse business needs.
CONS
❌ Factorial is exclusively designed for small and medium-sized businesses, although soon it will be accessible to larger enterprises.
❌ The platform boasts a user-friendly and intuitive interface. However, in certain cases, especially when integrating with external APIs, it might be necessary to contact support.
DocuSign Electronic Signature Software ⭐️⭐️⭐️⭐️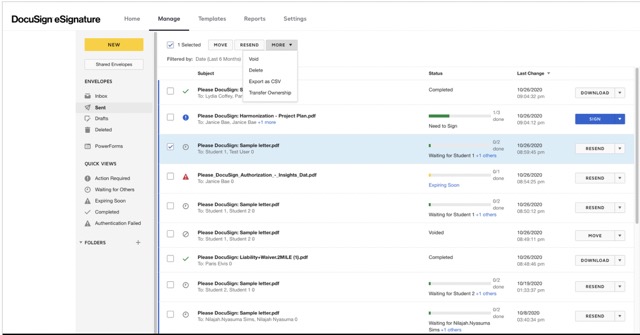 Over one million people and businesses trust DocuSign to enable their electronic signatures. Pioneering the e-sign industry, DocuSign has enabled countless signatures over the years.
DocuSign is one of the most versatile electronic signature programs on the market. People use it for everything from finance to real estate to government to education to healthcare.
PROS
✅ Widespread Trust and Recognition: There's over a million people and businesses who trust DocuSign, so it's widely recognized and trusted. With its long standing in the industry and large user base, you feel confident in its capabilities.
✅ Versatile Industry Application: Several industries can benefit from DocuSign's versatility, including finance, real estate, government, education, healthcare, and insurance. Because it is adaptable, it is a perfect fit regardless of your industry.
✅ Streamlined Processes and Increased Efficiency: DocuSign streamlines the signing and approval process by digitizing it. You'll get fewer delays, shorter turnaround times, and enhanced operational efficiency, allowing you to work on more strategic stuff.
✅ Cross-Functional Team Support: You can use DocuSign to manage documents and communicate better across multiple departments, including sales, human resources, and law.
CONS
❌ While DocuSign offers extensive features, there may be alternatives that offer similar functions for less money. The competitive advantage of signNow is that it offers similar features at a lower or equivalent price.
❌ In comparison to other providers, DocuSign offers basic advanced features. Besides eSignatures, GetAccept also offers document editing, tracking, analytics, and more, often for a lower price than DocuSign.
❌ Business needing to send a lot of digital documents might have a hard time using DocuSign's envelope restrictions. DocuSign imposes envelope limits unlike many competitors, potentially resulting in extra charges for businesses.
❌ Other companies, offer drag-and-drop in-built editors with powerful drag-and-drop functionality. In contrast, competitors aim to offer value throughout the contract lifecycle.
Adobe Sign Electronic Signature Software ⭐️⭐️⭐️⭐️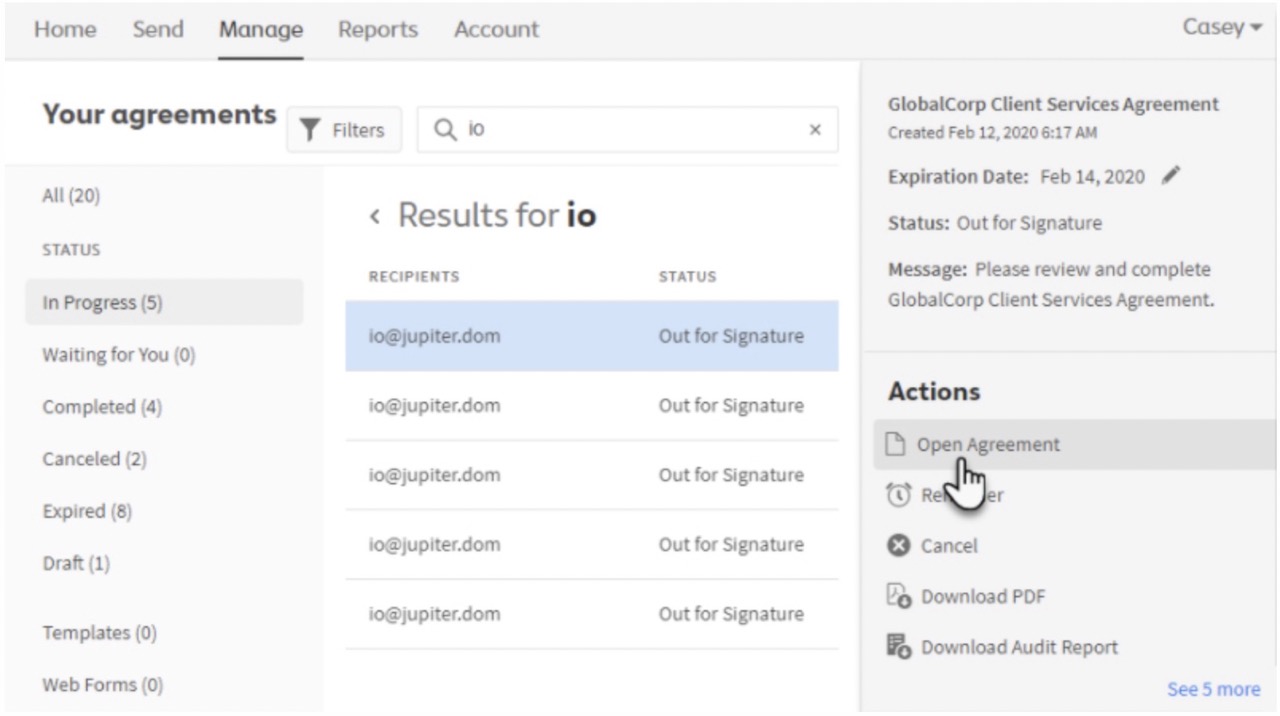 Adobe Sign stands out as a comprehensive electronic signature solution that goes beyond traditional offerings. It not only facilitates electronic signatures for PDF documents but also provides a robust PDF editing platform within the e-signature tool itself.
PROS
✅ Powerful PDF Editing: Adobe Sign goes beyond traditional e-signing tools. With this feature, users can create, edit, modify, and export PDF documents, making it a versatile document management tool.
✅ Extensive Feature Set: Acrobat Pro DC with e-sign offers advanced features such as payment collection, redaction of sensitive information, and protection against PDF copying and editing. The platform is enhanced by this range of capabilities.
✅ Dynamic Document Modifications: The Adobe Sign platform allows continuous document modifications after a PDF is saved. As a result, users can react to changes and negotiate more effectively, compared to other platforms that treat PDFs as the final stage of contract preparation.
✅ Mobile App and Document Tracking: With Adobe Sign, you can sign documents and track them using your mobile device. With its accessibility and other functionalities, it is regarded as one of the best electronic signature software tools on the market.
CONS
❌ The Adobe Sign pricing structure may not be as budget-friendly for businesses seeking cost-effective solutions due to its ability to edit PDFs.
❌ Tools: Adobe Sign provides self-service onboarding documents, but users may find it challenging to understand the limitations and functionalities of the tools.
❌ Documents cannot be edited after they are sent for signature. This can hinder negotiations when modifications are necessary after the document is signed.
❌ A potential for inefficiency is the inability to edit PDFs after they're sent for signature. As a result of modifications and negotiation requests, users could have to create new documents for e-signature.
PandaDoc Electronic Signature Software ⭐️⭐️⭐️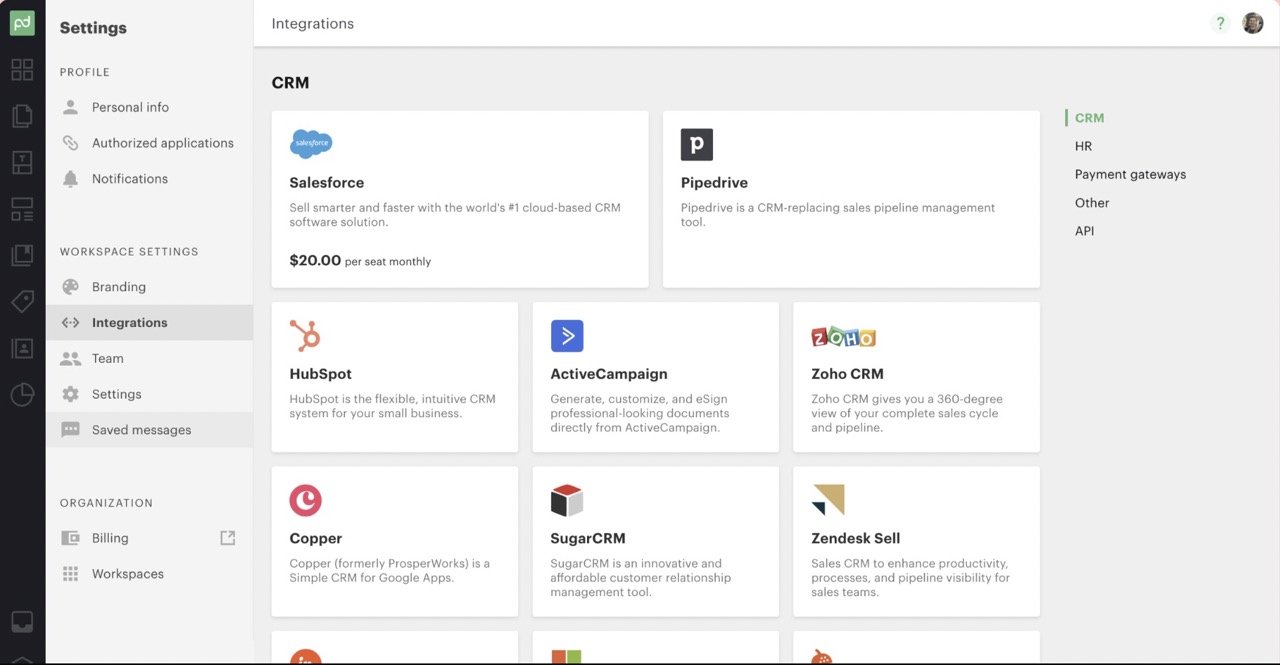 PandaDoc is a dynamic electronic signature software solution, perfect for teams wishing to expedite sales documents. Using a unified platform, business documentation can be created, sent, and signed seamlessly.
PROS
✅ Efficiency and Close Rate Enhancement: The PandaDoc software increases efficiency and close rates by 36% and reduces document creation time by 50%. The streamlined approach of the software improves efficiency and results for businesses.
✅ Robust Document Editor: It's part of PandaDoc's standout features, which feature a drag-and-drop interface for easy document creation and reusable templates for rapid content repurposing.
✅ Customization and Advanced Features: Paid plans include advanced features like Zapier integration, customized branding, content libraries, workflows, signature orders, and CRM integrations. With these customizable features, companies can manage their documents as they see fit.
✅ Unified Contract Management Lifecycle: PandaDoc's platform simplifies contract management by bringing all stages into one place. With seamless integration, the entire process is streamlined, eliminating manual transitions between various tools from creation to signing.
CONS
❌ Adding a more robust offline functionality would be a great idea since maintenance, rolling restarts, etc., may prohibit users from accessing the system until a problem is resolved.
❌ There could be a broader range of options available when it comes to reporting
❌ There seems to be less integration between the desktop and mobile platforms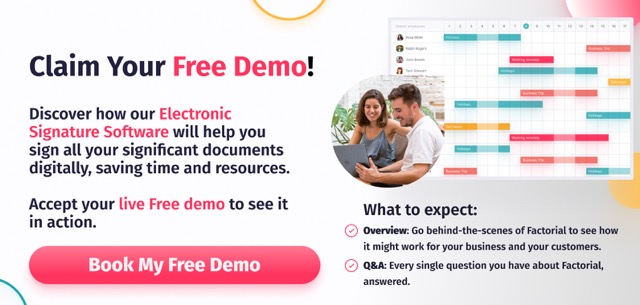 SignNow Electronic Signature Software ⭐️⭐️⭐️⭐️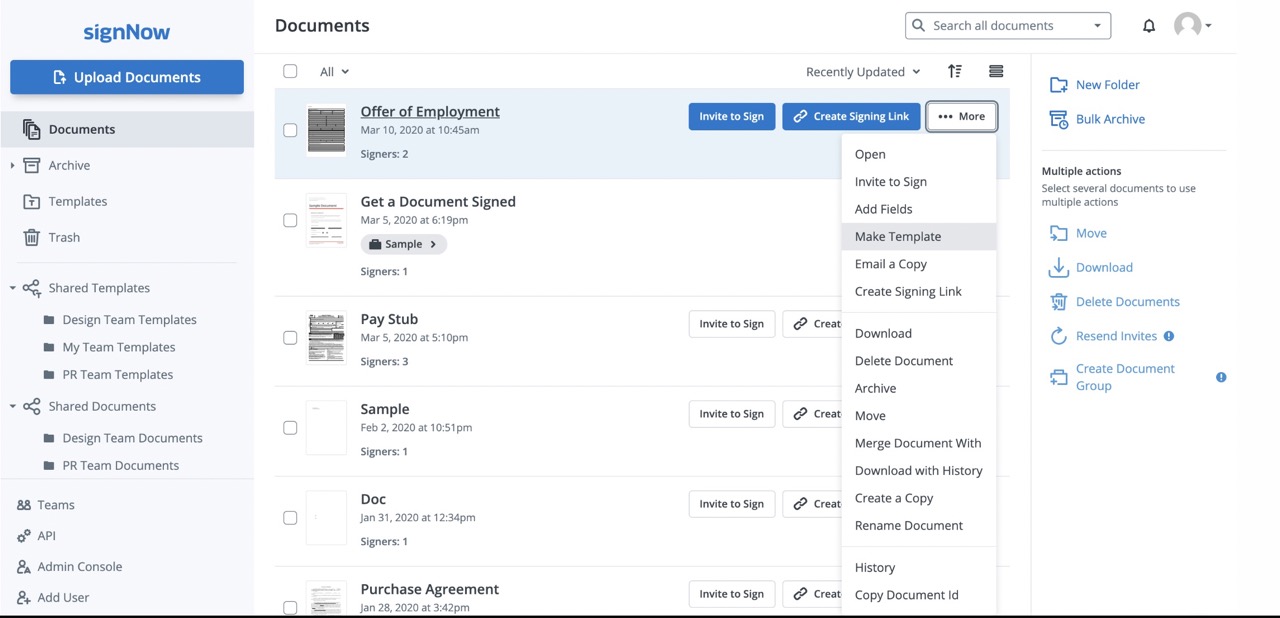 As part of airSlate Business Cloud or on its own, signNow is an electronic signature software. Electronic signatures include unlimited templates, customized branding, invitations, and more. Pricing is competitive, particularly for smaller teams. E-signing setup with no-code is easy with the platform's setup wizard and drag-and-drop interface. With signNow, users can specify data types for specific fields and validate inputs before signing the forms. Despite its simplicity, signNow faces challenges positioning itself within the airSlate suite and may lack some features compared to its competitors.
PROS
✅ Comprehensive Electronic Signature Features: SignNow offers a variety of electronic signature options, including unlimited templates and customizable branding.
✅ Competitive Pricing: Small businesses with varying budgets can benefit from the platform's competitive pricing.
✅ No-Code E-Signing Setup: With signNow, simple e-signing setup is made easier with a drag-and-drop wizard and drag-and-drop user interface.
✅ Data Validation: Using signNow's data validation functionality, users can specify what data can be assigned to specific fields and ensure accuracy before completing forms.
CONS
❌ It may lack some of the perks and features of the wider software suite due to signNow's connection to airSlate Business Cloud.
❌ AirSlate Business Cloud and other solutions offer similar features to signNow, particularly in contract lifecycle management and automation.
❌ Users seeking specific functionalities may be confused by the platform's position within the larger suite.
❌ SignNow's dependency on airSlate can limit users' ability to fully customize electronic signature workflows due to the dependency on suite features.
RightSignature Electronic Signature Software ⭐️⭐️⭐️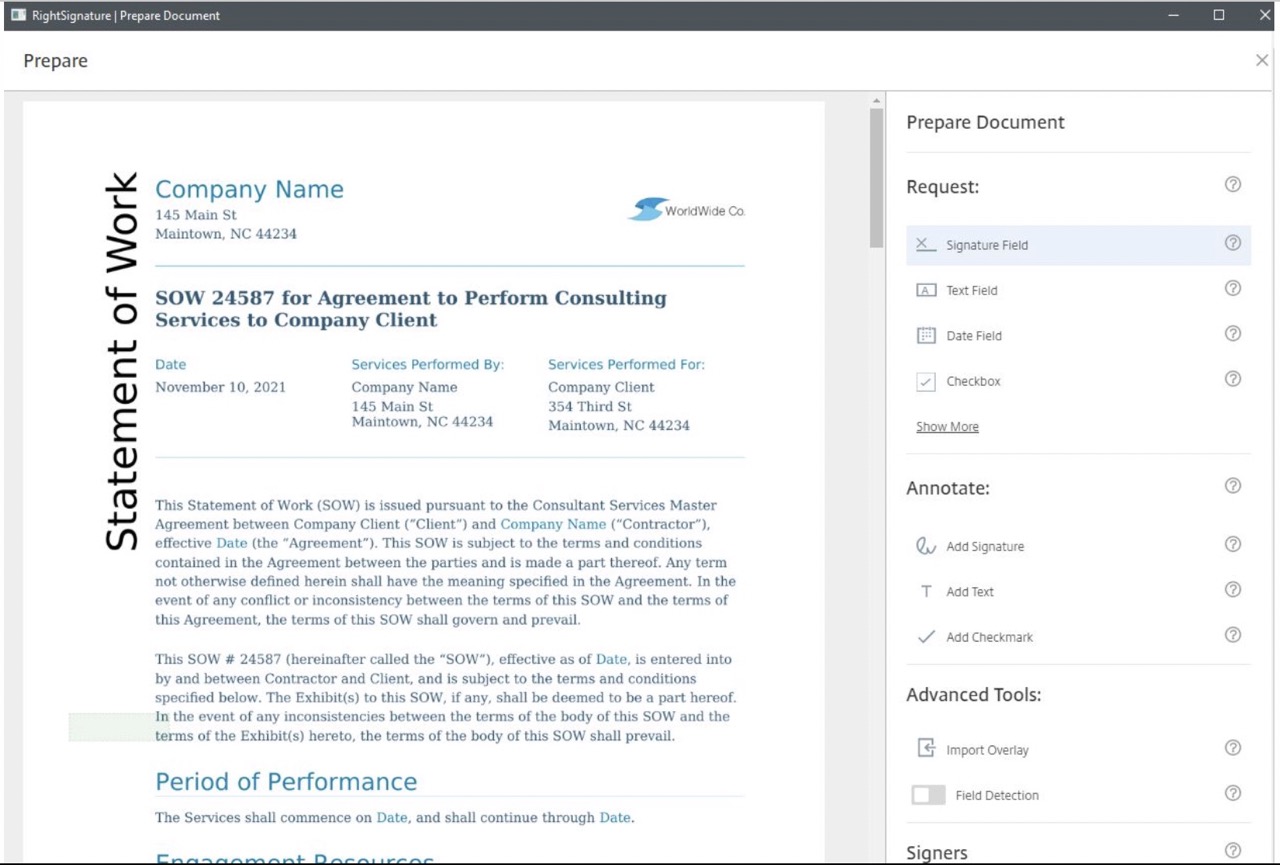 Medium to enterprise-level businesses can use RightSignature, part of the Citrix software family. The lack of certain features is intentional since RightSignature is focused on electronic signatures. E-signing is easy and efficient with it, especially on mobile. Drag-and-drop form fields are easy to add, templates are easy to create, and sequential signing can be orchestrated. However, its offerings are simpler than some.
PROS
✅ Simplicity and Focus: RightSignature's E-Signing service is straightforward and efficient, catering to users who prefer simplicity and ease of use.
✅ Mobile-Friendly: You don't have to download apps or install anything and you'll get a seamless signing experience wherever you are.
✅ Templates and Sequential Signing: User templates, multiple parties sending documents, and sequenced signing: Make workflow easier by sharing templates, sending documents to multiple people, and arranging signers to sign in the right order.
✅ Integration and Partner Options: Partner options: RightSignature integrates with Podio, Basecamp, and Stripe to streamline processes, but it falls short compared to some rivals.
CONS
❌ It may have fewer features than certain market competitors, especially considering its price.
❌ It may not be worth the cost of RightSignature's Advanced Plan for the features it offers, since others on the market offer more features for less.
❌ Even though RightSignature offers integrations, it's limited to a small number of tech stacks, which limits its compatibility.
❌ There aren't any API solutions available for non-developers. API solutions cost separately, so non-developers will find it hard to get turnkey solutions.
DocSend Electronic Signature Software ⭐️⭐️⭐️⭐️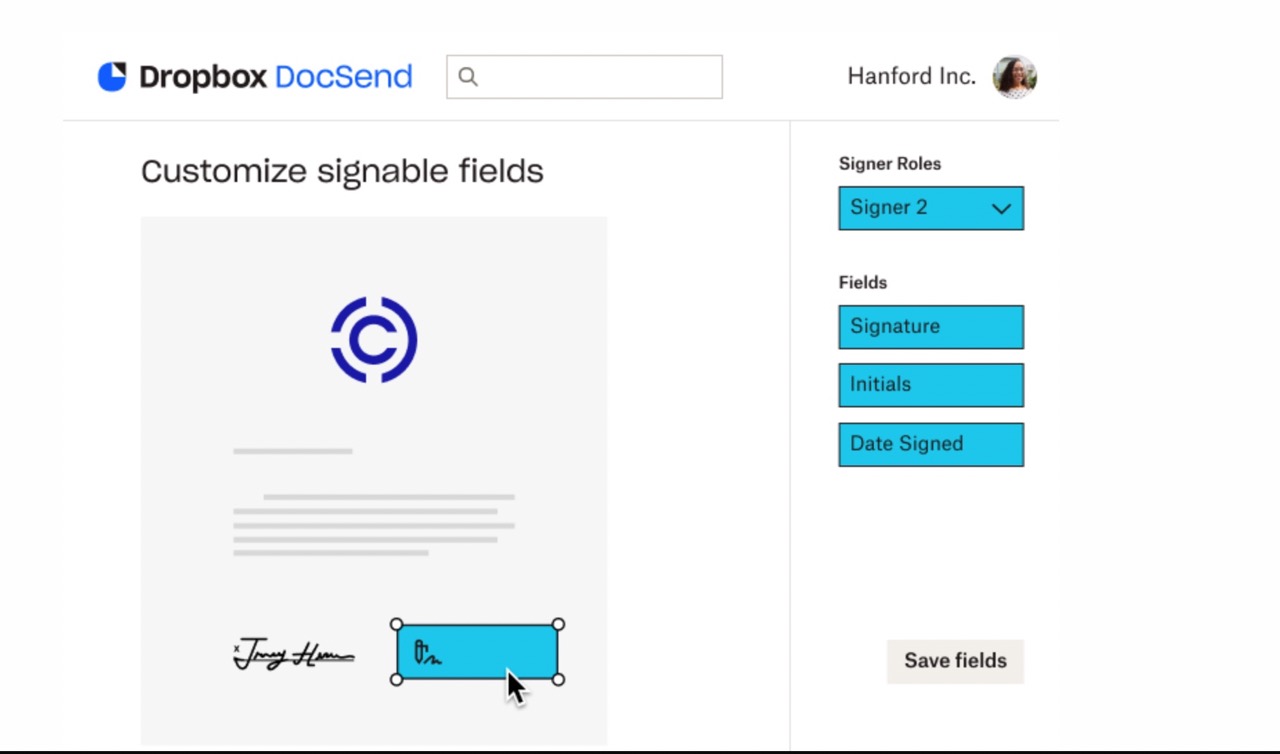 Electronic signature software DocSend has more features than basic ones, including data-driven features that track engagement on individual pages. It is superior to competitors like Adobe because it offers individual page engagement tracking. Spaces, mobile application usability, centralized content library, and integrations further make it attractive. DocSend lacks some features found in competitors like signNow, such as payment collection. Its basic plan is limited, as are signature requests, and its customer support is limited to higher-tier plans.
PROS
✅ Advanced Engagement Tracking: Data-driven engagement tracking: DocSend tracks how long users spend on each page, allowing users to get more insight into their behavior.
✅ Virtual Data Rooms (Spaces): With Spaces, users can share multiple documents securely with a single link. Whitelisting and email address verification add an extra level of security.
✅ User-Friendly Mobile Application: DocSend's mobile application is easy-to-use and flexible, making it easy for you to access and manage documents on the go.
✅ Centralized Content Library and Integrations: Integrates with tools like Salesforce, Outlook, Gmail, and more. DocSend's centralized content library makes document management easier.
CONS
❌ There's no payment collection on DocSend, which some competitors like signNow offer. So it's less useful for businesses that need payment processing alongside signatures.
❌ Limitations on signature requests: The basic plan limits you to 4 signatures per month, which may limit your usage compared to other software.
❌ Basic version users ($10/month) don't get support or tutorials, so upgrading to the Standard plan ($45/month) could add more troubleshooting costs.
❌ Companies that need customer support or tutorials have to upgrade to higher-tier plans, which could mean extra costs.