Expense Management Software
In this article, you'll learn about the 7 best expense management software solutions available, whether you're a small startup looking to establish good financial practices or a large corporation seeking to optimize expense management for your teams. You can decide which software best aligns with your organization's financial goals and requirements based on your understanding of its features and benefits.
Our journey through the world of expense management software will explore innovative solutions that enhance business transparency, increase profitability, and transform how businesses manage their finances.
TABLE OF CONTENTS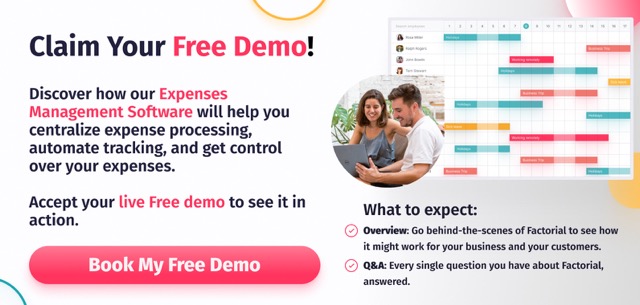 What is Expense Management Software?
Business can use expense management software to process, pay, and audit employee-initiated expenses. The software lets employees submit expenses through a web browser or a mobile app for approval. Using expense management software makes it easy to enter, review, and track expenses.
Expense Management products need to meet the following criteria to qualify:
Allow data entry for expense submissions.

Have an automated system for tracking, controlling, and reporting expenses.

Integrate seamlessly with existing accounting and administrative systems, ensuring smooth data exchange.

Offer the ability to review expenses before submission, allowing for compliance with company policies and guidelines.
⭐️ Streamlined Workflow: It's easier to enter expenses with expense management software. It streamlines the whole process, so employees can submit claims more easily.
⭐️ Automation and Consistency: Expense tracking, control, and reporting are automated so there are less errors and expenses are managed consistently.
⭐️ Cost Efficiency: Software analyzes overall expenses to identify potential savings. This helps you make informed decisions so you don't waste money.
⭐️ Enhanced Visibility: It lets you keep track of how your money is being spent. This helps you better control expenses and provides insight into how your money is being spent.
⭐️ Integration and Insights: This holistic approach to data consolidation enhances decision-making by integrating data from different aspects of the business.
Factorial Expenses Management Software ⭐️⭐️⭐️⭐️⭐️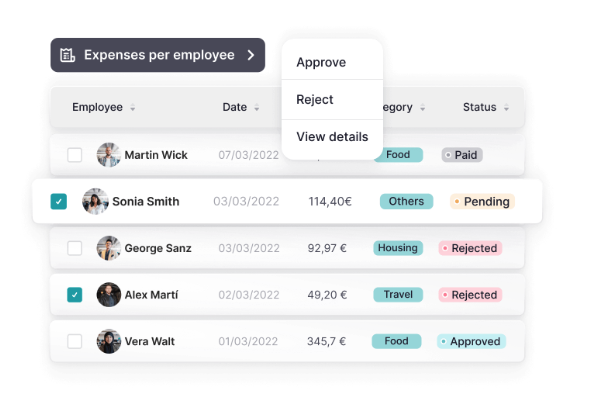 Your business can save time, money, and operational hassles with Factorial Expenses, a powerful expense management software. With this software, you can centralize expense processing, automate tracking, and get more control over your expenses. Factorial Expenses makes it easy to submit, approve, and report expenses, all while giving you valuable insights.
Key features:
Centralized Expense Management: Factorial Expenses eliminates spreadsheets and paper receipts by centralizing expense management.
Automated Tracking: The software automates the expense tracking process, making it easier to reconcile expenses and improve accuracy.
Real-time Analytics: Factorial Expenses' real-time analytics give businesses insights into spending patterns, helping them optimize investments.
User-Friendly Interface: Employees can upload receipts, and administrators can review and approve them quickly.
Integration and Reporting: Expense reports can be categorized, analyzed, and downloaded. It integrates seamlessly with other financial systems.
PROS
✅ Efficiency: Employees and administrators save time with Factorial's efficiency in expense submission, approval, and reporting.
✅ Cost Control:A real-time spend analysis helps businesses identify where to invest and control expenses.
✅ Transparency: A clear view of financial resource utilization improves transparency and control.
✅ Employee Empowerment: Reduce administrative workload by allowing employees to track their own expenses and view approval status.
✅ Integration:Factorial's integrated HR and expense management solution offers a range of features and integrations.
CONS
❌ It can take a while for users to get used to the software's features and functionality.
❌ Technical expertise might be required to integrate with existing systems.
❌ It takes time to customize the software to fit specific organizational needs.
❌ Technical issues or downtime can disrupt workflow, just like with any software.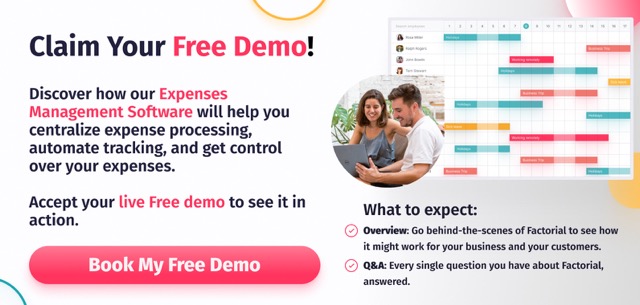 Navan Expenses Management Software ⭐️⭐️⭐️⭐️
With Navan, you do not have to spend hours trying to change flights on the phone or save stacks of receipts to manually enter expenses. Navan is an all-in-one travel solution that enables you to focus on being there rather than getting there. Providing companies with real-time visibility, savings, and control, Navan empowers people to focus on the things that matter most to them — from Executive Assistants and Finance teams to Travel Managers and Employees.
PROS
✅ Maximized Efficiency and Cost Savings: Navan's integrated Business Travel & Expense solution aims to optimize efficiency and minimize expenses. It has discounted rates, policy controls, and productivity features that help businesses save time and money.
✅ Enhanced Visibility and Control: Our corporate cards have built-in controls that stop out-of-policy spending, giving businesses more visibility and better control over expenses.
✅ Innovative Technology and Support: The software's innovative technology works with world-class customer support to ensure a seamless user experience and reliable support.
✅ Streamlined Expense Management: It's easy to handle business expenses with Navan's automated tools. Navan helps employees manage business expenses and provides real-time insight into company spending.
CONS
❌ Users have reported problems rebooking flights after cancellations and encountering payment declines, despite having enough funds, with Navan's online booking system.
❌ For people who aren't tech-savvy, Navan's interface might be hard to use. Despite the fact that some parts of the app lack clarity, users might have trouble understanding the purpose of buttons or functions. But the app's been pretty helpful for planning trips.
❌ Navan's mobile platform might be unreliable, so users often have freezing and loading issues, requiring them to exit the app and clear their cache to fix. If you're in a hurry, this unreliability can be frustrating.
❌ Navan's transaction status does not update accurately on the mobile app. Users need to go to the transactions tab, not conveniently located on the home screen, to get it updated. For users trying to track their transactions, this may cause confusion and extra steps.
Sap Concur Expenses Management Software ⭐️⭐️⭐️⭐️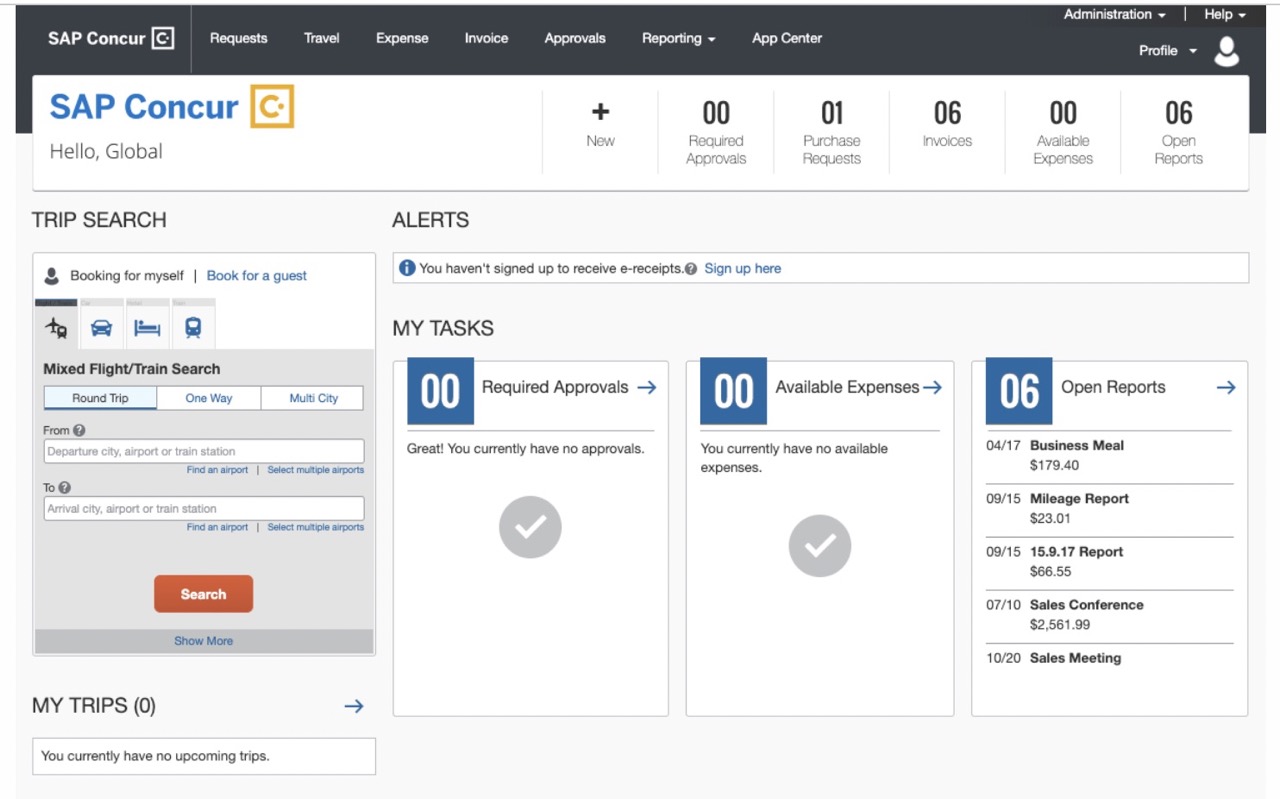 Invoices, travel, and expenses are managed easily and automated by SAP Concur, the global leader in integrated travel, expense, and invoice management solutions. Their top-rated app guides employees through the travel process, integrates expenses into reports, and streamlines invoice approvals. Businesses get comprehensive spending insights by integrating data in near real-time and using AI to audit transactions. SAP Concur makes it easier for business to operate optimally on a daily basis by eradicating time-consuming tasks of the past.
PROS
✅ Automated Expense Management: The SAP Concur expense management process is automated, so there's no need to manual report and no risk of lost receipts. It streamlines the entire process, so employees can submit expenses and get reimbursed faster.
✅ Centralized Expense Data: Businesses can get a comprehensive view of their spending with SAP Concur because all expense data is consolidated into one place. With centralized data, you can plan better, make better decisions, and track expenses.
✅ Flexible Spending Policy Enforcement: Ensures that spending remains compliant with company guidelines: Companies can configure spending policies that match their specific needs, so spending remains compliant and can easily be adjusted as policies change.
✅ Integration and Financial Visibility: Integrated with existing systems, SAP Concur gives you a full financial picture of your business, which helps with budgeting, forecasting, and policy compliance.
CONS
❌ You can't use the same attachment image for all your expenses with SAP Concur. The limitation makes it hard to split expenses and allocate them under different headings, which complicates the expense allocation process.
❌ You might not being able to customize it to fit your business needs. Users may feel limited by the software's predefined settings. The software might not be able to fully align with unique organizational needs if it's not flexible enough.
❌ When SAP doesn't work, users switch to the desktop version, which can make them spend more time navigating the app. In addition, issues like website pages not loading or not accepting information, along with slow and unreliable photo loading options, could make users frustrated and make tasks difficult to accomplish.
❌ SAP's a drawback when booking travel with multiple stops because flights on carriers' websites might not be available on Concur. The expense reporting process has also been described as cumbersome and non-intuitive. The hotel bill with different daily rates makes it hard to understand and submit expenses.
Expensify Expenses Management Software ⭐️⭐️⭐️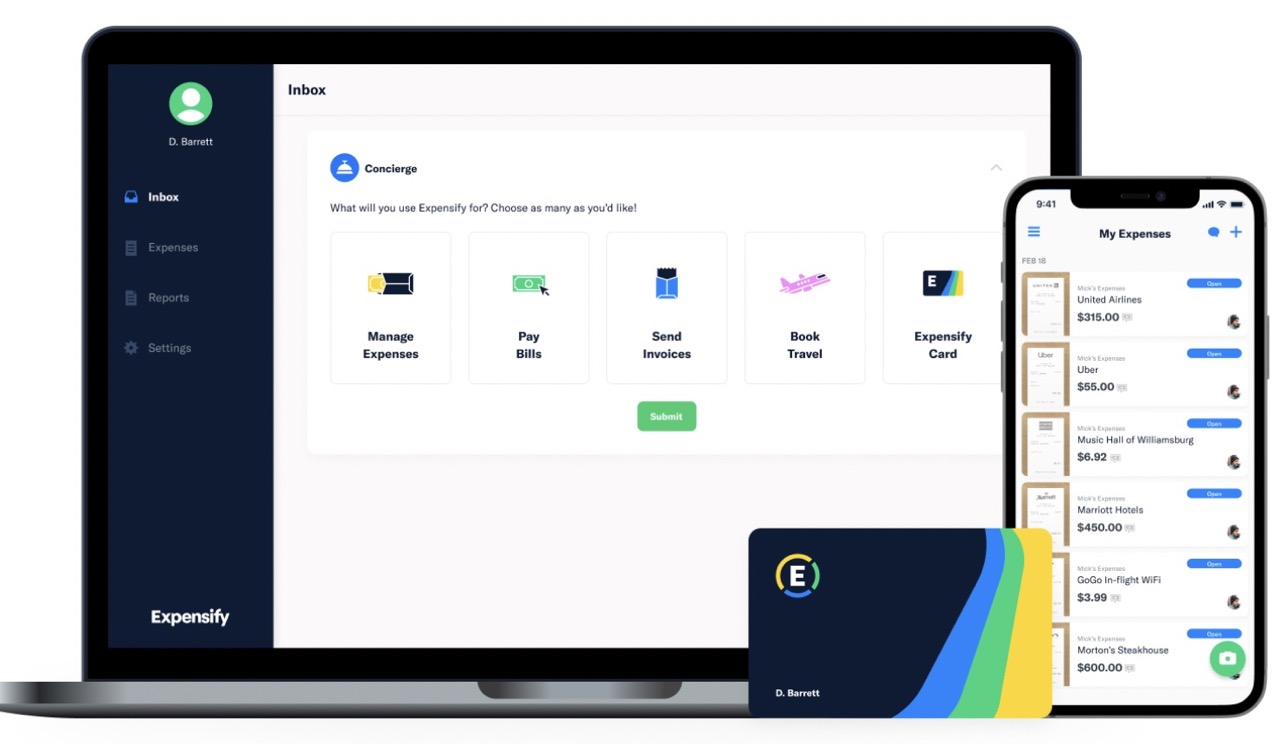 Expensify is a payments superapp that lets you invoice, pay bills, book travel, and chat. Expensify offers a lot of free features, including corporate cards, expense tracking, quick reimbursements, invoices, bill payments, and chat. It's easy to simplify financial tasks for clients with Expensify, so you can spend more time on more important stuff.
PROS
✅ Unlimited Receipt Tracking and Expense Management: All users get unlimited receipt tracking and expense management thanks to Expensify. This feature makes it easier to track and manage expenses.
✅ Time and Cost Savings: With Expensify's AI-powered technologies, such as SmartScan, you can reduce the chances of making a mistake when entering expenses. This saves you time and minimizes the chance of billing mistakes.
✅ Enhanced Productivity: With Expensify's streamlined tools, employees spend less time on manual reporting tasks, allowing them to focus on more important stuff.
✅ Reduced Waste and Compliance: By improving expense reporting accuracy, Expensify prevents waste and unnecessary spending. Businesses can save money by automating calculations and processes and reduce the time they have to spend doing manual work. It also helps keep compliance and prevent fraud, so the financial environment stays healthier.
CONS
❌ The software should be able to generate comprehensive invoices within the software, so users don't have to use additional tools like QuickBooks.
❌ It's hard to categorize receipts that clearly match a predefined "product" line in Expensify because you have limited memory. Expensify cards, but they don't automatically import receipts like gas station expenses, like "Vehicle Expense Gas-Direct," so users have to take photos manually of these expenses, even if they're paid with Expensify cards.
❌ An expense submission can be confusing and confusing because Expensify requires two steps for entry and reporting. It can lead to confusion and misunderstandings, especially for users unaware of the sequential requirement, which may delay reimbursement and cause frustration. The process can be simplified.
❌ In Expensify, every expense gets added automatically to the last report, and its reports automatically name themselves in unintelligible codes. In order to figure out which report a notification refers to, users have to access the platform. Also, expenses are automatically grouped into the last open report, so you'll have to figure it out later.
Ramp Expenses Management Software ⭐️⭐️⭐️⭐️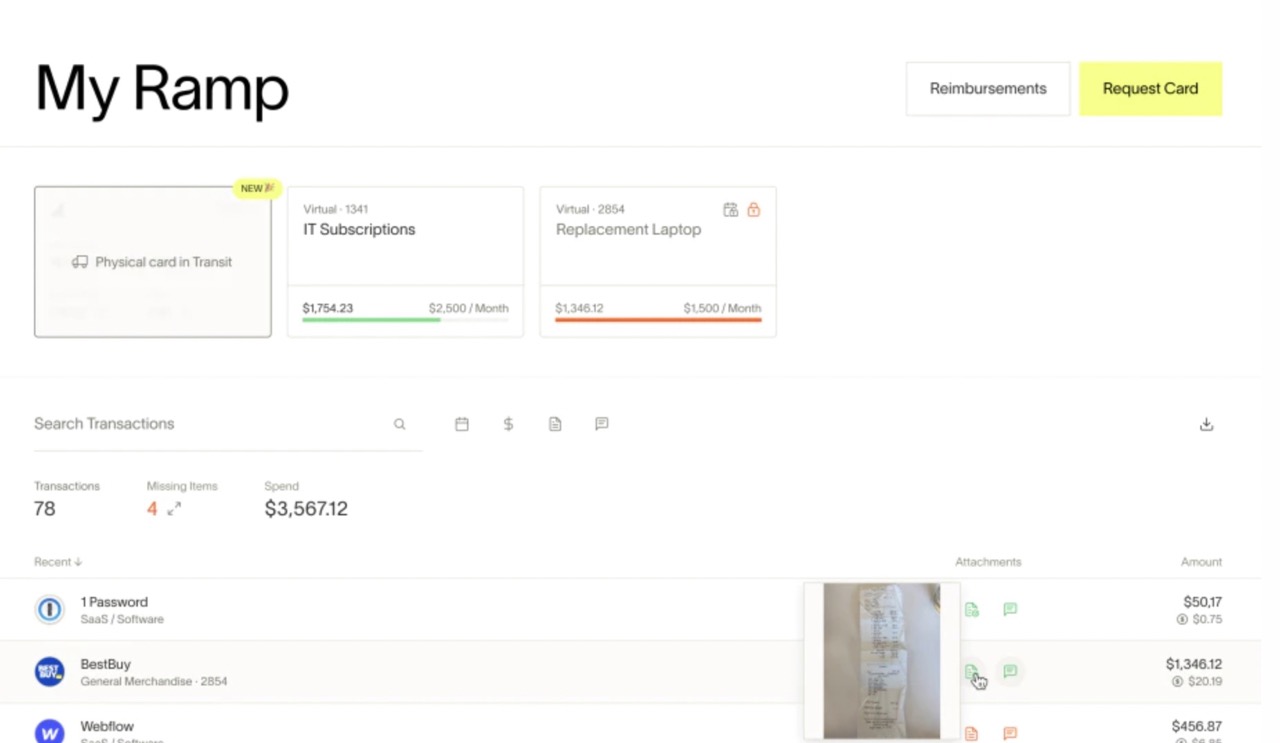 Modern businesses use ramp to manage their expenses. Ramp offers a variety of finance tools, like corporate cards, expense management, and bill payments, to save money and improve efficiency. A platform like Ramp is used by over 15,000 companies, including Shopify and Glossier. It automates, gets insights, offers cashback, and negotiates for businesses. Using Ramp, finance teams can manage business spend confidently and in real time, reducing costs and closing books faster than ever before.
PROS
✅ Comprehensive Finance Solution: Ramp offers a lot more than just corporate cards, like global corporate cards, expense management, and automation for accounting. All in one place, this comprehensive platform lets you optimize finance operations.
✅ Global Spend Control: Managing global expenses has never been easier with Ramp's global corporate cards, which offer unlimited cards, smart policies, and complete visibility.
✅ Automated Expense Management: Software that detects out-of-policy spend and automatically captures receipts: Ramp's expense management software automatically captures receipts and reports expenses.
✅ Accounting Automation and Efficiency: Ramp automates accounting to allow businesses to close their books up to 8 times faster, ensuring compliance, reducing errors, and optimizing financial processes.
CONS
❌ In spite of assigning chart of accounts codes by rule, Ramp transactions do not automatically sync with QuickBooks Online (QB Online). Syncing transactions manually is time-consuming and inefficient due to the lack of automatic synchronization. It could also be inconvenient and challenging to manage expenses effectively during events or conferences due to the limitation of the monthly spend limit.
❌ The learning curve in Ramp can be steep at first if you are unfamiliar with financial management software. In order for Ramp to maximize its features, newcomers would benefit from detailed tutorials and hands-on support during onboarding.
❌ It is possible to lose out on money by using Ramp because the limit is variable. As a result of sudden changes to the spending limit without notice, employees may find themselves stuck or facing difficulties during travel or other business-related activities.
Airbase Expenses Management Software ⭐️⭐️⭐️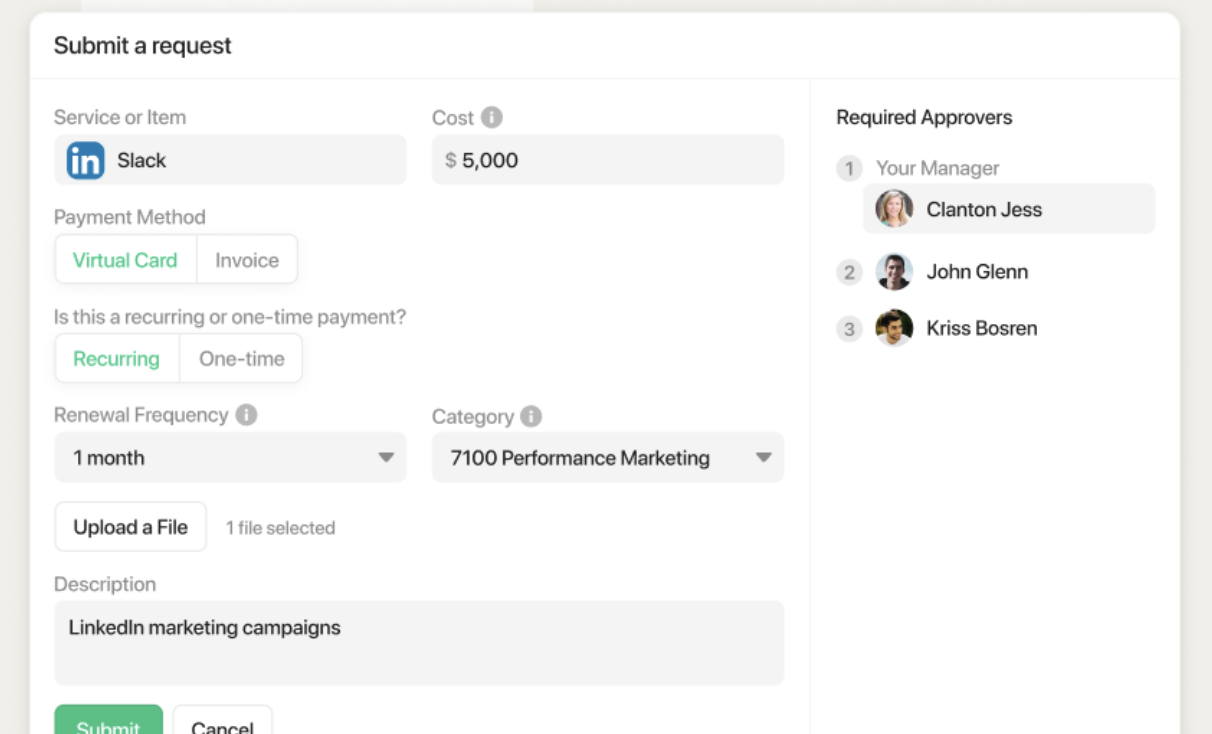 The Airbase platform helps companies with 100-5,000 employees manage their spend. With accounts payable automation, expense management, and corporate cards, it gives employees, accounting teams, and vendors an easy-to-use experience. With Airbase, financial processes are streamlined and efficient. It's seamlessly integrated with NetSuite and Sage Intacct. Involve stakeholders from request to reconciliation with the guided procurement approach. Airbase helps businesses cultivate spend compliance and control their financial destiny by supporting complex tasks like multi-subsidiaries and multi-currencies.
PROS
✅ Guided Procurement: With guided procurement, you can streamline intake processes globally, ensuring compliance and control while reducing employee confusion.
✅ Accounts Payable Automation: With features like intuitive UI/UX, extensive workflows, and advanced approvals, AP automation satisfies both users and finance teams.
✅ Expense Management: Manage expenses with an expense management system that simplifies tracking and reporting.
✅ Corporate Cards: Airbase offers corporate cards to streamline spending, providing unmatched visibility and control.
CONS
❌ In addition to its limited functionality, Airbase does not cover the entire purchase cycle since it only supports purchase requests and approvals. A comprehensive purchase management solution could require additional work and add-ons.
❌ Airbase's downside is the limited integration with credit cards. While the platform may currently have a certain range of credit card connections, the user hopes for broader integration with more credit card providers as the platform continues to expand and grow.
❌ Reimbursement of employees with international bank accounts is not possible through the system.
❌ Currently, it does not save the addresses that are frequently used. It would be helpful if there was a way to save the most frequently used addresses.
Airbase Expenses Management Software ⭐️⭐️⭐️⭐️
This online tool simplifies and automates business travel and expense management. With customizable features, Zoho Expense helps manage budgets, enforce spending rules, and integrates with different apps to save time and reduce manual work. It streamlines expense reporting, automates approvals, and tracks spending, saving time and reducing manual work. Zoho Expense helps businesses of all sizes manage expenses. Trusted by businesses around the world.
PROS
✅ Comprehensive Travel and Expense Management: Zoho Expense provides a complete solution to manage business travel and expenses. Streamline travel bookings, automate expense reports, and ensure timely reimbursements with Zoho Expense.
✅ Automated Expense Reporting: Zoho Expense automates expense reporting from receipt capture to reimbursement, and Autoscan even saves you time by scanning receipts, reducing errors.
✅ Spend Control and Budgeting: Create budgets, enforce policies, and approve purchases. You can prevent overspending, streamline spending, and compare budgets to actuals.
✅ AI-Driven Audit and Compliance: Detect potential fraud with Zoho Expense's AI-driven fraud detection engine. Get tax-ready with dedicated country editions that ensure local compliance.
CONS
❌ Users are unable to have more than one delegate per account.
❌ It might be difficult for beginners who aren't familiar with accounting terminology to learn Zoho Expense. For those new to managing business accounts, the software's jargon and complexity may pose challenges. This can lead to errors in logging receipts, confusion, and duplicate entries in Zoho Books.
❌ One downside to Zoho Expense is that it doesn't integrate with third-party apps. Although Zoho offers lots of tools you can integrate, if you need to integrate Zoho Expense with external apps, the lack of options could be frustrating.
❌ There aren't as many customization options with Zoho. Some users might feel limited by the customization options available and want more flexibility to tailor the platform to meet their specific needs.