A strong employee value proposition canboost your employer brand and help you attract and retain top talent. In fact, according to a report by Gartner,organizations that effectively deliver on their EVP can decrease annual employee turnover by close to 70% and increase new hire commitment by nearly 30%. A strong EVP can also help you hire employees whoshare the same vision and values as your organization, enabling you to build astronger and more united workforce. 
So, what is an employee value proposition exactly? And what qualities make an attractive EVP?
In today's guide, we will explainhow to write an EVP that helps you stand out in the job market. We will also share8 employee value proposition examplesto show you what you should be aiming for.


What is an employee value proposition: A definition
Let's start with an employee value proposition definition.
An employee value proposition, also known as anEVP, is a published statement thatshowcases the unique benefits that employees will receive if they decide to join your business. It explainswho you are as a company, what yourvaluesare, andwhat benefits you can offerin exchange for an employee's time, skills, and experience. In other words, it's yourunique selling point as an employer– why a candidate should choose you over one of your competitors. The more appealing your EVP is, the more likely you are toattract, motivate, and retain top talent in your organization. In fact, a strong EVP is one of the core elements of nurturingemployee tenure.
Although your employee value proposition is similar to youremployer brand, it's not quite the same thing. Both form an integral part of yourtalent attraction strategy, but youremployer branding strategyis more focused on the bigger picture: the "what" and the "how" behind your business, including yourreputation and brand image. Your EVP, in contrast, is more related tothe value that you offer as an employer. It forms one of thebuilding blocks of your employer brand, but it's more about getting candidates excited at the thought of working for you.
Your employee value proposition will typically include the following elements:
Compensation, including salary, stock options, bonuses, reward and recognition programs, etc.

Benefits, such as PTO, health insurance, retirement funds, parental leave, etc.

Additional fringe benefits such as a remote or flexible work policy, childcare reimbursement, gym memberships, free coffee and snacks, etc.

Your organizational mission, vision, and values

Career development opportunities such as leadership training, mentorship programs, promotions, travel opportunities, tuition reimbursement, etc.

A statement about your company culture, working environment, etc.
How to create a compelling employee value proposition
For it to be effective, your employee value proposition mustappeal to potential candidatesandencourage employee loyalty.
It must also respond to the followingcandidate questions:
Why should I apply for this job?

Which employee benefits will I get?

What makes this organization a great place to work?

What does this business offer that other companies don't?

Does this business reflect values that appeal to me?
Here's astep-by-step processto help you create acompelling employee value proposition.
Identify your company's goals and key selling points
The first step is defining your goals.What do you hope to achieve with your employee value proposition?Get more applicants? Enhance your presence in the job market? Attract more talent to your business? Reduce time and cost to hire? Boostemployee empowermentand engagement? Clarifying your goals will help you determinewhich key aspects you should highlight in your EVP.
Once you've done that, the next step isidentifying your company's key selling points. In other words, what you can offer that will convince employees that they should work for you rather than one of your competitors.
Consider the following:
Compensation and benefits

Corporate culture 

Working environment

Learning and development opportunities

Promotions and succession planning

Reward and recognition schemes
It's also a good idea toresearch the job marketat this point, too. What perks and benefits do your competitors offer? Are your salaries in line with industry averages? 
Finally, make sure your key selling pointsalign with your strategic objectives and your values as a business. They should also help todifferentiate you as an employerandinspire people to want to find out more about your business. 
Define your ideal candidate persona
The next step in the process is defining yourideal candidate persona. This will help you clarifythe exact qualities you are looking for in an employee. That way, you canalign your employee value proposition with the needs, desires, and expectations of your target candidates. 
A candidate persona is asemi-fictional profilethat liststhe qualities that you are looking for in an ideal candidate. It's a bit like a buyer persona, except instead of describing your target customer, you're detailing your ideal job candidate. Your candidate persona should include obvious requirements likeskills, qualifications, and experience. However, you should also detail personal characteristics such asambitions, interests, personality traits, career goals, and soft skills. 
The best way to define exactly what you're looking for is by speaking with yourhiring managers, departmental managers, and existing team members. You can also find out a lot of useful information byresearching your industry and market trends, reviewing historical performance feedback, and analyzing a range of other HR metrics and data.
Collect employee feedback
Aside from your ideal candidate persona,your employee value proposition also needs to be centered around the heart of your business: your current workforce. That's why it's so important to collect valuable feedback from them during the process. 
The aim here is to find out exactlyhow your employees feel about your current EVP. Are they happy with the value that you offer them? Which perks and benefits do they value the most? Are there any other perks or benefits that you could offer to improve their perception of you? Is there anything that you can improve in the employee experience? Are they happy with the learning and development opportunities that you offer? What about the level of support they get from their managers?
The best way to find out all this information is bysharing regular employee satisfaction surveys. You could also holdgroup feedback sessionsto encourage employees to share feedback in a more relaxed setting. Also, don't forget to holdexit interviewswhen employees leave your company to find out what they liked and disliked about working with you. All this can provide you withvaluable insights that you can use to enhance your EVP. 
Design your employee value proposition
By this point, you should be ready to start writing your employee value proposition. The key here isaligning your EVP with your objectives and your ideal candidate personas. Also, don't forget to adapt your statement to theneeds, desires, and expectations that you identified through your employee feedback channels.
It's also important to make sure you strike the right balance here. Don't focus too much on perks and benefits. It's equally important to see this document as an opportunity toshowcase your company's unique values and objectives: your meaning and purpose.
In fact, according to Gartner, an effective employee value proposition should focus primarily on the followingfive key elements:
Compensation

Work-life balance

Stability

Location

Respect
It's also important to explain whichgrowth opportunitiesyou offer to help employees acquire new skills and become more valuable in the labor market. And don't forget to showcase yourunique culture and working environment, too. 
Communicate your employee value proposition
Once you've finalized your employee value proposition, it's time to share it.
Firstly,make sure your existing workforce has access to it and they understand what it's for. Train your managers so that they are able to communicate your key values. In other words, make sure they can explain why your EVP is important andhow it will benefit employees over the short and long term.
Secondly,make sure you publish your EVP externally so that prospective candidates can find it. Post it on yourwebsiteand include it in yourjob descriptions and job board profiles. Get your hiring managers topromote it during interviewsand any other opportunities in the hiring funnel. Finally, make sure youshare it on social mediaso that you can reach a larger audience of active and passive job seekers. You could even use therule of 7to promote your EVP andincrease your visibility on job sites and social media. Ultimately, the more people hear about what you have to offer as a business, the better your reputation as an employer will become.
Evaluate the impact of your employee value proposition
There's one more step here to keep in mind. You need tomonitor the performance of your EVP and update it regularly. 
There are a few ways to measure the impact of your EVP. You can monitor youremployee satisfaction rateandtrack traffic to your website. You should also monitor key metrics includingtime to hire, applicant-to-interview ratios, cost-per-hire, company turnover rates, and online company ratings and reviews. All this will help you determine what sort of an impact your employee value proposition is having on your employer brand. You can then update your EVP in line with the feedback you collect. Make sure you do this periodically so that you canalign your proposition with evolving employee needs and expectations.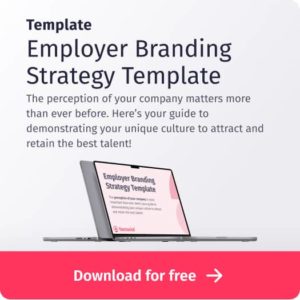 Employee value proposition examples
Now that we've discussed the employee value proposition meaning and process, let's take a look at someemployee value proposition examplesto help you understand what you should be aiming for. 
1. Nike
:
Win as a team
Nike's employee value proposition is centered around the company's mission toinspire and innovate, empowering its employees to do the same. The company offers a range of benefits and programs to support employees in their personal and professional growth, includingcomprehensive healthcare, generous paid time off, and career development opportunities. 
Nike also fosters aculture of diversity, inclusion, and collaboration, with a focus on creating an environment where every employee can bring their whole self to work. With astrong commitment to sustainability and social responsibility, Nike's employee value proposition includes opportunities for employees to contribute to the company's larger purpose ofcreating positive change in the world.
2. Hubspot: Your best work starts here
Hubspot's EVP is centered around itsmission to help businesses grow better through its innovative software and services. The company offers a range of benefits and perks to support employees, includingunlimited time off, flexible work arrangements, and a commitment to ongoing learning and development. Hubspot also fosters aculture of transparency, collaboration, and inclusivity, with a strong emphasis on diversity, employee well-being, and creating a sense of belonging for all employees. 
The core promise of Hubspot's EVP is a balance between work and life that promises to "help you be the best 'you' that you can be".
3. Netflix: See what's next
Netflix is very vocal about its EVP. So much so that it isclearly highlighted on its employment pageso that potential candidates are aware of it before they've even applied for a position. 
Candidates are told that Netflix:
Encourages employee decision-making

Shares information openly, broadly, and deliberately

Communicates candidly and directly

Avoids rules
Furthermore, the global streaming giant claims that:
"The thing we most value is working with talented people in highly creative and productive ways. That's why our core philosophy is people over process, and why we try to bring great people together as a dream team. Of course, any growing business requires some process and structure. But with our people-first approach, we can be more flexible, creative, and successful in everything we do."
4. Gartner: Live well – in all aspects of your life
Gartner's employee value proposition centers on its mission tohelp clients make the right decisions with confidence. 
It does this by communicating five key pillars:
Challenging work

Talented people

Limitless growth

Community impact

Big rewards
The company also offers a range of benefits and programs to support employee growth and development, includingflexible work arrangements, learning and development opportunities, and a culture of collaboration and innovation.
5. Unilever: Small acts, big impact
Unilever is another global giant that understands thevalue of creating and promoting an appealing employee value proposition. Its UVP slogan, "Small acts, big impact", reflects the company's belief that individual actions can have a significant impact on the world, and it emphasizes the importance of employees contributing to Unilever's larger purpose of creating a sustainable future.
Unilever's EVP is based on four key pillars:
Purpose Power

Be the Catalyst

Brilliantly Different Together

Go Beyond
According to the company's website:
"Unilever is the place where you can bring your purpose to life through the work that you do, creating a better business and a better world. You will work with brands that are loved and improve the lives of our consumers and the communities around us."
6. Sky: Do the right thing
Sky is a British media and telecommunications conglomerate headquartered in London. Based on its mission tocreate a positive impact in the world, Sky's EVP focuses on fostering aculture of inclusivity, diversity, and belonging, with opportunities for employees to learn and grow throughtraining and development programs. 
Sky also offers a range of benefits and perks to support employee well-being, such asflexible work arrangements, generous parental leave policies, and mental health support. The company's EVP also emphasizes itscommitment to sustainability and social responsibility, with initiatives such as reducing its carbon footprint and supporting charitable causes.
7. Shell: Power progress together
The oil and gas giant has over 80,000 employees around the world and receives thousands of applications each year. As a result, Shell is somewhat of an expert in promoting its employer brand.
Centered around its purpose to "power progress together", Shell's EVP is based on four key pillars:Discover, Together, Connected, Impact.Its EVP highlights the company's commitment to creatinga diverse and inclusive workplace where employees can thrive and reach their full potential. Shell also offers a range of benefits and programs to support employee well-being, includingflexible work arrangements, health and wellness programs, and training and development opportunities. 
The company also emphasizes itscommitment to sustainability and reducing its environmental impact, with initiatives such as investing in renewable energy. Finally, Shell's EVP highlights the importance ofcollaboration, innovation, and a shared sense of purposein driving the company's success and making a positive impact in the world.
8. Shopify: This is a team sport
Spotify's EVP slogan reflects the company's emphasis oncollaboration, teamwork, and inclusivityin driving its success. The e-commerce giant believes that every employee at Shopify plays a valuable role in achieving the company's mission and thatsuccess is the result of collective effort. As a result, the company uses its employee value proposition to promote itscommitment to creating a culture of support and collaboration, where employees can work together to achieve their goals and reach their full potential. 
Shopify also offers a range of benefits and programs to support employee well-being, such asflexible work arrangements, parental leave, and mental health support. Above all, the company supportsemployee empowermentand uses its employee value proposition to communicate its desire for employees to take ownership of their work and make a meaningful impact on the company's success.