Customer reviews and recommendations have never been so important. In fact, according to BrightLocal's 2023 consumer survey, 84% of people trust online reviews as much as personal recommendations. That means that it only takes a couple of bad customer experiences to potentially damage your brand reputation. And that's why it's so important to keep track of customer satisfaction by regularly using tools like the Net Promoter Score (NPS).
But what is NPS? How can you use it to measure customer satisfaction and loyalty? And what is a good NPS?
These are just a few of the questions that we'll be answering in today's post.


What is NPS?
The value of tracking customer satisfaction is nothing new. However, in the past, many companies relied on multiple-choice surveys to collect customer feedback. These surveys were biased and restrictive. As a result, they usually only provided businesses with the feedback that they wanted to hear, not what they needed to hear.
The Net Promoter Score format for collecting feedback has changed the game. Instead of asking customers to choose from a selection of pre-defined answers, you simply ask them what they think of you. This provides you with much more valuable critical feedback that you can use to enhance your customer experience and build a stronger brand. Plus, because the NPS format is so quick and easy for customers to complete, you can collect feedback from people who you may not have heard from in the past. 
So, what is NPS, exactly?
The Net Promoter Score (NPS) was developed by Fred Reichheld in 2003 after analyzing how traditional customer satisfaction survey questions correlate to consumer behavior. The NPS survey, now used by brands all over the world, has been specifically designed to measure customer satisfaction and loyalty. But instead of asking for feedback from a single interaction or purchase, you ask customers to score their overall experience with your brand. This can be a great way to understand what's important for your customers and how you can improve your customer journey.
With an NPS survey, you ask your customers one simple question:
"How likely are you to recommend our company to your friends and family on a scale of 0-10?"
You then use a simple formula to calculate how satisfied your overall customer base is, as we will see in the next section. Then you can use the benchmark to measure, evaluate, and improve customer loyalty.
How to calculate it
As we just mentioned, the process for calculating your NPS is simple. You just need to share a survey with your customer consisting of one key question: "How likely are you to recommend our company to your friends and family on a scale of 0-10?". You can send this survey out by email, as a link via your chatbot, or simply post the survey on your website. 
Each customer that completes the NPS survey will submit a single-digit score (between 0 and 10). You can then use each customer's score to segment them into one of three categories:
Promoters

: customers who give the company a score of 9 or 10.

Passives

: customers who give the company a score of 7 or 8

Detractors

: customers who give the company a score from 0 to 6.
The next step is calculating your overall NPS as a business. You can use a free online NPS calculator for this. But the formula is very simple if you'd rather do it yourself.
First of all, it's important to remember that you don't include passives in your calculation as these customers are classed as neutral: they don't have a strong positive or negative opinion about your business. Instead, you need to focus on your promoters and your detractors to calculate your NPS.
This is the formula you need to use:
Percentage of promoters (%) – Percentage of detractors (%) = NPS
This calculation will give you a score between -100 (all customers are detractors) and +100 (all customers are promoters).
For example, let's say you have collected completed surveys from 100 customers. 80 of them are promoters (80%), 5 are passives (5%), and 15 are detractors (15%). 
Your NPS calculation would therefore be: 80 – 15 = NPS of +65
What's a good score?
We've seen what it is and how you calculate it, but what is a good NPS?
The first step in evaluating your score is understanding what the three Net Promoter Score categories mean:
Promoters:

loyal customers who are most likely to recommend your company to others. They go out of their way to follow your brand and they serve as positive brand ambassadors. For example, "

I love your products/services!

".

Passives:

neutral customers who are neither particularly happy nor unhappy with your company; they don't have a strong opinion either way. They are open to other brands and are unlikely to publicly endorse you to their friends or family. For example, "

They're ok. I had a few issues, but I got what I paid for.

"

Detractors:

unhappy and unsatisfied customers that are very likely to move on to your competitors. They have a negative opinion of your brand, and they are more likely to discourage their friends and family from becoming one of your customers. For example, "

The wrong item was delivered, and customer service refused to help!

".
Essentially, promoters are more likely to become loyal customers whereas detractors are more likely to churn or spread negative reviews. Passive customers can go either way. So, the more promoters you identify, the better your score is. 
However, it's important to consider your industry, too. A good way to calculate how good your NPS score is, is to compare it to your competitors and industry standards. For example, the average score for airlines is 35. This is much higher than internet service providers who score an average of 2. Context is everything.
Perhaps the best benchmark, though, is measuring against yourself. If your score improves each time that you measure it, then you are headed in the right direction. 
What's included in an NPS survey?
As we have already explained, the primary objective of an NPS survey is to ask a simple question: "How likely are you to recommend our company to your friends and family on a scale of 0-10?". Customers respond with their rating which you then combine with all other scores in order to calculate your Net Promoter Score.
However, most NPS surveys also include a follow-up question where customers can expand on their reasons. They can use this open-ended question to explain how they have decided on their score. And this is the most useful part for you in terms of continuous improvement. You can use this part of the survey to identify pain points in your customer journey and stages of your customer experience that you need to improve. 
Why is NPS important?
The main objective of the Net Promoter Score is to measure how satisfied your customers are and how likely they are to promote your business to others.
Let's break this down and look at some of the specific reasons why regularly calculating your NPS is so valuable for your business. 
Insights into customer loyalty
Your NPS can give you a lot of valuable insights into customer loyalty, especially if you collect open-ended feedback too. You can find out what your customers think about your brand and your products or services. Essentially, whether they have had a positive enough experience to recommend you to a friend. 
This is important because customer satisfaction is everything these days. With so many brands competing for the attention of buyers, it only takes a few unsatisfied customers to damage your reputation. And once consumers start seeing you as an unsatisfactory brand, it is very difficult to change their minds. 
The only way to continuously build a source of loyal customers is by making them happy. You need to provide your customers with a seamless purchase experience, meet their quality expectations, and go the extra mile with your customer service. An NPS can help you determine whether you are on track and, if not, what you need to do in order to boost customer loyalty.
Identify customers at risk of churn
Aside from helping you identify loyal customers, your NPS can also help you identify customers who are at risk of churn. In other words, those who are likely to leave your brand and reach out to your competitors the next time they make a purchase. 
Continuously reducing customer churn is a very important sales strategy. This is because it is much harder to get new customers than retain your existing ones. You get a much higher ROI from repeat customers as there is no acquisition cost and no marketing efforts required; loyal customers simply return to your brand because they had a good experience last time. 
A Net Promoter Score helps you identify how many of your customers are at risk of churn (your detractors). And if you collect follow-up feedback, you can also determine the most common reasons for customers detracting from your brand. You can then use this feedback to make improvements in your business and hopefully convert more detractors and passives into promoters. For example, if multiple detractors claim that customer service is an issue, then you can offer your CS team training to help them offer a higher standard of care.
Drive growth
The goal of any business is to grow and evolve. This requires making your customers happy and meeting their expectations in terms of quality and service. By regularly tracking your NPS and using the feedback you collect to make improvements, you can continuously enhance your customer experience and drive business growth.
With the right corrective initiatives, you can address any identified pain points in the customer experience, retain more loyal customers, and build a solid and credible brand reputation. All this boosts your market position and helps you generate increased revenue from repeat purchases, referrals, and upsells. 
Even negative feedback is an opportunity to grow, provided you make the right improvements to address identified issues. Do whatever you can to convert as many neutrals and detractors into promoters. Promoters spend more money and are more willing to try new products. They also recommend you to more people, churn less, and have a much higher lifetime value. And this is crucial for long-term sustainable growth.
Competitor benchmarking
Finally, the Net Promoter Score makes it much easier to benchmark your level of customer satisfaction so that you can compare it to your competitors and industry standards. And this is crucial for brand positioning, especially if you operate in a crowded market. 
NPS focuses on the bigger picture, not specific customer transactions. It provides you with a snapshot of your reputation that allows you to understand how the market sees you. This is important because, all to often, organizations become inward looking. Instead of comparing their success to their competitors, they benchmark against past performance. These internal benchmarks are obviously very important in business. But it's just as important to understand whether your customers are as satisfied with you as they are with their competitors. Otherwise, it doesn't matter how positive their experience with you is; if someone else does it better then you will lose in the long term. 
The best thing about the Net Promoter Score is that it is a standard metric used by companies all around the world. This makes it very easy to determine which industry benchmarks you should be aiming for. 
In terms of global standards, Survey Money claims that the median NPS is +44. In terms of industries, the average NPS for professional services is +43, for example. Technology companies score slightly lower with +35. Check your industry and competitor standards and measure your company's progress against them.
NPS limitations
There are a few limitations to the NPS. Very few things in this life are perfect, after all. Let's explore some of these potential issues and explain how you can overcome them:
It's a well-established fact that

customers are far more likely to report a bad experience than a good one

. This means that fewer loyal customers might score you than dissatisfied customers. Keep this in mind when you send out your surveys. A good way to encourage more people to complete your survey is to

offer them an incentive

. For example, you could offer customers a 5% discount on their next purchase if they complete your survey. 

The Net Promoter Score itself

doesn't provide you with any actionable insights

. It's just a numerical reflection of your reputation. The only way to gather the specific feedback you need to make improvements is to ask customers to justify their scores. That's why it's so important to

include an open-ended follow-up question in your surveys

.

The NPS

focuses exclusively on your existing customers

. It doesn't provide you with any feedback from your

ex-customers or prospective customers

. And these two customer groups also represent opportunities for growth. Therefore, you should

include the NPS in a wider customer acquisition and retention strategy

. That way, you won't just retain loyal customers, you'll also understand how you can attract new ones to your business too. 
eNPS vs NPS
The traditional Net Promoter Score is focused on your customers. It's all about your external reputation and how your customers perceive your brand. But this concept can be applied to other areas of your business, too.
For example, you can use an Employee Net Promoter Score (eNPS) to measure employee satisfaction and identify your level of organizational commitment. This can help you determine how happy and engaged your workforce is and how likely they are to recommend you to others as an employer. In fact, the tool is so effective at measuring employee satisfaction that most agile organizations now consider it an essential HR metric.
There's also a strong link between your NPS and your eNPS. For example, a company with a high eNPS (a high number of happy employees) is much more like to have a high NPS (a high number of happy customers). After all, happy employees provide a much more positive customer experience. By regularly tracking your eNPS and improving your employee experience, you are bound to see a knock-on effect on your customer NPS, too. The two work hand in hand. 
At Factorial, we understand that measuring employee satisfaction can be a huge challenge for human resources. We also know that an eNPS can be a great tool to overcome this. That's why we've created our own eNPS app. You can use the app to prepare and send out your own employee eNPS surveys and regularly track your employee satisfaction levels. You can then analyze your feedback through the Factorial dashboard.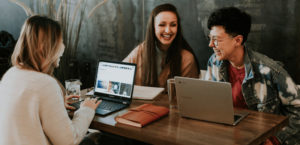 Real-life examples
Let's finish by taking a look at a few real-life examples of companies that have used the Net Promoter Score to enhance their business:
The media monitoring company

Mention

used NPS surveys to

reduce its churn rate by 50%

. After analyzing survey results, the company sent out custom offers to customers in line with their satisfaction levels. Promoters were offered discounted upgrades, passives were offered an extended free trial period, and detractors were asked for suggestions for improvement.

Magoosh

, an online standardized test prep site, used NPS data to

identify common customer complaints and suggestions for improvement

. By acting on these suggestions for improvement, the company managed to

increase its Net Promoter Score by 9 points

.

Airbnb

used NPS data to

predict future rebooking and referrals

. For example, the accommodation rental company found that promoters were 13% more likely to rebook. Airbnb also found that promoters were 4% more likely to refer a friend than detractors.
Ultimately, the most important thing to remember is that NPS is not a meaningless vanity metric. Provided you include an open-ended follow-up question, you can use this tool to collect valuable suggestions for improving your customer experience. This will enable you to continuously improve as a business, become more competitive, and build a solid reputation in the eyes of your target market. And this is the key to sustainable long-term growth.