Change is an inevitable part of the workplace, and navigating it successfully requires vision, connections, commitment, and access to the right resources. We at Factorial are thrilled to announce our participation in the upcoming SHRM conference and expo in Las Vegas, where we will be showcasing our innovative HR solutions. As SHRM celebrates its 75th anniversary, this conference promises to be bigger and better than ever, offering four days of curated experiences that will shape the future of work.
For any questions you may have, jump straight to the event FAQ section of this post!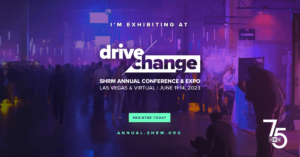 Factorial Heads to Vegas
Join us at SHRM23, the largest gathering of HR professionals on Earth, taking place in the vibrant city of Las Vegas, NV. From the moment you step into the Las Vegas Convention Center, you will be immersed in a transformative experience designed to empower HR leaders and drive positive change in the workplace.
During the four-day event, you will have ample opportunities for peer-to-peer networking, engaging with top business and HR leaders, attending competency-based HR seminars, and participating in hands-on workshops. The event's agenda has been thoughtfully curated to address pressing issues such as diversity, equity, and inclusion (DE&I), workplace culture, talent acquisition, and retention.
Try Out Our Software Live
At Factorial, we understand the challenges faced by HR professionals in today's dynamic work environment. Our comprehensive HR solutions are designed to streamline processes, enhance employee engagement, and empower organizations to thrive. We are excited to showcase our innovative tools and technologies at SHRM23, providing you with a firsthand experience of how our solutions can revolutionize your HR practices.
Whether you are seeking to enhance your organization's DE&I initiatives, optimize your talent acquisition strategies, or cultivate a positive workplace culture, Factorial has the solutions you need. Our team will be available at our exhibition booth throughout the conference to provide personalized demonstrations and answer any questions you may have.
Join us at SHRM23 and be a part of this historic event, where HR professionals from across the globe will come together to make a real difference in the world of work. Mark your calendars for the conference dates and prepare yourself for an unforgettable experience in Las Vegas.

Event FAQ
Have questions? For info about the SHRM23 conference check out the official event website. The top menu bar should have all the answers you are looking for. If you have questions regarding Factorial at SHRM conference, hopefully we can answer them here!
Where can I find Factorial at SHRM23?
Factorial's booth number is 2360. We will be waiting for you in the West Hall of the Las Vegas Convention Center. Come pay us a visit for a live demo of our new Factorial AI features! We are looking forward to meeting you and ready to answer your questions.
Want to contact us directly?
Interested in booking time with our team to learn more about Factorial at SHRM? If you want to contact us directly book a meeting here.
Can't make it to Vegas?
Don't worry! You can reach out to us online and book a free demo of Factorial with an expert. If you want, you can even sign up for a free trial.
What is SHRM23?
An annual conference and expo organized by the Society for Human Resource Management.  SHRM is the world's largest HR professional society. dedicated to advancing the HR profession and providing resources and support to HR professionals worldwide. The SHRM conference is a highly anticipated event that brings together HR practitioners, business leaders, and industry experts from around the globe.
What makes this year special?
SHRM23 marks a significant milestone as it celebrates the 75th anniversary of the Society for Human Resource Management. The conference offers a platform for HR professionals to connect, learn, and gain insights into the latest trends, best practices, and innovations in the field of human resources.
Factorial AI Unveiled: A Sneak Peek!
This year is also made special by Factorial's attendance at SHRM23. We are proud to represent a leading voice in the changing HR landscape as more and more companies make the switch to people-oriented tech solutions like Factorial. What makes this year even more special for us is that we get the chance to show everyone at the conference something very exciting we've been working on.
Watch the video below to get a small taste of what is coming to SHRM23.
More About Factorial
Factorial is an all-in-one HR software platform that makes managing your human capital a breeze. Say goodbye to tedious paperwork and hello to streamlined processes that free up your time to focus on what really matters – your people!
With Factorial, you can simplify and automate a whole bunch of HR tasks. Let's take a closer look at what it offers:
Easy Onboarding: Welcoming new hires has never been easier! Factorial helps you smoothly onboard new employees, from generating contracts to collecting all the necessary info and documents. Say hello to hassle-free onboarding!
Time and Attendance Made Simple: No more confusion about who's working when. Factorial lets your employees easily track their work hours, while you can effortlessly monitor attendance, manage leaves and absences, and generate accurate reports. Time management just got a whole lot easier!
Document Organization Bliss: Tired of drowning in a sea of HR documents? Factorial has your back! It provides a neat and tidy place to store and manage all your important HR files, from contracts to policies and employee records. Say goodbye to the paper chase!
Performance Boosting: Help your team shine with Factorial's performance management features. Set goals, conduct reviews, and provide feedback to supercharge employee growth, engagement, and productivity. Let's unleash their full potential!
Time Off, Stress Off: Managing leave requests doesn't have to be a headache. With Factorial, employees can easily request time off, and you can efficiently handle and track those absences. It automates leave approval workflows, keeps leave balances in check, and generates handy reports. Vacation planning just got smoother!
Empower Your Employees: Give your employees the power to access their own information with Factorial's self-service portal. They can update personal details, manage leave requests, view pay stubs, and more. It's like HR freedom at their fingertips!
HR Insights at a Glance: Say goodbye to guesswork and hello to data-driven decisions. Factorial's reporting and analytics features provide valuable insights into your workforce data. Spot trends, monitor key HR metrics, and make smarter decisions for your business.
Factorial at SHRM: Come Meet Us!
We look forward to meeting you at SHRM23 and exploring how Factorial can empower your HR journey towards a brighter future. Together, let's drive change and shape the future of work!
For more information about SHRM23 and to register for the conference, please visit the official SHRM website. Stay tuned for updates on our social media channels as we count down to this exciting event.