You're likely sick of hearing about the coronavirus outbreak, but yet, you may also be wondering exactly what the risk is within your company and how you can prevent your employees from getting sick. With a number of confirmed cases of the virus spreading across the country, and into homes and businesses, prevention management is key. Not only that but if your employees are working from home, you'll need to be clear about which category of leave coronavirus falls into within your company's absence policy. Is COVID-19 classified as sick leave, holiday, paid time off, or a normal day, just working from home? We'll explore the topic and more, including coronavirus USA prevention, and quarantine! 
Now, the real question at hand. Is your human resources department equipped to manage the current situation? Apart from handing out face masks and enforcing travel restrictions on your executives, there's more you can do to lessen the impact the virus has on your company.
Coronavirus is Affecting Your Busines: Learn How to Manage!
Whether you'd like to acknowledge it or not, in some shape or form, the coronavirus is affecting your company. The effects on smaller companies vary from those of larger ones, yet both sized businesses face their own challenges when it comes to the matter.
Dealing with Stranded Workers & Handling Quarantine
Eugenie Fanning, who is the VP of People at SquareFoot, a commercial real estate company based in New York, shared with the CNBC how COVID-19 is affecting their operations. In particular, how they are managing a case of a stranded employee in Italy. They, much like other businesses, are allocating more resources in the direction of virtual work, as a way to manage coronavirus. 
A recent study by the CNBC shared that ⅓ of businesses have workers currently stranded for an extended period of time, out of work due to the coronavirus. It is the duty of the human resources department to assess each individual case and determine whether, when the employee is able to come back, they should return to the office, or continue working remotely until they have tested negative for the virus. Most companies have continuity plans in place or even infectious disease management plans. In cases like these, it's quite common for companies to request workers to work from home and avoid close contact with others. 
Maximizing Work While Minimizing Risk – Virtual Work 
At present, one of the best ways to manage employees during the coronavirus COVID-19 global outbreak is to implement virtual work solutions. With this initiative, employees have the opportunity to work from home. For example, rather than a face to face conference, video conferences can take place instead. 
Infectious Disease Outbreaks & Absence Labor Laws
In the United States, there are a number of laws that provide protected leave to employees; however, these differ state by state and often aren't so clear when managing cases like the coronavirus. The Family and Medical Leave Act and the Fair Labor Standards Act, for example, do not clearly detail whether they cover cases such as COVID-19. Therefore, many companies are raising the question, as to whether their employees are protected by these labor acts, especially in the following two situations:
An employee who hasn't fallen ill yet, but stays away from work to care for a sick relative.

Or, works from home to avoid potential exposure to the coronavirus.
In addition, workers who are not on a salary, and instead paid hourly, are not protected under the Fair Labor Standards Act in the USA, for nonworking hours. With that said, in the United States, many advisors are suggesting companies to consider paying staff for the time they are out, regardless of whether they are covered by medical leave laws or not. The reason being is that the absence of paid time off for employees has been one piece of the puzzle to what has accelerated the spread of infectious disease outbreaks in the past. 
What should you do when it comes to abiding by the law? As a business, you have two main options:
Turn a blind eye to nonsalary workers and apply the same PTO restrictions to them regardless of situations like COVID-19.
Emphasize prevention, cough up a little extra dough, and have high-risk employees stay home until they've ensured they've not tested positive for the virus. 
Coronavirus USA Screening
The Occupational Safety and Health Act of 1970, among other state laws, speak of an employer's general duty when it comes to providing employees with safe working conditions. The law states that employers are required to keep employees free from known hazards that could cause serious harm or death. 
Now, where does infectious disease fall into place in this Act? 
Recently, the commissioner of the F.D.A released information that thanks to looser regulations around who can create tests for the coronavirus, more Americans will have the opportunity to be screened. As of the first week of March, there were around 6 deaths and 100 cases of the infection in the United States. Although these numbers are minuscule compared to the over 40,000 (and quickly increasing) worldwide cases, that hasn't stopped employers from doing their part in protecting their employees from the virus. 
Sick Leave Policy
Before the coronavirus epidemic escalates anymore, companies in North America are revisiting their sick leave and paid time off policies. If you haven't yet done so, it's worth jumping on the bandwagon, but as always, do so as a precautionary measure, not in fear. The likelihood of the virus spreading rapidly in the US could become high unless companies put policies in place that don't penalize workers who take sick leave. For the purpose of absence management, it's a good idea to consider the coronavirus as any other illness that would fall under the category of short-term disability coverage or sick leave.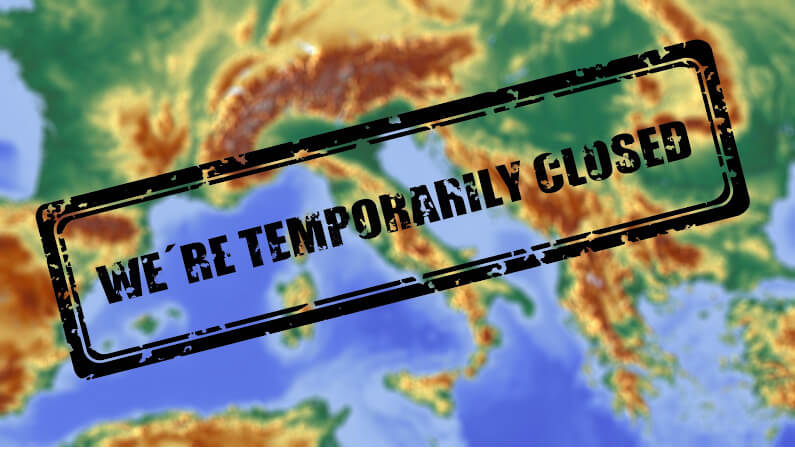 Halted Operations
Halted operations in China are hugely affecting businesses across the globe. Not only are some businesses experiencing huge delays in shipments, but many also are not receiving any products at all. This has forced companies to pivot and find ways to continue operations during this time, without losing revenue along the way. 
Consumers are also slowly changing their behaviors as well. In countries where there are high alerts in places, such as in Italy, consumers are choosing to buy online, rather than go out. In areas such as Sicily and Calabria, the situation is even more intense. In these places, you can even be impersonated right now, for going out in public if you have Coronavirus.
In the United States, the punishment isn't so harsh and doesn't go past quarantine. Centers for disease control are advising that individuals are on high alert to avoid contracting the virus and ending up in quarantine. 
Prevent the Spread of Coronavirus
The coronavirus outbreak, which began in Wuhan, China and has spread to over 65 countries and is acting as a wakeup call for companies. The outbreak has forced employers across the world to review their strategies, infectious disease policies, and procedures, all in an effort to better protect their employees.
Protect Your Employees from Covid-19
Encourage employees to pay attention to their bodies much more than normal. Anyone who exhibits respiratory symptoms while at work should leave immediately. 
Remind staff to wash their hands for at least 20 seconds and use a hand sanitizer (alcohol-based) throughout the day. 
If possible, avoid shaking hands or coming too close to others.
Increase the common cleaning practices in the office. Make sure doorknobs and frequently touched surfaces are cleaned often. 
As an employer, stay up to date with recent World Health Organization communication and make sure you have a way to communicate with your staff in real-time so they are up to date as well.
Consider revising policies around domestic and international business travel. 
Communicate your coronavirus policy with your employees. Assure them, they won't be penalized if they exhibit symptoms and need to stay home. 
Be proactive. Ensure all supervisors are adequately equipped to know which health officials must be contacted in case of an emergency. These individuals should also stay up to date with notifications from the disease control and prevention organizations across the USA.
Since the cancellation of the World Mobile Congress in February, other countries have followed suit and tightened their procedures with how they manage Coronavirus USA.  As an employer, you also need to be on guard and stay aware of the situation. Being fearful won't help, yet ignorance of what exists will only spread the virus more. Your aim should be spreading coronavirus awareness, not improving conditions to spread the virus itself.