The promotion of diversity, equity and inclusion has become a growing trend around the world. This is partly due to an increasing focus on equality in the media, but also because businesses are now appreciating the benefits of creating an environment where employees feel connected and that they belong. As a result, increasing numbers of organizations around the world are now including DEI initiatives in their overall business strategy. In fact, according to a recent report by Mercer, 81% of organizations say they are focused on improving diversity, equity and inclusion. However, despite this fact, only 42% report having a documented DEI strategy, and only 50% claim to have established formal DEI goals and targets.
To help you get up to speed with this growing business trend, we have put together this ultimate guide to explain everything you need to know about DEI initiatives. We will discuss what DEI is, and which metrics you need to create to track your progress. We will also share a number of DEI initiatives examples to help inspire you to create a more diverse, equitable and inclusive organization.  
TABLE OF CONTENTS
What are DEI initiatives?
Why are DEI initiatives important?
DEI initiatives data
DEI initiatives examples
Measure DEI initiatives success
Gain insight into your workforce with HR Analytics Reports Software ✅
What are DEI initiatives?
Workplace DEI initiatives are on the rise. Put simply, they are employment actions based on the principles of diversity (employing people with a range of social identities), equity (creating systems that ensure equal access), and inclusion (ensuring all voices are heard). Similar to DEIB, the aim behind these initiatives is to create a working environment that benefits all employees, regardless of gender, ethnicity, socioeconomic background, or mental and physical ability.
DEI initiatives examples include the following:
ERGs (employee resource groups)

Financial wellness programs and other related

employee benefits

Diverse hiring and recruitment practices

DEI training

Mentorship programs

Initiatives to help build diverse leadership 

The creation and nurturing of a culture of diversity, equity and inclusion
Before you define your DEI initiatives, it's important to conduct a full audit of your organization as it stands so that you can identify which areas you need to work on and improve. 
How inclusive and diverse are your current hiring practices? Are you promoting fairly and conducting performance evaluations for all your employees? Do all employees have the same access to learning and development resources and opportunities? How do you leaders conduct themselves on a day-to-day basis? Do you use inclusive language in all your internal documents? Are employees paid equitably across the board?
Once you've done that, you can focus on developing initiatives to address identified problem areas so that you can develop a more diverse, equitable and inclusive working environment for every member of your organization. 

Why are DEI initiatives important?
According to McKinsey, companies that prioritize DEI initiatives are not only more robust, but they are also more likely to outperform financially over time.  
There are a number of reasons for this.
For one thing, nurturing a culture of diversity, equity and inclusion can be a great tool to improve employee engagement and create a shared sense of mission and purpose. It can help you reduce recruiting bias and create a safe space for your employees to develop their professional skills. And this, in turn, can help you create a diverse culture based on fresh perspectives, the exchange of ideas, creativity, and innovation, which can help your business develop and grow.
What's more, implementing the right DEI initiatives can also improve your reputation and employer brand, increase your retention rates, and help you attract top talent to your business. Plus, a DEI strategy that includes initiatives for promoting employee wellness can have a direct positive impact on employee satisfaction and mental health, which then feeds down to improved customer relations, further boosting your ROI.
Ultimately, though, the biggest benefit of implementing DEI initiatives is that when employees feel valued and respected, and that they belong, they are more likely to be engaged and motivated and perform at a higher level. This is because they buy into a shared sense of purpose and strive to contribute to the overall success of the company. 

DEI initiatives data 
Another thing to consider when you design your DEI initiatives is the importance of data. You need to start by conducting a data-driven analysis of your current DEI efforts so that you can establish clear benchmarks for tracking your progress. This means evaluating your current policies and identifying which areas of your business you need to improve. And, above all, you need to listen to your employees to determine how diverse, equitable and inclusive they think you are as a business right now. 
Once you've established your current level of DEI and benchmarked yourself against industry standards, you need to establish clear goals and diversity metrics.  
For example, is there a gender or age imbalance in certain departments? Do your recruiters hire employees from a variety of racial and socio-economic backgrounds? Are certain populations unsatisfied with the company culture? Is there a large employee turnover?
The right DEI initiatives data will help you:
Establish your current level of DEI

Identify benchmarks to improve your current level of DEI

Gain an understanding of how you can create a more diverse and inclusive culture and environment in your business

Expand your understanding of DEI beyond what you can see

Create a safe environment where your employees feel valued, supported, heard and understood.
DEI initiatives examples
Once you've conducted an audit of your organization, determined which areas of your business you need to improve, and defined clear benchmarks to help you get there, the next step is designing and implementing your DEI initiatives.
Your DEI initiatives should be founded on four key pillars:
Educate

: Designing measures to help every member of your organization understand the challenges that certain employees might face, and how we are all responsible for creating an environment of DEI.

Empathize

: Creating a safe place for employees to share their personal experiences. 

Engage

: Identifying actions to help your organization support the diversity, equity and inclusion of all your employees. 

Expect to be held accountable

: Implementing measures so that you can quantify the impact of your initiatives and continuously improve as a business.
Here are a few DEI initiatives examples to give you an idea of what you should be aiming for. 
ERGs
Many companies these days are implementing employee resource groups, also known as ERGs, to promote diversity, equity, and inclusion. These are voluntary, employee-led groups that serve as open forums for employees who share a common characteristic or identity. This might be gender, race, ethnicity, veteran status, religious affiliation, or lifestyle. Employees can get support from each other, build a community, and create a sense of belonging.
These groups can be a great way to build inclusive environments that drive diversity and equity in the workplace. They offer employees the opportunity to network and socialize, work on professional development, and raise awareness of relevant issues. They also help you establish a clear line of communication between managers and minority groups so that employees can voice concerns when needed. 
If you decide to implement this DEI initiative, make sure you:
Give your ERGs the autonomy to define what their group is

. Never dictate. This includes the scope of the group, who is eligible, and what success means.

Provide groups with

the right tools so that they can track and measure their success

.

Understand that these groups are

both top-down and bottom-up

. This means that although the groups are created and managed by employees, senior management still needs to be on board. After all, the main purpose of the group is to promote diversity and inclusion at every level of your company, not create further divisions.
Financial wellness programs
When most people think of DEI initiatives, they think about their hiring practices and pay equity. However, it's also about creating a safe environment where all employees can be free from the burden of worrying about their physical and mental health. 
One way to do this is by promoting employee wellness. But it's equally important to promote financial wellness programs. This can be a great way to support any employees who might be experiencing financial stress, especially employees from underrepresented or disparate communities who might have different relationships with money and varying levels of financial education. (For example, studies have shown that financial stress disproportionately affects minority populations, especially Black and Hispanic communities) 
A financial wellness program might include offering support to employees dealing with financial stress such as putting them in touch with a financial advisor. Or you could offer educational opportunities so employees can learn how to better manage their finances. Another great solution might be to include health insurance and health savings or spending accounts in your employee benefits packages. That way, your employees will see that you care about the health and well-being of your entire workforce.
Diverse hiring
One of the most effective initiatives you can implement to promote DEI in your business relates to your recruiting funnel. This is because the best way to ensure that you have a diverse workforce is by focusing on your incoming talent.
Start by taking a look at your existing recruitment processes. Is your organization hiring a diverse group of talent? Are you attracting diverse candidates? Do your job descriptions and hiring practices discourage certain populations from applying? Are you paying your workers equitably and in line with industry standards? Evaluate your hiring rates by gender, ethnicity, and age, for example. This will help you identify any patterns that might suggest your organization has an issue with recruitment bias.
It's also important to take a look at your internal hiring practices. Are you promoting employees equally? Do you offer the same level of career progression across the board? What about your exit rates? Is there a higher turnover rate for certain demographics? Do any departing employees cite discrimination or bias as their reason for leaving the company?
Once you've considered all the above, work on establishing a set of diverse hiring targets to promote DEI at every stage of your recruitment funnel. 
For example, you could:
Use tools to audit your job descriptions for non-inclusive language

Include your commitment to DEI at the top of all your job postings

Offer diversity and recruitment bias training to all your hiring managers
DEI Training
Another proactive initiative is offering DEI training to all your staff. This will help all your employees understand what workplace discrimination is and how they can contribute to creating a more diverse and inclusive working environment. 
Start with your managers. Offer them internal training so that they know what your DEI goals are and what you expect of them. They need to understand what you consider disparate treatment, and how they can avoid any potential adverse impact from their actions. You could also offer them bias training so that they are able to identify any underlying prejudices, such as gender bias or issues with ageism and promotion. 
Once you've done that, extend your DEI training to the rest of your workforce so that they understand that every member of your organization has a personal responsibility to uphold your standards for diversity, equity, and inclusion. Teach your employees how to identify and report any examples of bias in the workplace. Make it clear that you will not tolerate these behaviors and clarify the consequences if they break your DEI code of conduct.
Mentorship programs
Mentorship programs can be a great tool for promoting inclusivity in your organization. They can help you establish meaningful connections between employees and promote a philosophy of learning and development for all. They can also boost comradery and cooperation and help you develop a culture of belonging in your business. What's more, mentorship programs are designed to help individuals express their concerns and learn how to grow. And this is the foundation of creating a culture of DEI, provided you offer these opportunities to all individuals.

Build diverse leadership
Your DEI initiatives need to start from the top and filter down to the rest of your workforce. And this means you need to build diverse leadership styles and get all your senior executives on board with your initiatives. 
Make sure your leaders understand what your DEI objectives are and why building a diverse organization is so important. Their support is vital for the success of all your DEI initiatives. With the right leadership style, you can create the environment you need to develop a diverse, equitable, and inclusive organization.
Create a culture of diversity, equity and inclusion
Finally, the most important DEI initiative you can implement relates to creating a culture of diversity and inclusion. If you don't nurture the right culture, then all your other DEI initiatives are likely to fail.
The key to creating a culture of belonging is building a sense of community for everyone. Promote transparency and involve your employees in important decisions. Ask them for feedback on a regular basis and remind them that their opinion matters. Encourage them to voice any concerns without fear of recrimination. Develop an open culture with good communication channels based on open dialogue and active listening.
Most importantly, remind your employees that creating a diverse and inclusive workplace culture is everyone's responsibility. 

Measure DEI initiatives success
The final step, once you have launched your DEI initiatives, is regularly monitoring your progress against your established metrics and benchmarks. This will help you determine if your initiatives are helping you create a more diverse, equitable, and inclusive working environment.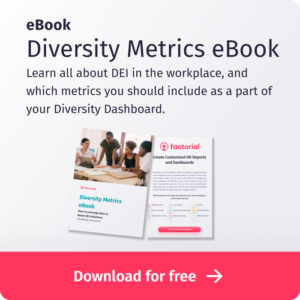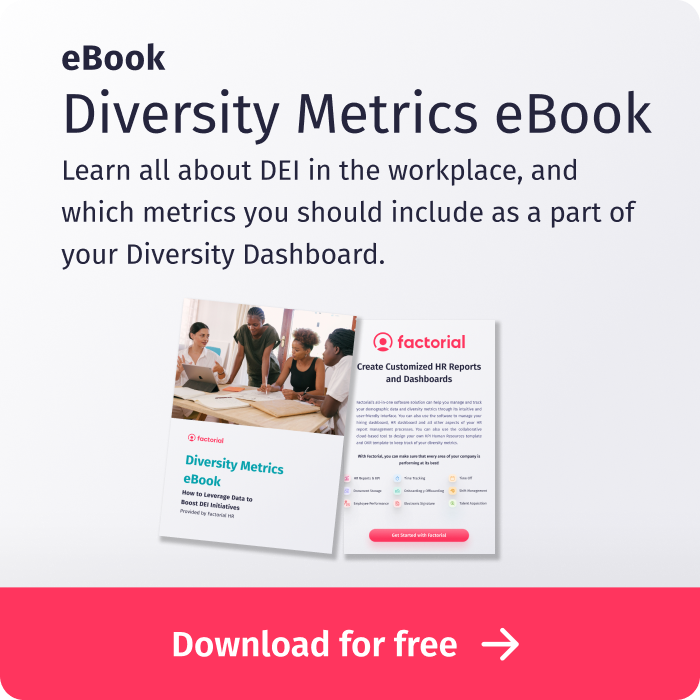 The best way to keep track of your diversity metrics is by including them in an HR dashboard. An HR dashboard is a simple interface that you can use to keep track of your KPIs in real time. By creating one specifically for your diversity metrics you can generate customized reports to help you monitor your progress towards your established DEI benchmarks. 
For example, you can create a custom dashboard to measure gender and racial diversity in the workplace. And you can generate regular reports to get an in-depth overview of the effectiveness of your DEI efforts. All this will help you create a more supported and inclusive workforce. 

Most importantly, remember that the best way to measure the impact of your DEI initiatives is by reaching out to your employees and asking them for their feedback. Promote open dialogue and regular communication. This will help you gain fresh perspectives on your DEI progress. That way, you can continuously improve and create a nurturing environment for every member of your organization.