Knowing how to conduct an interview is integral to a successful hiring process. If you are responsible for key hiring decisions within a company, then being able to effectively carry out a brief, professional, and telling interview is key.
When you conduct a job interview, you will be able to evaluate whether or not the job candidates will be a good fit for the team. But never forget that the candidate will also be evaluating your company through the interview process.
Having a clear idea of what it is you want to transmit in the interview and what it is you hope to discover about the applicant helps in selection. Jumping right into an interview blind is never a good idea, especially if you plan to secure top talent.
Do you know what kind of questions should be asked or avoided? As an HR admin, how exactly do you prepare for an interview? Is there anything else involved other than asking questions? We'll answer these questions and help you avoid the most common hiring mistakes in this useful guide for conducting an interview.

What to Know Before Conducting an Interview
The process of recruitment and selection can be one of the most difficult HR processes in a company. But, as any recruiting manager knows, a good hire is worth their weight in gold.
Before the candidate walks through the door, you should set aside a sufficient amount of time to prepare for the interview. How can you best transmit your company culture and values? What skills will be most useful for the position the candidate will be filling and the duties within their role?
In advance of the interview, you'll need to prepare to conduct a detailed evaluation of the candidate. Adequate preparation beforehand ensures that the interview follows a structure that allows you to gather all the pertinent information required to assess the candidate.
With that said, here are your tips for conducting a job interview.
Create a stress-free interview process 
Remember, you are interviewing the candidate, which means they are going to expect you to appear confident in your role. If you're feeling stressed, they will probably mirror that back to you. It's up to you to create a relaxed atmosphere so that you can interact with the candidate in the most natural way.
Give your candidates a chance to show off their best qualities. In other words, it's difficult to perform well under a significant amount of stress. Make sure you have informed the candidate of how they can prepare, in advance of the interview so they know what to expect.  Providing applicants with interview guidelines (ie. how to dress), helps them feel more comfortable so they can show up in their best light.
Study the candidate's resume or CV
Look over the candidate's resume. Using a blind resume might offer an opportunity to limit the influence of unconscious bias. You can familiarize yourself with their work history and background. Reviewing the CV in depth ahead of time ensures that you maximize the time you have in the interview. Why?
Many general questions are often easily answered with just a quick scan of someone's CV. When you start with this knowledge already in hand, you can take advantage of the interview to really dig deep into the candidate's skills and abilities.
You can also take the time to highlight any areas in their resume that may seem vague or unclear, or perhaps that contains something that may be unknown to you, such as a unique hobby. Allow the interviewee the opportunity to expand on those areas as it may reveal possible behaviors or personality traits that will have an impact on effective job performance.
Prepare role-specific questions
It's important to create a list of clear and focused questions that you will ask each one of your candidates, especially if you want to compare answers. This, in particular, comes in handy when interviewing multiple people.
With that said, each candidate is different so it would be good to personalize questions based on what you've learned from an applicant's resume. Varying the style of questions throughout the interview will help you pinpoint attitudes as well as intangibles that the candidate may have.
Most importantly, make sure you tailor your questions to fit the job description. What attributes does someone need to succeed at your company? There are always the basics (smart, hardworking), but do your best to get at more specific traits.
For example, kindness may be more important in customer-facing roles while curiosity will be more important in analytic roles. Are you looking for someone who is good at following rules or someone who can self-direct?
How to Conduct an Interview
Even if you're a veteran of interviewing candidates, it's still a good idea to make sure you're following the right process. If you are unsure of what the entire hiring process entails, you can download our free hiring process checklist, before starting the process of recruitment.
Here are the key points HR managers should follow to ensure a successful interview process.
1. Introduce yourself and set the scene
First impressions are everything. Introduce yourself and welcome the candidate respectfully.
By greeting the candidate in a polite manner, you will help ease much of the tension that he or she may be feeling. Tell them a little bit about who you are and then ask them how their day is going or if they have any weekend plans. This will help break the ice.
You'll also want to make sure the interview space is clear of any kind of distractions so that you can both focus on the conversation. If the interview is virtual, make sure you have a clean background and space to chat.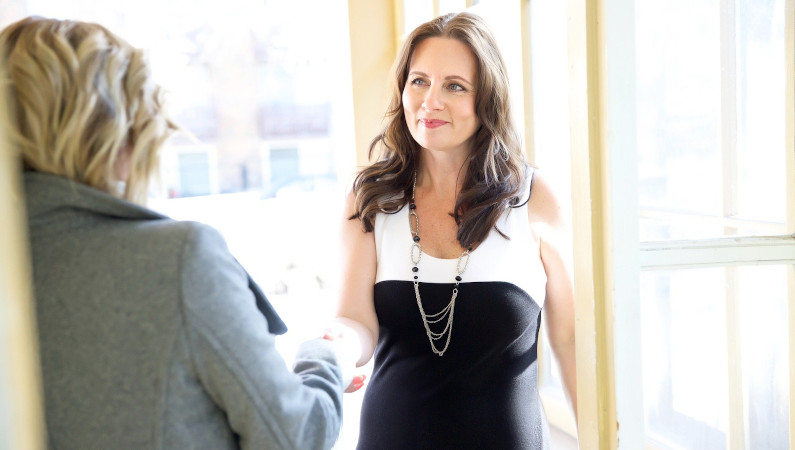 2. Explain the interview process
Describe to the applicant what they can expect from the interview and the estimated duration. This will help keep the interview organized and set clear objectives for both you and the candidate.
3. Sell the company and the position
Take a few minutes to explain a bit about the company and its background. Inform them what you do, what your job entails, and the position that needs filling.
Try to deliver a good description of the business, company culture, and role. This will be your chance to draw in the candidate and develop their interest in the role even more.
4. Begin with the general questions you prepared
The types of questions you ask play one of the most important roles in the hiring process. It's important to ask about the candidate's interest in the position. Remember to vary your questions, between those of behavioral and situational questions.
You can't get to know the applicant with questions that evoke a simple "yes" or "no" answer. Make sure to focus on open ended questions which will allow the candidate to shine.
There is also such a thing as "pointless" questions. Avoid falling into the trap of asking the kinds of questions that give you meaningless answers. For example, asking a question such as, "Do you enjoy coming to work?" will probably not lead to a very satisfying answer.
5. Dig deeper
Expand deeper with more interview questions related to the applicant's previous answers. These can be questions that you perhaps already prepared or ones that come up on the fly.
Be sure to listen attentively to the candidate so that you can ask follow-up questions related to what he or she has said previously. Remember to maintain good eye contact as well. This action and attentiveness prove your seriousness towards the interview and most importantly, show them you genuinely care.
6. Welcome questions from the candidate
Don't forget the welcome questions from the candidate. This is important not only so that the candidate has the chance to ask anything that will help them feel secure about the job that he or she is applying for.
It is also an important opportunity for you to see how invested the candidate is in the company and whether they'll be a good fit. Are they asking about day-to-day tasks? What about the big picture? This is a great opportunity to see if the candidate will be a cultural fit at your company.
7. What comes next?
Everything has been covered and said…what next? Once you have all the information you need and both the hiring manager and the applicant are satisfied with the interview, it's time to explain the next steps of the process.
Indicate how long it will take for them to hear back from you, what the next step will be if he or she will be moving on in the interview process when the job commences, and so on.
Remember, it is neither considerate nor professional to leave the applicant hanging when they're expecting a response. It reflects badly on your company and employer branding. If you have many applicants, consider using an applicant tracking system to keep track.
8. Conclude the interview
The way you close the interview is just as important as how you start. You want to show appreciation towards the candidate for having come and taken an interest in the role.
Make sure to thank them for their time. Regardless of what your final opinion might be of the candidate, it's always good to leave them with a positive feeling. The way you see off the applicant contributes to the lasting impression they will have on you and your company.
These 8 tips on how to conduct an interview make a massive difference for the hiring manager and the recruiting process in general. You want to find the right person for the job and nailing the interview process is where it all begins.
Optimize Your Interview Process
Whichever employee you end up sending a job offer letter to, you want to optimize the candidate experience for each applicant. Using recruitment software will make it easy to see all the candidates currently in the pipeline for various roles.
It will also provide key recruitment metrics which will provide insight into whether you need to recruit externally or promote internally and whether you have understaffing or overstaffing problems.