The labor market is becoming increasingly employee-driven and job seekers are demanding more from the companies where they work. As a result, businesses need to adapt their talent acquisition strategies in order to remain competitive. Along with offering an attractive salary and healthcare benefits, one of the most appealing perks that employers can offer is unlimited PTO.
So, how does unlimited PTO work? What do you need to keep in mind when you design an unlimited PTO policy? And what are the pros and cons of offering this employee benefit?
Let's find out.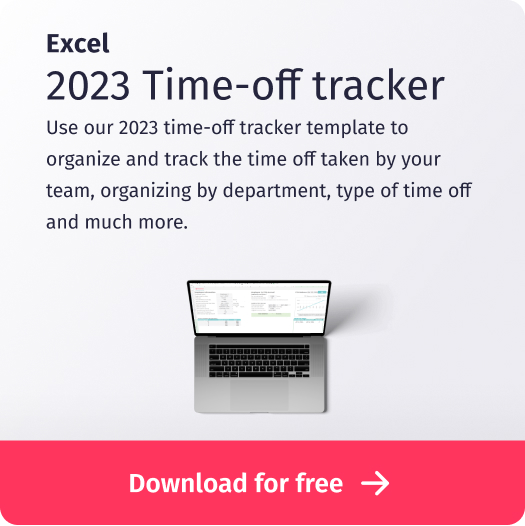 What is unlimited PTO?
Paid time off, also referred to as PTO, can refer to a number of different types of time off requests. This includes sick leave, vacation leave, and personal leave. Unlimited PTO is when salaried employees can take an unrestrictive number of days off and still receive full pay. Their employers allow them to take as many vacations, sick and personal days off as they see fit. Provided they meet their performance goals, of course.    
Although the Family and Medical Leave Act entitles US employees to up to 12 weeks of unpaid vacation every year, there is no federal law regulating paid time off. However, there are certain state laws that employers need to consider when they design their time off policies. For example, 12 states, including California, Colorado, Connecticut, Maryland, and Massachusetts, have enacted paid sick leave mandates. Moreover, Maine and Nevada have explicitly stated that PTO must not be limited to sick leave. But there are no laws in the US regulating unlimited PTO. It is up to each employer to decide whether or not they include this benefit in their leave policy.
Despite this fact, unlimited PTO vacation has become increasingly popular over recent years, especially in small businesses. However, it's important to understand the pros and cons of offering this benefit before deciding whether it will work in your organization.
7 pros to unlimited PTO
Although there are many benefits to offering unlimited PTO, the biggest appeal is that it helps employers stand out in the job market and attract more top talent to their business. This is especially true in the case of Millennial and Gen Z workers who claim that it is one of the top benefits that they look for when they seek employment. 
Let's explore some of the pros and cons of offering this increasingly desirable perk to your employees.
We'll start with the pros.
Attract and recruit top talent
Many employers are now offering unlimited PTO as an incentive for new recruits. In fact, the number of jobs on Indeed advertising unlimited PTO increased by 178% between 2015 and 2019. With increasing numbers of candidates seeing it as a "must have" rather than a desirable perk these days, offering unlimited time off can help you boost your employer brand, stand out from your competitors, and attract and recruit top talent. 
According to a recent PTO survey, 51% of employees would take a job for 10% less pay if unlimited PTO was available. That's why so many big companies, including Sony, HubSpot, and Grant Thornton now offer unlimited PTO plans. Employees appreciate the freedom and autonomy as it helps them feel more in control of their work-life balance. As a result, it can be a great way for businesses of all sizes to attract the attention of quality candidates.
Streamline administrative tasks
Offering a limited number of days off involves a lot of work from an administrative point of view. You have to track each day taken off by each employee. You then need to classify whether the day has been taken as a vacation or used as a sick day, a personal day, a bereavement day, or parental leave. Plus, if you use an accrual system where PTO rolls over to the next year, you also have to re-calculate vacation allowances each January or manage leave encashment. 
All this can take up a lot of valuable time, especially if you have a large workforce. By offering unlimited PTO, you can drastically streamline your administrative processes and free up valuable time for your HR team.
Increase productivity
Many employers worry that an unlimited PTO policy will result in empty offices and low productivity. However, most organizations that implement this benefit find that it actually boosts productivity. 
Why?
Essentially, employees who are able to take time off when needed come back to work rested and recharged. They are able to prioritize their needs and take occasional breaks, without worrying about eating into their annual allowance. As a result, they are better equipped to handle their workloads with a fresh, rested perspective. They also work better with their colleagues, make fewer mistakes, and are, overall, much healthier and happier.
Nurture loyalty and trust
Employees who are able to access unlimited PTO or flexible time off tend to feel more valued and respected by their employers. They appreciate the trust, flexibility, and autonomy of being able to manage their own workloads and take responsibility for their own productivity. As a result, they are usually far more loyal and committed to the organization. This is especially true in the case of Millennial and Gen Z workers.
Encourage a better work-life balance
According to the State of the American Workplace Report, 53% of employees believe that having a job that helps them maintain a good work-life balance is essential. Employees aren't just driven by salaries these days. They also seek job opportunities where they can nurture their health and wellbeing and spend quality time with their family.
When employees are able to manage their own work-life balance, they feel happier and more in control. They are able to take time off for medical appointments when needed, take a "mental health day" when they feel overloaded, and stay in bed when they feel sick without worrying about how they will pay the rent. As a result, employers find that they have a lower risk of employee stress and burnout and employees take far fewer sick days.
Boost employee engagement and performance
With an unlimited PTO policy, you judge your employees on results rather than time spent in the office. As a result, employees are far more likely to take accountability for their own performance. 
Why?
For one thing, they have the incentive of proving that taking time off isn't affecting their productivity. Plus, employees know that if they complete their tasks faster and deliver positive results, they will be able to reward themselves with a paid day off. This helps you nurture goal-driven attitudes, boost engagement, and increase workplace efficiency.  
It's cost-efficient
Finally, unlimited PTO can be cost-effective for your business. Aside from the increased revenue you are likely to generate from higher productivity levels, you also save a lot in terms of turnover and hiring costs as happy and loyal employees are more likely to stay at your organization.  In fact, a recent survey by Fortune has revealed that 50% of workers in the US prefer unlimited time off over earning a higher salary.
Another factor in this sense relates to leave encashment. With an unlimited PTO policy, you don't have to worry about rolling over paid holidays to the next financial year or paying out owed PTO when an employee leaves your company. This can save your company a great deal of money in the long term.
5 cons to unlimited PTO
Although there are a lot of benefits to unlimited PTO, there can also be a few drawbacks. That's why it's so important to develop a detailed unlimited PTO policy so that everyone understands how things work and there is less chance of something going wrong. 
Here are some of the most common disadvantages that you might encounter if you don't have clear guidelines in place.
Potential for Unlimited PTO abuse
Although low, there is always a risk of your unlimited PTO policy being abused. Employees might take too much time off and it could impact their work. They might miss deadlines or the workload of the rest of the team could increase if certain employees take advantage of the freedom that you are giving them. That's why it's so important to evaluate your workplace culture before implementing a policy like this. You need to be sure that your employees have the right mentality, and that they are responsible enough to take accountability for their own performance.
It's also important to make sure that you have a clear and comprehensive policy in place as well as a defined process for requesting and approving time off. That way, your managers will still have ultimate control over staffing levels and absences won't have an impact on productivity.
Unlimited PTO can lead to confusion, pressure, and burnout 
The risk goes the other way, too. If employees are confused by your policy or feel pressured not to take time off then it could lead to stress, resentment, and burnout.
To overcome this, it's important to keep track of all employee time off. If someone isn't taking enough time to rest and recharge, remind them how important it is. If they still don't take time off, meet with them to discuss their duties to see if there's anything you can do to reduce their workload. 
Ultimately, if employees don't take enough time off, it will impact their physical and mental health. And this will lead to higher absences in the long run. 
You can't use time off as a reward or incentive
Many companies use PTO as a reward or incentive for good work. However, with an unlimited PTO policy, you will no longer have this tool in your belt. Your employees won't be able to earn extra vacation days by meeting performance goals. This could potentially lead to resentment if certain employees believe they deserve a reward for being a high performer.
To reduce the risk of this, you need to find other ways to reward and motivate your employees. For example, implementing an employee recognition scheme can be a great way to do this. Or you could reward high productivity with gift vouchers or a nice meal out.
Risk of scheduling conflicts
Offering unlimited PTO can lead to scheduling issues if multiple team members take time off at the same time. You could be left understaffed, impacting the workload of other team members and overall departmental productivity. 
The only way around this is to enforce a defined system for requesting and approving time off. Make sure your employees understand how much notice they need to give, how they should apply for time off, and who approves their requests. 
It's also a good idea to use time-tracking software and shift-scheduling software so that managers can review upcoming absences before approving a request. That way, there's no risk that too many people will be away from the office at any given time.
Unlimited PTO can be difficult to implement
Finally, one of the main reasons why organizations are sometimes wary about implementing an unlimited PTO policy is that it can be difficult to implement if you don't use the right approach.
Implementing a policy like this requires time and planning. You need to define a policy with clear guidelines. You need to decide how requests will be processed and who will approve them. Plus, you also need access to tools and technology for time tracking, scheduling, and performance management. 
Perhaps most importantly of all, companies with unlimited PTO need to nurture a culture and environment where employees can thrive under this policy. This requires communication, trust, transparency, and accountability.

What employers should keep in mind about Unlimited PTO
There are a few things to keep in mind when you implement an unlimited PTO policy.
Firstly, before you make the decision to offer unlimited PTO, you need to make sure that you have the right culture and working environment. Offering unlimited time off won't work in every business. The entire concept is based on autonomy, freedom, and trust so you need to be sure that your employees are able to perform under these conditions. Essentially, this means that you need an environment where employees are goal-driven and invested in their work. You also need to ensure that you have clear procedures for monitoring and evaluating performance and productivity.
In terms of implementing the policy itself, it's important to establish clear PTO guidelines so that everything runs smoothly, and you have no issues with staffing and scheduling. This includes the process for requesting time off and how much notice employees need to give. What will you do if someone is taking so much time off that it is impacting their work? Or they're not taking enough time off and it is impacting their health?
Finally, it's important to have access to reliable tools for tracking paid time off. That way, you can monitor how much time everyone is taking off and when. Time-tracking software also makes it a lot easier to manage schedules so that absences don't impact internal operations and productivity. The best solutions also include visuals and reporting features so that you can track vacation time and other types of PTO requests for individuals and multiple teams simultaneously. 
Managing unlimited PTO with Factorial
Factorial's HRIS includes a number of features that can help you manage your unlimited PTO policy.
For example, our PTO tracking software can centralize and automate all your time off requests. Employees can easily submit time off requests through the employee portal and your managers can approve or reject requests in line with employee schedules straight from the platform. You can also create and share your unlimited PTO policy directly from the platform so that your staff has access to it at all times. That way, your employees know what to do when they want to request time off. Plus, you can create blocked periods so that employees cannot request days off during busy times, reducing the time you need to spend rejecting requests that you cannot accommodate. 
With Factorial's time-off management software, you can also:
Automate vacation requests.

Gain insight into employee absences with a visual calendar view that shows all PTO at a glance.

View all upcoming employee absences for each team.

Track vacations to make sure each team is adequately staffed.

Implement vacation policies for the whole business or for different teams.

Set permissions to determine which supervisors will need to approve absence requests.

Generate custom reports.
What's more, our performance management software can help you track individual and team output so that you can identify any impact that time off might be having on productivity. You can also use our performance management tools to set performance goals and create accountability. 
All this makes it much easier to create intuitive and streamlined processes for managing every aspect of unlimited PTO in your business. That way, you can be sure that you are getting the most from your policy. In other words, that your workforce is happy, rested, motivated, and productive.