Sharing a regular employee spotlight through newsletters and social media has become increasingly popular lately. It can be a great tool for motivating and engaging your employees. It's also a great way to develop a sense of team spirit and keep everyone up to date with what's going on with work. And this is especially important since the pandemic and the increase in remote and hybrid working models. In fact, with 58% of US workers working remotely at least one day a week, nurturing collaboration is more vital than ever.
If you're not sure how to create an employee spotlight, then you've come to the right place. In this post, we will discuss what's involved and share a few employee spotlight questions and examples. We will also look at a few best practices to help you create your own creative and inspirational employee spotlights.
What is an employee spotlight?
An employee spotlight is a form of published content that promotes the successes of one of your employees. Content usually includes their history with the company, personal achievements, education and experience, and personal interests, plus any successes and challenges within the company. Put simply, it's a way of showcasing your employees that enables you to recognize achievements and show appreciation, promote stories to build connections and organizational commitment, and publicly communicate the human side of your company, boosting your corporate brand.
An employee spotlight can be published in a range of formats, including video, audio or text. Content is usually promoted on internal communication channels, social media platforms, or career pages. Although similar to an employee testimonial which can help you build your external reputation, an employee spotlight is more focused on internal employer branding.
The ultimate aim is to boost workplace motivation, nurture the employee experience, and develop a sense of employee empowerment and job enrichment. And by improving the overall employee experience in this way, you can motivate your employees, create a healthy working environment and develop a growth mindset. Plus, by recognizing the achievements of your staff, you can build an environment of employee satisfaction and employee happiness. And all this, ultimately, helps you to improve your work culture and increase workplace productivity.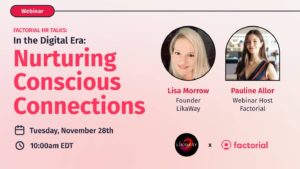 Other benefits include:
Fostering meaningful connections between remote and in-house employees
Showing your employees that you care about them as people, helping you promote a healthy work-life balance, and develop psychological safety at work
Promoting a positive work culture to the outside world, helping you develop trust, credibility and confidence with new clients and strengthen relationships with existing ones
Increasing the effectiveness of your recruitment strategy
Boosting your social media engagement and reach
How to write an employee spotlight
Decide which employee you will be writing about. You can collect important feedback on employee engagement and performance from an employee engagement survey, or use tools such as a 360 review template or a 9 box matrix to help you identify potential spotlight candidates.
Determine how content will be used. For example, are you using it to boost employee engagement, nurture professional growth, develop your company culture, or promote your mission and core values? Whichever way you choose to use employee spotlights, remember to keep them authentic and relatable.
Decide on a format (video, audio, social media, blog post, newsletter, etc.)
Establish employee spotlight questions (more on this below)
Conduct interviews with candidates to gather information.
Create your employee spotlight content (make sure you include the employee's name, role within the company, a photo, and a description of their professional path, achievements, personal interests, successes and challenges they've overcome)
Publish and promote your employee spotlight.
Employee spotlight questions
Employee spotlight questions help you gather as much valuable information as possible so that you can write a spotlight that helps your employees shine. The more details you include in your spotlight, the more interesting and inspirational it will be. Plus, the more personal information you include, the more your other employees will be able to relate to them. And this will help you to develop deeper and more meaningful relationships within your company.
Make sure your questions are focused on personal interests and experiences, not just questions about working at your company. It's a good idea to create an employee spotlight template or a standardized employee spotlight questionnaire so that you ask all the important questions during each interview.
Here are a few examples of what you can ask during your employee spotlight Q&A sessions:
How long have you been with the company?
What does your job entail?
Who inspired you to pursue the career you have today?
Where do you see yourself in 5 years?
What's the best advice you can give to someone who just started their career?
What are the toughest challenges you've had at work?
What's your secret talent no one knows about?
When you are at work, how do you motivate yourself?
Describe some of the challenges you have faced at this company. How did you overcome them?
In terms of successes, which accomplishments are you most proud of?
Who are some of your biggest inspirations within the company?
How have you grown professionally while on our team?
Tell me something about you that most people don't know.
Employee spotlight examples
Now that we've looked at a few creative employee spotlight questions, let's look at a few spotlight examples that you can use for your employee spotlight program.
The format that works best for you will depend on your goals and missions. You might need to test a few formats out to see what works best for your business. Remember, the best employee spotlight examples are authentic and informative, so make sure you have fun with them and collect as much information as possible during the research stage.
Videos
Video can be a great choice for your employee spotlight, especially with the range of popular and easily accessible platforms available these days, such as TikTok. There is less emphasis on creating a high-production video with these platforms as they are more focused on authentic content of interest, so it is much easier to engage your audience and go viral with one of your posts.
Employee advocacy
Employee advocacy is another effective example of tools you can use to promote your employee spotlights. After all, who better to promote your posts than your employees themselves?
There are plenty of employee advocacy tools such as GaggleAmp or Bambu that allow employees to reshare content. You could also encourage your employees to use specific hashtags to help expand your reach and boost engagement. Plus, your content comes off as more authentic if it is shared by your workforce.

Best practices for an employee spotlight
Let's finish this post on employee spotlights by taking a look at a few best practices to help you get the most from your content.
Determine the best format
Make sure you pick the right format for your spotlights. This will depend on what your goals are, and the demographics of your audience. You also need to consider how you plan to use the material you collect with your employee spotlight questions. Which platforms and formats will help you deliver the information you collect in the best possible way?
With the increasing popularity of platforms like TikTok, video can be a great format for a spotlight. You might also consider creating a podcast. However, if the demographics of your audience are older, then a blog or newsletter might be more effective. Do as much research as possible. And try out a few different platforms to help you find the best choice for your brand.
Promote your employee spotlight
Once you've created your employee spotlight posts, make sure you promote them through all your internal communications channels so that all your employees have access to your content. This will help you develop a stronger sense of collaboration and team spirit. And the more that people find out about their colleagues in different departments, the stronger relationships they will develop.
Also, make sure you promote your posts externally as this can help you boost your corporate brand and reputation. Encourage your employees to share your posts on social media, publish content on your corporate blog, and share links in your newsletters so that your customers can get to know the human side of your company.
Measure and track your results
It's also important to measure and track your results once you have published and shared your content. That will help you quantify the impact your employee spotlight posts have on a number of metrics, including employee engagement, satisfaction, motivation, reach and corporate brand and reputation.
As your employees what they think about your spotlights during their appraisals. Ask them what they think works well and if there's anything you need to change in terms of content, platforms, focus or format. Are you asking the right employee spotlight questions during your interviews? Are you promoting your posts on the right channels? Is everyone aware of your spotlights? Then use the feedback you collect to improve your future employee spotlights.

Have fun!
Finally, the best bit of advice we can give you so that your employee spotlight is a success is to have fun with it. Make sure your content is friendly and lighthearted. This will help it appear more authentic and personable. It will also help your employees relate to your posts. And this, in turn, will help you boost your employee engagement and develop a genuine sense of team spirit built on solid employee relationships.