Are you ready for 2024? Check out our 2024 HR Compliance Calendar.
For any human resources team or employer, staying compliant is essential. There are so many dates, deadlines, holidays, and other events to stay on top of, especially when you have a growing team that makes employment, payroll, and documentation more complex.
Compliance has been and continues to be one of the most important focuses of any human resources team. As an HR professional, you need to be aware of all state, federal, and national laws to ensure your company adheres to standards and legal obligations.
In this article, we've outlined the key compliance deadlines and dates for HR in 2024. Want to easily access it throughout the year? Download our 2024 HR Compliance Calendar template!
TABLE OF CONTENTS
HR Calendar 2024
Although you may start the new year strong, we're here to help keep that momentum all year long. At Factorial, we've put together a 2024 HR Compliance Calendar to keep you aware of important compliance deadlines and other special dates throughout 2024.
The calendar download includes a calendar view of all the dates listed below plus federal and regional holidays. Also, the calendar will connect you to important links and extra details related to each compliance deadline.

Here are the key deadlines and dates to keep in mind as you go through 2024:

January 2024 Human Resources deadlines and dates
January 31st:

Distribute W-2s and 1099-MISC (Paper & E-File)
Quarterly Forms 941 & 720 due
Distribute 1095-B & 1095-C Forms to employees
Form 940 due (If quarterly FUTA taxes were not paid when due)
Form 1099-NEC to both the IRS and to recipients
Form 1099-MISC with only boxes 8 & 10 to be sent to the recipient
February 2024 HR deadlines and dates
February 1st: Post OSHA Form 300A
February 10th: Annual Form 940 Due (If quarterly FUTA taxes were paid when due)
February 28th:

Deadline to file ACA Forms 1094-C, 1095-C, 1099-MISC without NEC to IRS (If paper filing)
Form 8809 Paper Filing Deadline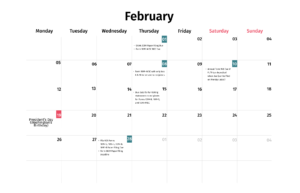 March 2024 HR deadlines and dates
March 1st: HIPAA Breach Employee Notification and Form M-1 Filing Deadline
March 2nd: Electronically submit OSHA Form 300A and Creditable Coverage Disclosure to CMS (for calendar year plans)
March 15th:

Form 8809 E-filing deadline, S Corp (Form 1120-S) and Partnership (Form 1065) Tax Returns due
Form 2553 due

March 31st:

Form 1099-MISC due if reporting NEC in box 7
File deadline Form 1099s electronically
File deadline Form 1094-C & 1095-C & 1099-MISC without NEC to IRS electronically
EEO-1 Reporting and Filing Deadline
April 2024 HR deadlines and dates
April 18th:

Tax Day (filing deadline for personal tax returns & C corporations)
Forms 7004 and 8928 Filing Deadline

April 28th: Summary Plan Description (SPD)
May 2024 HR deadlines and dates
May 1st: Quarterly Form 941 & 720 due
May 15th: Non-Profit Tax Returns due, including Form 990
June 2024 HR deadlines and dates
No compliance dates to worry about this month! Enjoy the beginning of summer!

July 2024 HR deadlines and dates
July 31st:

Quarterly Form 941 & 720 due
Forms 5500 and 5558 Filing Deadline (for calendar year plans)
Compliance check
August 2024 HR deadlines and dates
No compliance dates to worry about this month!

September 2024 HR deadlines and dates
September 29th: Supply SAR to covered participants for calendar year plans deadline
October 2024 HR deadlines and dates
October 3rd:

QSEHRA Notice Deadline (for QSEHRAs that begin January 1, 2024)
RDS Application Due to CMS (for plan years beginning in January 1, 2024)

October 13th: Medicare Part D Notice of Creditable Coverage delivered to plan participants
October 31st: Quarterly Form 941 & 720 due
November 2024 HR deadlines and dates
November 1st: Remind employees to submit FSA Receipts before end of year
December 2024 HR deadlines and dates
December 29th:

Nondiscrimination testing, 401K plans, 125 Premium Only Plans (POP), and flexible spending account (FSA) nondiscrimination testing (if on calendar plan year),
Review employee handbooks,
Distribute 2024 calendar
HR dates by State: Holidays
Want to more about state holidays? For more information on the specific state regulations regarding holidays and time off, check out the list below.
State-specific Holidays in the US:
Our list is being continuously updated, so check back later for more state-specific dates!

2024 HR Compliance Calendar FAQs
Now that we've got all the dates down, let's check out some frequently asked questions related to compliance.
What should an HR calendar include?
A compliance calendar helps you stay organized by documenting your company's obligatory submissions, their respective deadlines, and associated particulars, ensuring you steer clear of any fines or repercussions resulting from tardiness or incomplete submissions.
What is an HR compliance checklist?
An HR compliance checklist serves as a guide for your workplace policies and procedures, ensuring they conform to mandatory laws and regulations, while also proactively upholding this compliance. Read this article on how you can conduct your own audit.
What are the five areas of compliance?
While enforcement and regulatory guidelines differ globally in terms of their length, tone, strength, and language, they universally address a core set of five essential elements: leadership, risk assessment, standards and controls, training and communication, and oversight.

What happens when a filing deadline falls on a weekend?
When a filing deadline falls on a weekend, the deadline is typically extended to the next business day. This practice is a common rule in many jurisdictions to ensure that individuals and organizations have a fair opportunity to meet their obligations even when official offices are closed on weekends.
However, you should always double-check the official federal sources when calculating deadlines. Our 2024 HR Compliance Calendar is a useful tool that can function as a reminder for keeping deadlines, but we do not take responsibility for any deadlines missed because of any possible mistakes. Always check the deadline stated at the official government website!
Still have questions? Check out our article on the main areas of HR compliance and employment law.

Stay compliant with Factorial
Keeping track of everything legal and finance related can be a daunting task. Factorial's document management features do the organization for you. Make customizable folders for your teams. Whether it be payslips, contracts, or invoices, there's no worry about where documents are located and how to access them. Managers and employees can access them from a centralized place.
In addition, you can get legal documents signed quickly and digitally straight from Factorial. Need a signature from another employee? Request e-signatures when you need to!
Want to see how Factorial can help you stay on track when it comes to compliance? Learn more! Or book a free demo to see it for yourself!