Whether you're looking for a shift management software to better manage employee hours or you're currently using Factorial to organize shifts, this guide is for you.
Perhaps that you are aware that Factorial's all-in-one HR solution, you can easily manage employee shifts in tandem with absences, holidays, scheduled time off, payroll, and more. In this article, we'll zone in on the tool's shift management features and go through the step-by-step details as to how the feature really works.
Specifically, we'll include topics like assigning shifts with Factorial and using the tool to manage overnight shifts. Lastly, we'll go over some shift management tips, to help your scheduling go as smoothly as possible.

What is shift management software?
Shift management software is a tool that allows you to keep track of employee hours and plan work schedules. Like many kinds of HR tech, and software for hr transformation, it helps to make time-consuming and tedious parts of shift management more automated.
For example, in companies where employees work in rotating shifts and alternate morning (1st shift), afternoon/evening (2nd shift), and overnight (3rd shift), it requires a lot of juggling to organize and plan out weekly hours. And when employees are sick or on vacation, the complications are tenfold. With shift scheduling software, managers can easily organize their teams and ensure that all shifts are covered.
Shift management with Factorial
Many think of shift management as a time-consuming activity, done with Excel, or even worse, pen and paper. This means that when managers need to make any additions or scheduling changes, everything needs to be done manually and one-by-one–an inefficient and painstaking task for anyone! With Factorial's shift management software, the process is intuitive and changes can be made within seconds. Let's take a look at some of the individual features that Factorial's software has to offer.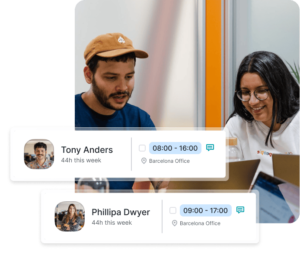 Flexible shift planning
There are many situations in which it might be necessary to make last-minute scheduling changes. Perhaps your business is growing and you need to make changes to accommodate new team members. Or, perhaps you have a rotating schedule that makes it complicated, to say the least, to navigate everyone's vacations and paid time off.
Factorial's shift management software is perfect for agile teams and for making last-minute time-off adjustments. Unlike cookie-cutter, one-size-fits-all software, with Factorial, you have the flexibility to make scheduling decisions to better fit your operational and team needs.
When it comes to adding new shifts, you can opt to do so for individual employees or groups (such as by team or department), ensuring maximum flexibility and efficiency. Specifically, this feature allows you to:
Add shifts for individual employees on a specific day
Filter by teams, departments, or groups and add shifts for multiple employees on a specific day
Add shifts for individual employees for an entire week
Filter by teams, departments, or groups and add shifts for multiple employees on a specific week.
Assign shifts
After installing Factorial's shift management software, you will need to create a database with members of your team. This process is very straightforward and intuitive, you'll simply need to click on the three dots in the right-hand corner of the screen and then select "Add employees."
From there, you´ll be able to assign employees shifts simply by clicking the "Assign shift button", also located in the upper right-hand corner. This tool lets you choose between previously saved custom shifts, default shifts, and shift templates, giving you the freedom to assign employees existing shift schedules, or start from scratch. In a nutshell, you'll have more scheduling options and fewer obstacles.
Manage overnight shifts
Keeping track of overnight shifts is easily done with Factorial's "custom shifts" option. After clicking on this, simply set the hours for the shift and assign it to your employee(s).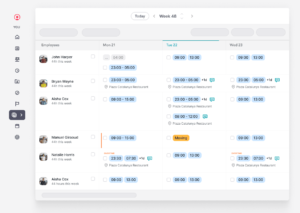 Overnight shifts can be a real logistical nightmare for many managers. Not only is it difficult to keep track of rotations, but logging hours can also be an area of concern.
Factorial's software takes into account these difficulties and eliminates the confusion of keeping track of employee hours. Automatically, all of the shift hours are recorded and organized by the day that the shift started. 
Choose your shift management view
Depending on the type of business and the number of schedules that you are managing, you might need to get an overview of schedules for an entire month or zoom in to see what the calendar looks like for a given week. With Factorial, you can enjoy the best of both worlds and comfortably visualize schedules by week, four weeks, or by month.
You can easily flip from one view to another by clicking on the toggle menu on the left side of the screen (located above the employee list and next to the filter button).
*Note that for the four weeks or month view, shifts with extra details will appear with an orange dot. You can easily access information about the shifts or make edits by simply hovering the mouse over the shift and clicking the pencil icon.
Create and add various shift templates
Ideally, assigning shifts would be painless and require as little time as possible. Typing the same hours for employees week after week on an Excel sheet can be maddening and it's probably not the best way to spend your time.
With Factorial you can create reusable templates that will save you some steps and hours of your day. Not to mention, it's a much safer and more accurate way to organize. Working from templates reduces the number of typos and the margin for human error.
Creating new templates is a very straightforward process. From your main dashboard home page, click on the "Apps" section off to the right of the screen, then click on the "Shift Management App" option, and then click "Settings". Or, even faster, select "Shifts" from the main dashboard and then click "Settings."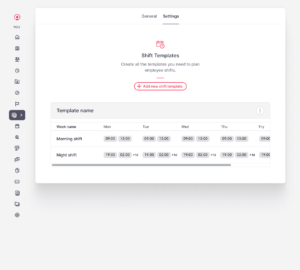 From there, click the "Add a new shift button" in the center of the screen and name your new template ("morning shift"). All that's left now is to assign the shift to the desired weeks and times. With this feature, you can also customize the working days and hours for each week. Perfect for organizing hours for teams with rotating turns.  
More shift management tips
Now that we've provided you with a better idea about how Factorial's shift scheduling software works, let's talk management techniques. Here are some pointers for professionals about shift management communication, managing overnight shifts, last-minute changes, and more.
Tips for overnight shifts
Working the third or graveyard shifts is often not employees' first choice. It interrupts the natural sleep cycle and usually presents other scheduling conflicts for employees. In order to compensate employees with positions that require overnight work, many managers choose to pay them extra, or what is called a "shift differential". Additionally, you might want to schedule more frequent check-ins with employees who work overnight shifts and do everything possible to encourage employee wellness.
Communicate with your team
When it comes to managing employees' schedules, especially if hours are irregular, communication is everything. While sending out employee shift schedules, keep it simple and stick to one channel. For example, sending out a monthly email with a company-wide Google calendar. You'll want to be clear about who is working at what time and eliminate any potential sources of confusion, if possible.
To reduce last-minute scheduling changes and absenteeism, ask your team about their preferred working hours first. They will feel appreciative of the consideration and you will be able to plan more accurately.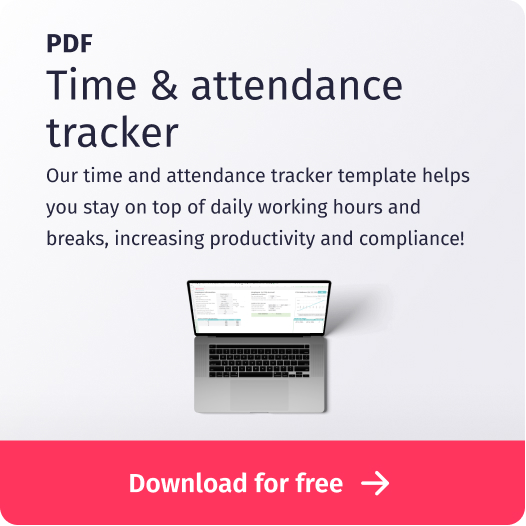 Stay compliant with time-tracking laws
While rearranging and assigning shifts, you'll want to ensure that all scheduling changes comply with Federal and State legal requirements. Otherwise, your business could suffer from employee turnover, workplace hostility, and even some hefty penalty fees. 
To ensure compliance, make sure that you are familiarized with federal overtime and time-tracking laws under the Fair Labor Standards Act (FLSA). Additionally, take into account any extra state overtime and time-and-a-half laws that might apply to members of your team.
Once you've familiarized yourself with legal requirements, you'll want to make sure that you have a way of keeping an accurate headcount report and record of employee timesheets. If you are still using excel, consider using a time and attendance template to stay organized. Otherwise, make sure that you have software that is capable of generating timesheet reports for employees.
Stay ahead of changes with the right software
Finding out who should work and when is complex enough. Let alone managing scheduling preferences and last-minute absences.
With the right software, you can stay ahead of the curve and prepare for when things don't go as planned. You'll have a "go-to" system in place so that if there are any shift adjustments that need to be made, you can make them instantly. 
Also, certain all-in-one HR softwares, like Factorial, allows you to communicate important announcements to your team through an Employee Dashboard. That way, both you and your employees will be notified of important changes immediately.
While used in tandem with Factorial's time-tracking feature, you can generate reports and keep clear records of employee hours. No more searching through spreadsheets and risking legal compliance, with Factorial, you'll have everything under your fingertips and running smoothly.