Constructive feedback is vital to employee development. It helps your employees understandwhat your performance expectations are, and it also helps youalign your workforce with your overall business objectives. That's why it's so important to have an established system in place for measuring performance, including regular employee performance reviews and effective competency assessment procedures. 
However, this isn't always easy.
In fact, according to a recent study by Deloitte,only 8% of companies believe that their current performance management process drives high levels of value, and 58% claim that it is not an effective use of their time. Unless you design and implementan effective system for measuring performance, you risk alienating high performers, damaging employee engagement, and wasting valuable time and resources.  
In today's post, we are going to share everything you need to know about performance reviews and competency assessments. We will look at what they are, how they differ, and the pros and cons of both evaluation methods. We will also discusshow using the right employee performance software can help you create an effective performance management process for the good of your business. 

Performance reviews and competency assessments: similarities & differences 
As an HR manager or small business owner,employee performance managementis an essential tool that helps you get the most from your workforce. It helps youalign the performance of your staffwith your strategic objectives. It's also an effective tool for identifying potentialperformance gapsbefore they have an impact on your company's overall productivity. Plus, the right approach helps you keep your employeesmotivated, fulfilled, and valued. It gives them aclear sense of directionand the right feedback helps themgrow professionally and expand their skill set. 
However, in order to create ahigh-performance culturewhere people can perform to the best of their abilities, it's important to use the right approach. This means implementing a strategy that addresseseach stage of theperformance management cycle. Most companies use one of two approaches for this:performance reviewsandcompetency assessments.  
Anemployee performance review, also known as a performance appraisal, is aperiodical assessment where you evaluate the performance of an employee. It's an opportunity to identify theirstrengths and weaknessesand establishperformance goalsfor the future. Essentially, the aim of a performance review is to discuss the impact of an employee's performance and define specific actions to help them develop and grow.
A competency assessment, in turn, is a moreholistic approach to performance management. It involvesmeasuring and analyzing an employee's specific skills and abilities in line with the requirements of their role. Instead of focusing solely on how well they are performing, this approach also takes into account the training and resources they need in order to effectively perform their duties. 
Although performance reviews and competency assessments are two distinct methods of evaluating employees, many companies use both approaches as part of their overallperformance management strategy. 
Types of performance reviews
There aremany different types of performance reviews. The right approach for your company will depend on thesize of your businessand yourorganizational culture. What matters most is that you pick an approach that isrelevant and meaningfulfor your business and for your employees. It needs to provide your employees withconstructive feedbackthat they can use to continuously improve their performance levels and grow as individuals. 
In the past, performance reviews were traditionally conducted on anannual basis. They were quick meetings where managers would discuss an employee's performance and let them know whether or not they were meeting expectations. However, over time,organizations began to realize that this was an ineffective approach to employee performance management. Managers and employees were simply going through the motions, and feedback was having very little impact on performance.
Since then,most organizations have shifted to a continuous performance management approach. This is where you measure employee performance from all angles, not just from the perspective of your managers. This might includepeer feedback, self-assessments, customer feedback and, in the case of managers, team feedback. You cancollect feedback through surveys, interviews, self-appraisals, and regular 360-feedback sessions. 
Performance reviews are usually conducted much more regularly, too, not just once a year. Many companies even useweekly informal check-ins and one-on-onesto keep track of the performance of their employees.
Types of competency assessments
As we already mentioned,a competency assessment focuses on the current abilities and skill gaps of employees. The aim is to identifywhich skills they need to develop in order to improve their overall performance. This helps you create the right learning and developmentstrategy so that employees can improve their competencies and continuously grow as members of your organization.
Generally speaking, there are3 different types of competency assessmentsthat you can use for this. 
360-degree feedback

. This is where you use a multi-input approach to collect feedback on the skills and competencies of an employee. This usually includes feedback from an employee's direct manager, feedback from the employee themself, and feedback from other members of their team, where appropriate. This helps you obtain a more objective evaluation based on multiple perspectives. 

Self-assessment

. This is where you ask an employee their opinion on their current skill levels and get them to identify in which areas they need more support and training. Essentially, it's about asking an employee what they think their strengths and weaknesses are and which job skills they need to develop in order to raise their performance levels. 

Skill gap analysis

. This process involves using a systematic approach to evaluate an employee's skills and competencies. The best way to do this is by using tools like a

9-box or stack ranking

. More on what the 9-box evaluation model is later in this post. 
Benefits of performance reviews and competency assessments
Let's take a look at some of thebenefits of both performance reviews and competency assessmentsto measure employee performance. 
Performance reviews: benefits
Here are some of the benefits of conducting regular performance reviews:
Help you

identify any potentialperformance gapsin your business

. A performance gap is the difference between current and desired performance levels. The term is used to highlight discrepancies between how an individual is performing in relation to the overall performance objectives of an organization. Once you identify a gap, you can implement measures to rectify it. 

Regular performance reviews can be a

great tool to motivate your employees

, provided you share constructive feedback. They can give employees a

structured incentive to work harder and continuously improve

. 

When employees understand how their performance impacts the business, they are more likely to work harder. This is because they feel

valued

and that

their work matters

. And this, in turn,

boosts engagement and employee satisfaction levels

. 

Performance reviews are a great opportunity to

clarify your expectations and strategic objectives

. They help everyone in the team

work towards the same shared goal

. 

If any of your employees work from home on a full-time or hybrid basis,

performance reviews for remote employeescan help you maintain a constant dialogue with employees who you don't see regularly

. That way, you can be sure they are hitting their performance objectives. You can also use these reviews to identify if remote employees need any extra support, resources, or training. 

Finally, regular appraisals and performance reviews help you nurture a

culture of open conversation

. This helps you build an organization based on

trust and transparency

.
Competency assessments: benefits
Here are some of the benefits of conducting competency-based assessments:
Competency assessments help you

gather valuable feedback and data

. You can monitor skill progression levels to understand how employee competencies are impacting productivity, especially if you use tools like the

9-box

. You can then use the results to design actions for improvement and

personalized training plans

. That way, employees get the training they actually need.

They provide employees with a

platform to request training

when needed, which helps you build a

high-performance culture

. 

Constructive feedback can be used to identify who might be eligible for

bonuses or rewards

if you have an

employee recognition program

(such as

pay for performance

).

Competency assessments are also a

useful system for identifying how effective your learning & development programs are

. If, for example, you offer training to an employee, but it has no impact on their performance, then you can then work to identify what the issue might be. 

Competency-based assessments can help organizations develop a

wider business strategy based on sustainable growth

. Because you evaluate an employee's skills regularly, you can ensure that they remain up to date with evolving technology, for example. You can also

identify when re-skilling or up-skilling is needed

to help keep you relevant as an organization.

Because assessments are personalized to the specific competencies required for each role, you can get

valuable information that helps you understand each of your employees better

. You can also use these sessions to assign

individual goals

to each employee in line with their current abilities.  

Finally, competency assessments help you develop a

system of continuous improvement

based on regular 360-feedback. This helps your company run more efficiently and boosts your overall performance and productivity levels.  
Downsides of performance reviews and competency assessments
There is no such thing as a perfect approach when it comes to employee performance management. This is becauseall businesses are different, and all people are different. The key lies in weighing up the pros and cons in order to determinewhich method would work best for the particular needs of your organization and your employees.
With that in mind, let's look at some of the cons of both approaches to employee performance management. 
Performance reviews: downsides
Here are some of the potential downsides of conducting performance reviews:
Reviews can never be 100% objective

. This means that there is also a risk of

bias in performance reviews

. For example, employees might encounter self-appraisal bias, racial bias, or bias simply because their manager does not like them. These biases could be down to pre-existing prejudices and stereotypes, or unconscious biases. A biased review can make it difficult to determine how well an employee is actually performing. It can also lead to employee frustration and demotivation.

Performance reviews can be costly in terms of labor hours

. This is because, without the right tools and HR software to support the process, these reviews can require a lot of preparation. Plus, you then need to analyze the results of each review and implement corrective measures accordingly. The key to overcoming this obstacle is using the right performance management software, as we will see shortly. 

Unless a 360 approach is taken,

performance appraisals can be one-sided

. This is because the results are based on the opinions of one person (the reviewing manager). These reviews are far more effective if they are included in a wider continuous performance management strategy.

If you only hold reviews once a quarter or once a year, then your

employees may feel that they don't get enough regular feedback about their performance

. The best way to correct this is by also conducting regular informal check-ins to monitor an employee's performance progress.
Competency assessments: downsides
Here are some of the potential drawbacks of conducting competency assessments:
Competency-based assessments can

sometimes be overly focused on the skills an employee "should" have

, rather than those they already possess. It's important to maintain a balance so that employees don't become demotivated. 

It's

not always easy to define the specific skills that each role requires

, especially for more nuanced positions. Before you launch a competency assessment program, it's important to clearly define the roles and responsibilities of each position in your company.

If your managers don't understand what a competency assessment is and how it should be conducted, there's a

risk that it could be managed in the same way as a performance review

, which defies the purpose of the process. 

There's always a

risk that these sessions become more focused on employer needs rather than the needs of employees

. That's why it's so important to use self-appraisals, too. After all, an employee is usually far better equipped to tell you what skills they are lacking.

Finally, as with performance reviews, it's

not always easy to achieve complete objectivity

. For example, employees might overestimate their skills. Or managers might underestimate an employee's competencies if there is an element of conscious or unconscious bias.  
Tracking employee performance with Factorial
The best way to create an effective employee performance management system is by usingthe right tools and HR software to automate and streamline the process.
The right employee performance software can help you track and evaluateemployee performance metricsto help youidentify potential skills and performance gaps. It can also help you align the results of your reviews and evaluations withconcrete actions for learning and development. That way, you can create a clearly defined process based oncontinuous improvement. Performance management tools usually also include features for tracking and monitoring progress reviews, reporting, goal setting, real-time feedback, and rewards for improved performance.
For example,Factorial's performance management softwareis a great solution for managing every aspect of employee performance at your company. 
You can use it to: 
Gain insight into your workforce with 360-degree reviews

Schedule regular performance review cycles in order to make strategic decisions based on qualitative and quantitative data

Generate data to help you identify performance gaps and areas for improvement

Track the progress of each employee performance review 

Automate your performance review processes

Access feedback directly through the platform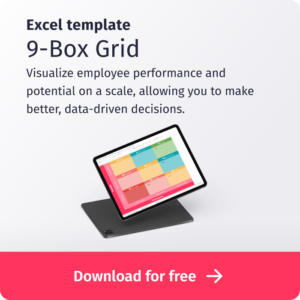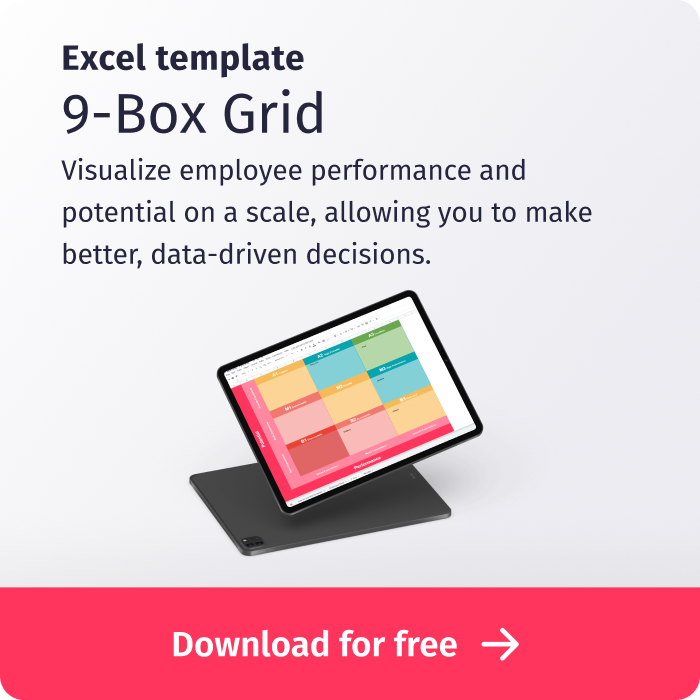 Defining and assessing competencies with Factorial 
Factorial's employee performance software can also help youmanage your competency assessments more efficiently. This is because you get a variety ofcompetency assessment toolsto help you manage, automate, and streamline the entire process. 
For example, our employee performance management software includes a 9-box gridfeature to help you with your competency assessments. With a 9-box grid, you canvisualize employee skills and potential on a scale, allowing you to make better, data-driven decisions. The 9-box can also be used to evaluate talent placement, improve succession planning, and identify performance issues and skill gaps. It facilitates employee growth and contributes to retention, engagement, and productivity. 
In terms of defining and assessing employee competencies,our 9-box grid can help you:
Recognize high-performing employees

Support mid-range performers to help them improve their performance and move higher up the grid 

Identify employees who consistently underperform and develop appropriate performance improvement plans 
All this enables you todevelop a system of performance reviews and competency assessments that promotes continuous growth and improvement in your organization. That way, you can be sure that you are getting the most from your workforce and that every member of your business is working toward a shared, common goal.