3 Key Employee Performance Metrics to Track
Tracking employee performance metrics is an essential tool for any business. Aside from being a crucial aspect of individual development, it also helps you ensure employee performance is aligned with the goals and values of your company. This contributes to improved employee motivation levels, decreased turnover rates, and, ultimately, the overall success of your organization.
In fact, a recent Forbes article highlighted that many companies are now aware that tracking employee performance metrics contributes greatly to the creation of high-performing organizations. 
There are many methods for tracking the performance of your employees. The most effective system involves using a performance appraisal dashboard, as this centralizes all your data and makes it easier to access a clear, real-time view of how both individuals and teams are performing in your company.
Let's take a look at what this involves. 
What are Employee Performance Metrics?
Employee performance metrics are a form of workforce analytics used to track how well employees are performing. The effective tracking and analysis of employee productivity and efficiency can paint a picture of how well an organization is operating.
The right analytics can help HR managers establish what is working well, whether the performance of employees is contributing to the achievement of business goals, and if any areas can be improved to support future growth plans. They can also be a great way to boost employee morale and satisfaction levels, resulting in increased retention and reduced turnover and labor costs.
The employee performance metrics you use in your company will ultimately depend on your industry, the size of your company, and your overall business objectives. However, generally speaking, when we talk about employee performance, we consider the following:  
Quality of work

: Are employees putting in maximum effort to ensure high-quality results? Are they meeting individual performance objectives? 

Speed and efficiency

: How much do employees accomplish in an average week, month or quarter? Does performance match expectations? Are deadlines being met? 

Trust and consistency

: Do employees deliver consistently? Do all employees achieve the same level of output? Are standards high? Do employees produce strong results without supervision?
How to Measure Employee Productivity
There are a number of tools and systems that can be used to measure employee productivity. Most companies use a combination of the following performance evaluation tools: 
Performance reviews
This is the most common method of collecting employee performance metrics. It is a periodic formal assessment of an employee's work performance. Traditionally, employee reviews were conducted once a year and were heavily tied to salary reviews, raises, and dismissals. However, now many companies question the effectiveness of traditional methods and view them as costly and one-sided. 
360-degree feedback
Similar to traditional performance reviews but feedback is bi-directional. These reviews are focused on creating a high-performance culture that values constructive 360 feedback, continuous development, and the nurturing of employee morale. They can be a useful tool for collecting a well-rounded view of performance and can help to identify areas for further improvement.
Ranked performance on scales
With a ranked performance method, you use numbered scales, such as 1 to 5 or 1 to 10, to rank an employee's performance in specific areas. This method can be especially useful as performance is quantified and performance can be easily compared to expectations. You can also adapt performance scales to any business needs.
The most important thing to keep in mind with all these methods is that once you have gathered your data, you need to track and analyze it. This is where a performance appraisal dashboard can be an essential HR tool. 
How to Set Up a Performance Appraisal Dashboard
A performance appraisal dashboard is a strategic HR management tool used to measure, monitor, and manage the key employee performance metrics needed to optimize business performance. The right system can help you improve employee performance, employee satisfaction, employee motivation, and achieve organizational goals and objectives. 
Put simply, a performance appraisal dashboard is a data visualization tool that can offer your HR professionals invaluable business insights. By analyzing the right data, you can create targeted strategies that foster continual growth.
A performance dashboard gives you access to useful data like employee information, criteria for evaluation, and ranking systems for unbiased and accurate measurement of employee performance. You can also use the software to create employee performance appraisal forms and reports to keep track of your HR KPIs.
The first step in creating your performance appraisal dashboard is evaluating your core objectives. You also need to determine what metrics you will be analyzing, and how you will measure the performance of your employees. Finally, you need to decide which platform or software you will use to manage your data.
Another thing to consider is whether you have options for goal setting, employee development strategies, KPI templates, measurement systems, and reporting features. You should also have access to a customizable interface so that you can adapt metrics to your core business objectives.
3 Key Metrics for Employee Performance 
There are many factors to consider when it comes to tracking employee performance metrics. 
Here are what we consider to be the top 3 performance KPIs:
Quality of Work

: As quality is often subjective, you need to establish clear, quantifiable metrics for measuring output against expectations. For instance, what percentage of work are your managers rejecting? How often do employees have to redo their work? Is quality consistent?

Learning and Development

: What impact is training having on individual and team performance? Does training directly contribute to the goals and KPIs of your organization? Are employees applying what they learn to their work? 

Individual Goals

: Are employees meeting their targets in terms of productivity? Are goals measurable and realistic? An ongoing feedback model is a great tool for monitoring employee goal setting and achievements.  
Employee Performance Dashboard Examples
Here are a couple of examples of a performance appraisal dashboard to help illustrate some of the benefits. These images demonstrate how your HR team can use employee performance metrics to create custom reports that measure employee data. 
For example, on the following interface, you can clearly see a snapshot of competency ratings for individual employees. Statistics include target ratings and real ratings. You can also view a grid where you can compare team performance against potential performance: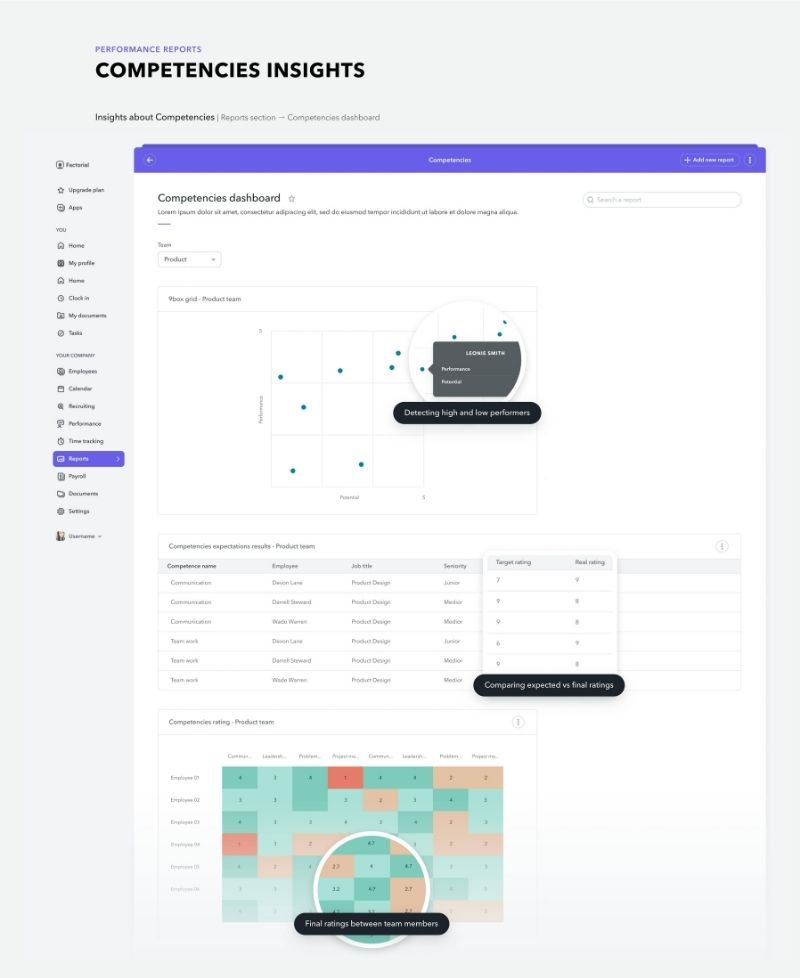 Similarly, in this image, you can see an overview of goal analytics. This screen clearly breaks down target goals and progress for individual employees. You can also see a summary of "at-risk" goals: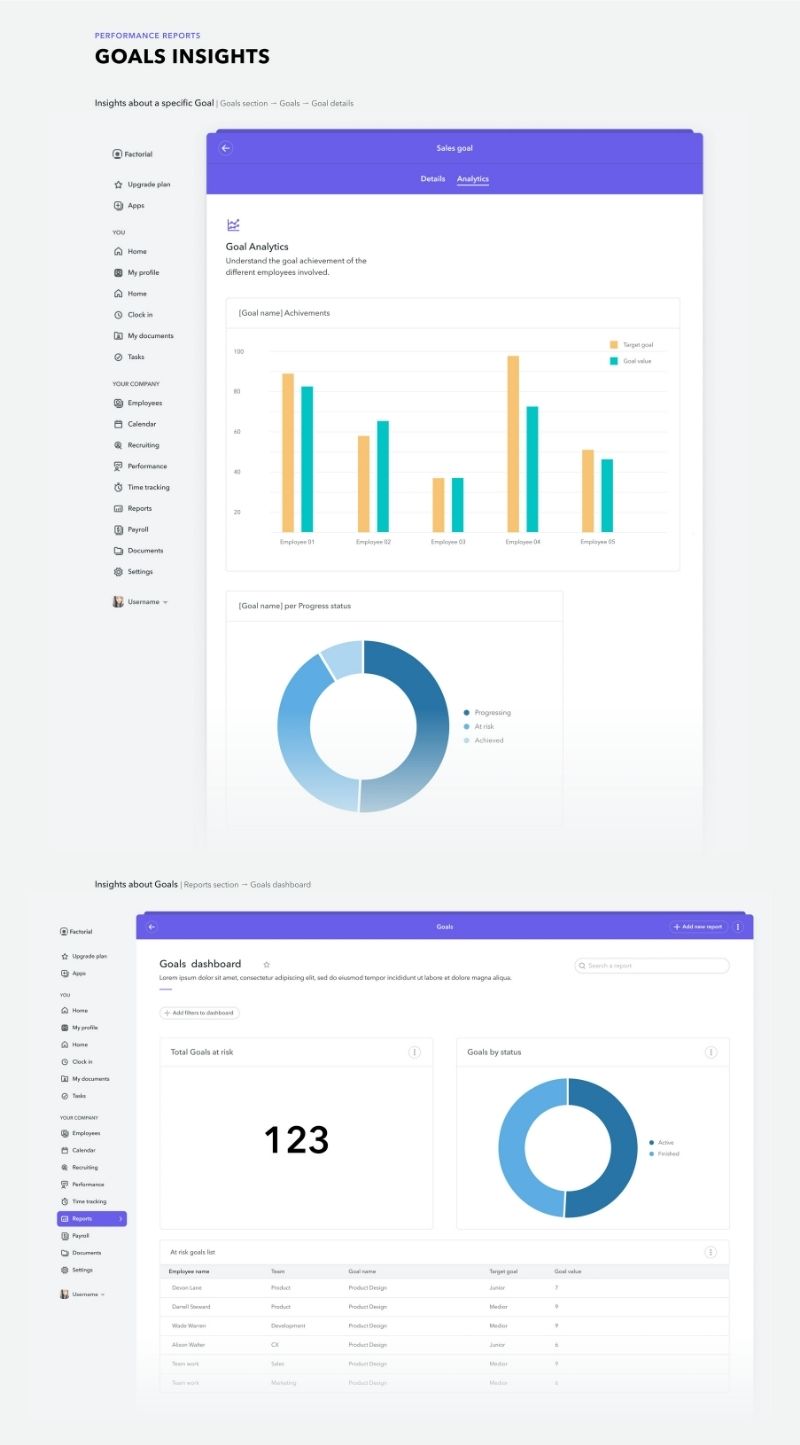 How to Create Custom HR Dashboards and Reports
A performance appraisal dashboard is the most effective system for managing your employee performance metrics. The biggest benefit is that it will help you streamline all your process and ensure your managers have access to real-time performance data at the touch of a button. Customized HR dashboards are also a great way to ensure you are monitoring the right metrics to boost the performance of both individual employees and the organization as a whole. 
With Factorial's performance management software solution you can:
Create employee performance reviews to gain insight into your workforce, support employee development, and make more informed decisions

Set goals in line with the objectives of your company

Access real-time data on all feedback, annual summaries, regular check-ins, and established goals

Streamline the performance management process with automated and centralized performance reviews

Use performance review cycles to make strategic decisions based on reliable, qualitative data

Tailor your employee performance metrics to the needs of your company

Automate your performance review processes

Centralize performance evaluations and track responses

Gain insight into every level of your workforce so that you can understand how each employee is performing and developing and the impact they are having on the success of your business.
With Factorial's all-in-one HR software solution you also get access to an HR dashboard, a training dashboard, a hiring dashboard, a diversity dashboard to help you track diversity metrics, and a leave management dashboard to help you keep track of attendance and absences.
Try out Factorial's performance management feature now with your 14-day Free Trial!