Using Excel to manage time off requests within a company is one of the most typical practices in every HR department. Although it may be common, it's not the most practical. In this article, we'll share with you a free excel template you can use to keep track of holiday and time off requests. After this, you can decide if you'd rather continue using Excel's outdated method or move into the modern age with automated employee time tracking. Save yourself hours every month with Factorial's HR software. You'll be asking yourself why you didn't switch over sooner. 
Summary
How to manage employee holiday requests with Excel
Importance of proper time off management for companies
Creating an Excel template step-by-step
Download the free holiday leaves excel template
✔️Time off Management Software
How to Manage Holiday Requests
There are two ways to keep track of employee time off requests; the hard way, and the easy way. Why fight with outdated systems, when there are easy to use tools available for you.
Old School – Excel Spreadsheets
Using an Excel template as a time off management tool is still a very typical way to manage holidays, sick leaves and other last minute time off requests. Anyone with a mid-high level of skills using Excel can create a useful template to track employee holiday seasons requests.
What's the downside with using Excel?
The main disadvantage of using Excel is that it isn't the most efficient way to keep track of how many days each employee will be out of the office.
If you are managing holiday requests with Excel, there is another disadvantage. You will need to complement this tool with emails so you can communicate with the employees and submit their holidays manually. One of the most complicated and time-consuming tasks of the person in charge of HR is receiving employee time-off requests. 
This process of managing holiday requests when using Excel is as follows:
Receive the request;

Record requests into an Excel spreadsheet;

Cross-reference dates to make sure there are no conflicting holidays of another employee;

Approve requests or rejection them, based on the managerial discretion;

Calculate the remaining employee holiday days;

Communicate time-off request approvals or rejections with the employee.
Depending on the size of your company, the task of managing holiday requests requires a great deal of time and patience. Furthermore, if your Excel skills aren't up to par, you'll need to brush up on them before you can keep track of anything effectively.
Save the hassle for both you and your employees! There is a better way to submit their time off request forms than by using Excel.

Importance of Proper Time-off Management for Companies
Managing holiday requests is a job that consumes a large amount of time. The human resources team often has many other tasks to keep them occupied. Therefore, they don't have time to waste on manually managing requests for time off. For this reason, using the right tools to manage employee time-off requests is essential.
Take a look at some of the reasons why switching over your time-off management system from Excel (or other manual input forms)  may be a good idea:
The entire team can better organize their calendars, keeping track of who is in and out of the office.

Better organization allows those on holidays to enjoy, while others can maintain a normal workflow without any decrease in productivity of the whole company.
In addition to the above, as your team grows, the task of handling time off requests becomes more complicated.  Negotiations between each employee for time-off can affect an entire department.
Simplify your absence management system and automate the process with Factorial's holiday management software. Free up more time for yourself so you can focus on other HR duties that you often neglect.
With Factorial's time off software, employees can request holidays without the need to exchange cumbersome email chains. The person in charge of human resources can easily accept or deny all these requests. Furthermore, they can see in real-time if there are any overlapping time off requests for holidays or sick leave. Best of all, there's no need to download an additional program or plugin; access Factorial directly from your browser! Our system is open for use 24 hours 365 days a year!
Creating an Excel Time off Template (step-by-step)
If you still want to create your own Excel template, here you have step by step instructions. First, you will need to install Microsoft Excel (or an equivalent spreadsheet program). 
Create a

new Excel file

and name it so it's easy to remember. Something like

Time off Requests [CompanyName] 2020

would be enough.

Create

4 columns on the left

side of the screen.

Once you do this, merge the first few rows of these columns. This is where you can put your logo. 

Next, create 3 more columns on the right. Merge the first row of these 3 columns. Here we will

write the current year (2020)

.

In the second row, you will write the months of the year. 

Under each column, you need to make divisions of 28/29, 30 and 31 days for each month. January, February, March…until December.

In the next row, you can

create a formula

that counts the previous number + 1 so that the number automatically appears.
If you followed the steps correctly, you should have something like this: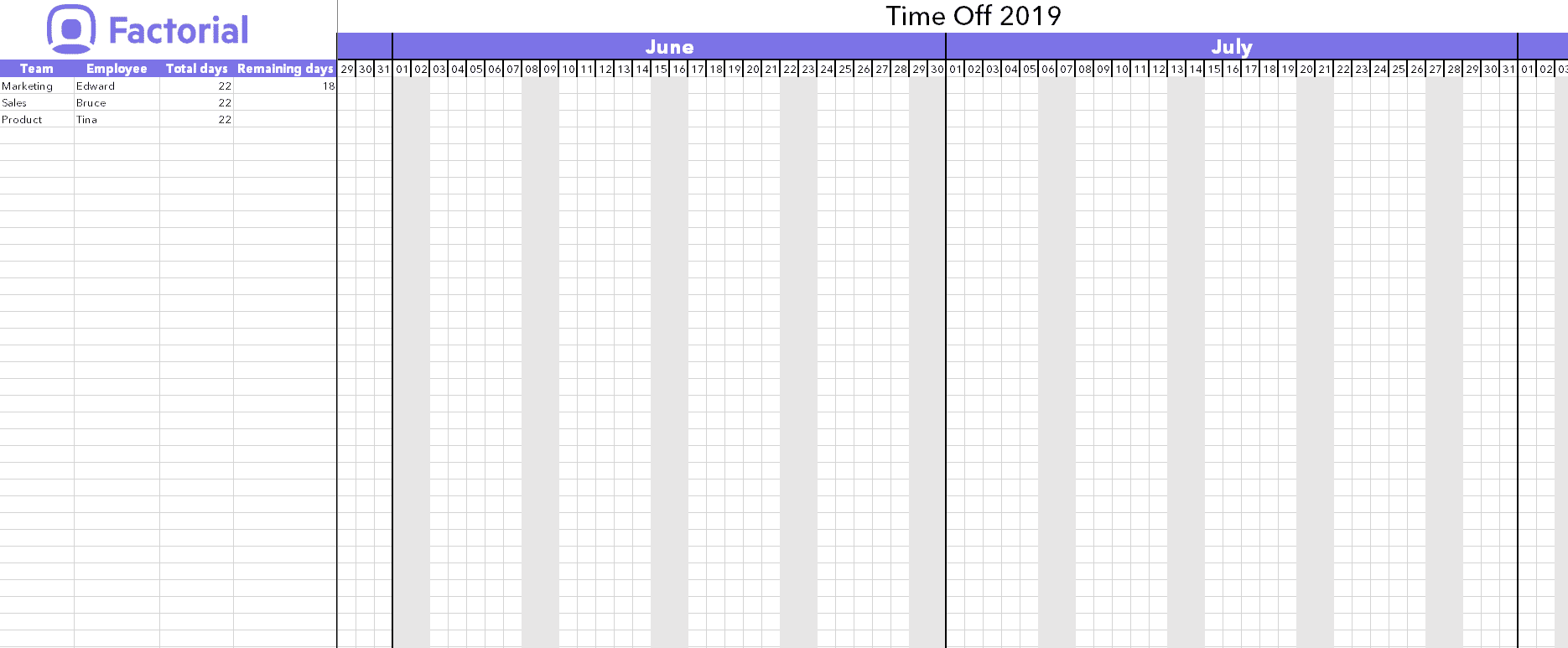 Now, return to the left part of the screen, to the section that we created at the beginning and add all the information that appears in the second screenshot. Team, Employee name, Total available vacation time and remaining days.
This first version of the Excel template can help you keep track of each of your staff members. If you want to have even more control of the tool you can always add formulas to improve it.
Download the free time off Excel template
If Excel is not your thing, or you are searching for an easy to use system that keeps track of your employee's holidays, you can use Factorial's time off management software. Forget about formulas, emails, counting days, etc. With Factorial you can easily approve or deny each employee's paid time off request, check how many days this employee has already requested or see if the request overlaps with other absences. Everything is automatic, and there's no need to constantly update calendars, no matter the time of year.
If we still have not convinced you, feel free to manage your employee time off requests when you download this basic free holiday leaves template.