Managing time off requests in a company using excel templates is one of the most common practices in every HR department. In this article, we are going to show you how to create from scratch a vacation tracker excel template. This will help you track all your employees' time off through one simple easy to use template.
Managing Employee Holiday Requests with Time off Request Forms
The excel templates as time off management tools are still one of the most common ways to deal with holidays, sick leaves and other time off request forms in a lot of companies. With a mid-high level of Excel skills, it's possible to create a useful template that can help you count how many days each employee will be out of the office, however, I must warn you, it is not the most efficient tool.
If you already use excel to manage holiday requests and vacation requests, you will need to complement it with emails to communicate with the employees manually. One of the most complicated tasks for the person in charge of human resources is talking with each employee and recording their requests into an excel file. Whilst checking that there are no other people already on holidays during the same days and calculating the total remaining days that the employee can still request.
So depending on your company size you will need tons of patience and it may be a good idea to check some tutorials to improve your excel skills. However, with a free time off calendar template, you'll be well on your way to successfully managing employee time off requests.
Time off Requests Policy
No matter whether you use a time off calendar template to track employee time off, or software, you will want to have a time off requests policy in place. Creating your policy is simple. All you need to do is outline the stipulations of when an employee can take time off, for how long, and for which reasons. If there are any exceptions regarding when employees can take time off, this must also be included.
Be sure to include your policy for time off requests in your employee handbook.
Last-minute Time off Requests & Time off management techniques for companies
For the team in charge of human resources, time off management is one of the most time-consuming tasks of the year. Their ability to organize the entire company calendar will help workers take time off and enjoy their holidays and keep a normal workflow without any decrease occurring in the productivity of the whole company. Creating a time off spreadsheet can help managers with this monumental task.
As the human team grows, this task becomes more complicated and negotiations with each employee can affect an entire department. In addition to the Excel leave tracker file, there are other absence management systems that can help you simplify and automate this process, such as Factorial's holiday management software.
With the time off software, employees can request holidays through Factorial without the need to exchange cumbersome e-mail chains. The person in charge of the human resources department can easily accept or deny all these requests and see in real time if there are any overlaps with other employee holidays or sick leaves. You can access this directly from your browser without needing to download any program or plugin. We open and operating 24 hours 365 days a year!
Managing Employee Time off Requests by Creating an Excel Template [step-by-step]
If you still want to create your own vacation tracker Excel template, we will explain how to proceed step by step. First, you will need to install the Microsoft excel or derivatives program onto your computer. Remember that it is a paid program and unless your company provides you with the corresponding license, you can only use it for a limited time. Another option would be using the Google spreadsheets tool.
Create a new Excel file and name it so it's easy to remember. Something like Employee Time off Requests Template [CompanyName] 2023 would be enough.
Start by immobilizing 4 columns on the left side of the screen.
Once you do it, combine the cells in the first row. Here we will write the year.
On the second row, make divisions of 28/29, 30 and 31 days for each month. January, February, March… well until December.
On the third row, you can create a formula that counts the previous number + 1 so that the number automatically appears.
If you followed the steps correctly, you should have something like this: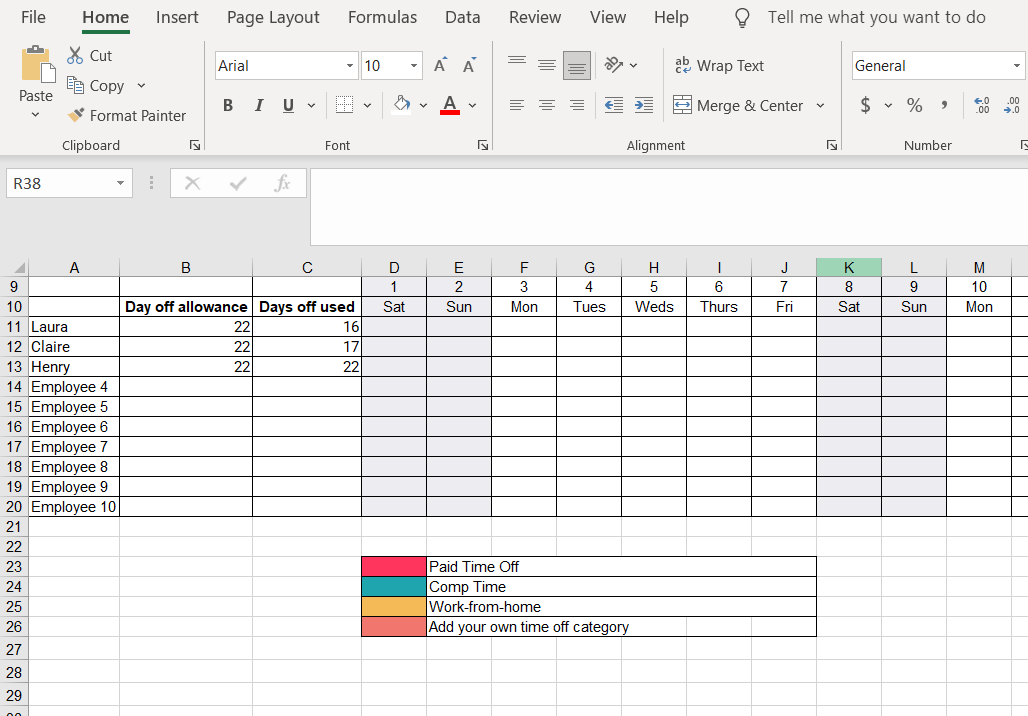 Now, return to the left part of the screen, to the section that we created at the beginning and add all the information that appears in the second screenshot. Team, Employee name, Total available vacation time, holiday days and remaining days. Using an employee vacation calendar template like the time off spreadsheet below, is a practical way to organize and manage employee time off.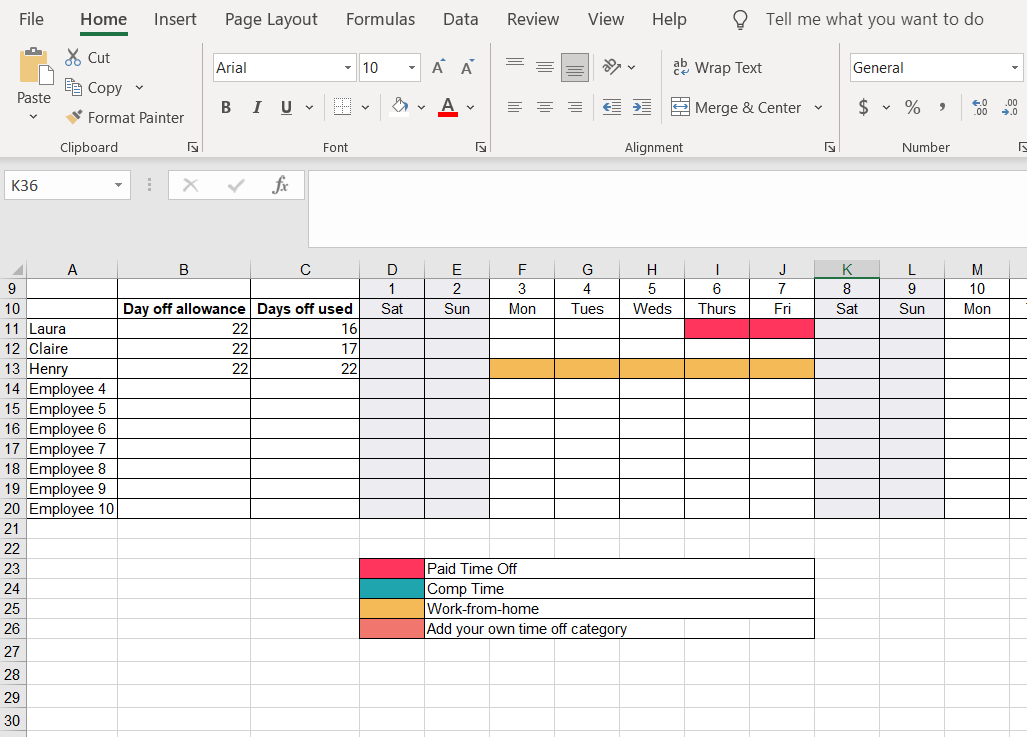 This first version of the excel template can help you keep track of each employee. If you want to have even more control of the tool you can always add formulas to improve it.
Managing Time in Lieu with Time off Request Forms
With a simple PTO tracking spreadsheet or employee vacation accrual template you can get by, but what about when things become more complicated? Managing time in lieu isn't the easiest. Essentially, lieu time is paid time off from work. Rather than an employee receiving pay for overtime hours, an employee would receive additional paid time off.
The challenge with managing time in lieu with a time off calendar template is that things can get very messy, very fast. The complications of how to keep track of employee time off that are granted from lieu, can be simplified in a digital vacation tracking calendar. You can easily add extra vacation days for specific employees and keep track of how many days they have used and have left directly in the company holiday schedule template calendar.
If you're unsure of whether or not you're ready to save time :) you can stick with an employee vacation accrual template to manage time off and lieu requests, but we wouldn't recommend it as it is not the hassle-free option.

Download the free Time off Excel Template
If excel is not your thing … you can use Factorial's time off management software. By using Factorial instead of the outdated spreadsheet method, you will save between 5-6 hours each month. Forget about formulas, e-mails and counting days. Using Factorial you can easily accept or deny each employee's time off request, check how many days this employee has already requested or check if the request overlaps with other absences on your team. Automatically, with no need to update calendars. You just have to input the information and Factorial will do everything else!
If we still have not convinced you, feel free to manage your employee time off requests when you download our free holiday leaves template.