Finding and recruiting talent requires a lot of time and resources. After all, your team is the most important asset to your company and it is crucial to have the right people in the right positions. However, it doesn't stop there. A good employee onboarding strategy is a good employee retention strategy. And having a well-designed onboarding process and employee onboarding checklist is key to ensuring long-term success for the new talent that you've worked so hard to find.
In this article, we'll take you through the stages of the onboarding process and the steps to complete at each point in time. From the pre-boarding process to performance reviews, this employee onboarding checklist will help to make sure your bases are covered when welcoming new team members. Additionally, we'll include some advice to help you enhance the process with tools, like the onboarding features in Factorial's software solution.
Pre-onboarding
Before welcoming new employees on their first day, there are some preliminary tasks to take care of. The pre-onboarding or "preboarding" phase starts before employees take their few first steps through the office door.
Onboarding documents
First and foremost, make sure that your paperwork is in order. If you are organizing documents manually, it can be time-consuming and chaotic. A better option would be to use a document management system to keep track of your employee onboarding documents and signatures.
These documents should include:
A signed job acceptance letter

, with details about the position, work conditions, hours, and compensation.

A welcome letter to new employees.

This should include information about their first day, when they are expected to arrive (if the location is physical), and who they should meet with. Having a well-written welcome letter will help your new hire feel more confident about their first day and understand exactly what is expected from them.

Your company's employee handbook agreement

and acknowledgment form.

Direct deposit forms.
Tax documents

, such as I-9 and W-2 forms
Additionally, you'll want to notify the rest of your team about the new addition before their scheduled arrival date. That way, your team members have a little bit of background information about the employee and can easily relate to them as soon as they start.
Share company information (policies, benefits, etc)
Next, you should provide additional background information that the new employee might need before getting started. This can include:
A copy of your employee handbook

with a detailed guide to your company's policies and procedures. The first days are often chaotic. And it's important to send this to new employees before they begin so that they have a few days to go through and familiarize themselves with important information and protocols.

If applicable,

remote working policies and home office setup.

Let them know if your company provides employees with monthly coworking or technology stipends.

Any additional information about company benefits

like health care plans and gym memberships.
Also, it's recommended to set up user accounts and provide login credentials to the managers of new employees. It's common for new employees to feel overwhelmed on their first day, and having this information readily available will prevent frustration and headaches.
First day
The first few days can reveal so much to new employees about your company culture, overall working environment, and working practices. You'll want to be sure that your new hires feel as comfortable as possible as they navigate their first day at the office.
Onboarding session
Be sure to meet new employees at the door to welcome them on their first day. During the employee onboarding session itself, you'll want to cover the following:
Introduce new team members to each other.

Help new employees

access company email accounts

, Slack accounts, clock-in, and employee dashboards.

Inform new employees of your company's internal communications practices.

Let them know where they can see important announcements, and who to contact if they have any questions while getting set up.

Highlight important company policies

regarding PTO, time off requests, lunch breaks, and working hours.

Show employees how to access benefits.
Provide new employees with a welcome kit

, computer, office equipment, and company gifts.
Office tour and introductions
A great way to familiarize new employees with their workspace is by giving them a tour of the office. Be sure to point out where they can find:
The kitchen

Break rooms

Restrooms

Desk spaces

Meeting rooms

Designated parking areas.
If your new hire is working remotely, you can adapt your employee onboarding checklist to their specific needs. Show new hires how to find other team members' working hours and how to set up meetings virtually. Even if they will not be working in a physical office location, simple information about communication protocols can help them feel more comfortable about communicating with their coworkers.
An employee's first day is also when new employees should get to know their coworkers. Employees should be introduced to:
Managers/supervisors

Coworkers and team members within their department

Their mentor/buddy (highly recommendable for new hires)
Additionally, you'll want to give new employees keys and door codes, as well as share any additional info about accessing and leaving the office building. 
Mentor program
There are numerous benefits to including a mentorship program in your employee onboarding checklist. According to a recent study by MentorcliQ, 84% of Fortune 500 companies and 100% of Fortune 50 companies consider mentorship programs an integral part of their employee learning and development strategies. 
But what do mentors do exactly for new employees? Besides making for a more creative employee onboarding, they provide employees with a support system in a new environment. Here's a quick rundown of some of the ways that mentors support new talent:
Introduce coworkers

in a more relaxed social setting. For example, during lunch or after-work events.

Answer any questions

that new hires have and help them feel integrated into the company culture.

Provide additional training

specific to their role or department.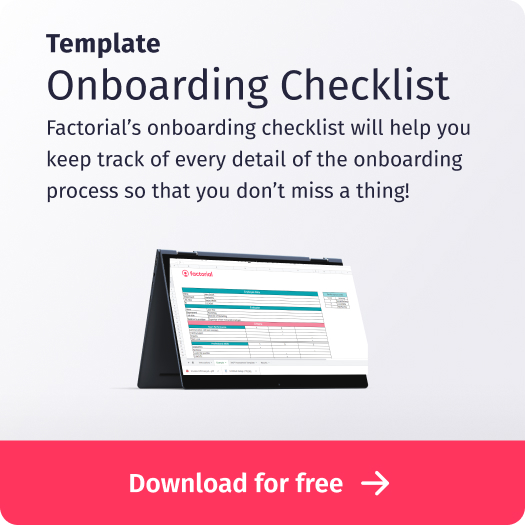 One week check-in
After employees complete their first week on the job, it's time to check in briefly and see how everything is going. During this time, you'll want to ask employees about their experience thus far and gather as much feedback as possible.
Gather feedback
Taking the steps to improve your company's processes is never easy. And without sufficient feedback, it's nearly impossible to know what is working and not working.
Newly onboarded team members can provide exactly the sort of valuable feedback that your company needs. They can see the company's processes from a fresh perspective and can give you critical insight into the way that your team works and the inefficient practices that should be improved.
Additionally, asking new employees about the onboarding process itself can help you to make tremendous improvements to your team. A great way to do this is by creating an onboarding survey for new team members to complete and encouraging new team members to offer suggestions.
To get additional insights, consider measuring and tracking key onboarding metrics, like satisfaction scores. From there, you can use tools like Factorial's HR reports feature to make data-informed decisions. The idea is to use these insights to change your employee onboarding checklist and processes for the better.
Organize a team event
Although team-building events are not always part of employee onboarding checklists, they play a crucial role in helping new employees develop rapport and trust with fellow employees. Which directly impacts overall employee satisfaction, workplace communication, and overall productivity levels. 
It is recommendable to have some sort of monthly team-building event per department. And when newcomers join your team, it's best to have them after the first week or so.
That's not to say that team building events need to be extremely elaborate or interrupt employee work-life balance. Instead, they should allow employees to get to know each other better, converse in a different environment, and with respect for employees' time away from work. Here are a few ideas to get you started:
Organized company lunches and coffee breaks

Book or music club, in which employees can share their favorite music or reading material

Icebreaker games at company-wide meetings
One month and beyond
After new employees have the chance to settle in, you will need to plan some additional check-ins to make sure that they don't have any problems over their first few months. Here's what to include on your employee onboarding checklist to support your new hires long-term.
Gather feedback
Employee feedback plays a crucial role in keeping tabs on satisfaction levels and potential obstacles. Also, it allows new employees to voice any problems that they are facing, ask questions and share their opinions. 
Once you've completed the first-week check-in, go ahead and schedule 30, 60, and 90-day check-ins as well, to make sure that employees feel confident with their roles and happy with their professional growth.
Managers also play a big role in listening and responding to employee feedback. After an employee's first week or two, managers should plan on scheduling weekly one-on-one meetings with their new direct report. 
In these one-on-one sessions, employees should share their professional goals, achievements, and obstacles. During this time, managers should look for ways to help and support employee ambitions to the best of their ability.
In addition to these efforts, employees should complete regular climate surveys or satisfaction surveys on at least a quarterly basis. Ideally, you'll want to receive this kind of feedback automatically through an integrated platform. 
That way, you can visualize employee feedback alongside performance reviews, allowing you to have a better understanding of individual profiles, strengths, and weaknesses. Every member of your team is unique, and you'll want to make sure that the tools that you use allow you to centralize and cross-reference as much information as possible.
Check-in with manager
Aside from checking in with employees, it's equally important to go to managers for regular status updates and insights. Managers should share information about how the employee feels in their one-on-one meetings and what kind of career development training opportunities would help support them better. 
In these check-in meetings, the employee's performance should be discussed, as well as the way that performance reviews are conducted. Make sure that performance review questions accurately assess the employee's short and long-term goals and the progress that they are making to achieve them.
Incorporating new team members doesn't stop after the first few weeks, onboarding is about making sure that an employee's long-term growth is accounted for and encouraged.