Keeping track of employee hours is one of the most basic functions of the human resources department. Aside from facilitating payroll, it also ensures compliance with US labor laws and FLSA timekeeping requirements. 
In this post, we'll take a look at why it's so important to keep track of your employees' schedules. We'll also share a few ideas to help you keep track of time worked, absences and breaks so that you keep on top of your legal obligations. Finally, we will discuss the benefits of using a digital or printable timesheet template at your company and break down the various templates available.
Employee Time Tracking Laws 
There are a number of legal requirements that make it important for you to keep a track of your employees' schedules. For one thing, you need to make sure timekeeping in your company is in line with the Fair Labor Standard Act (FLSA) and federal and state wage and hours laws. These laws establish aspects including the federal minimum wage, working hours, overtime for exempt employees and time and a half, equal pay, and recordkeeping. 
You also need to take into consideration any state laws relating to time tracking, as many states have adopted extensive laws regulating time and attendance that go beyond federal law. This includes making sure any absence-related deductions from employee pay are in compliance with the law. 
Finally, if you hire government contractors at your organization then you need to ensure you comply with DCAA timekeeping requirements. This includes creating and distributing a timekeeping policy, ensuring hours are tracked daily and maintaining records for a minimum of 2 years.
What is an Excel Timesheet?
An Excel timesheet is a basic digital or paper spreadsheet that can be used to keep track of employee hours. You can design your own Excel or Google Sheets time tracking template timesheet to collect timekeeping information from your employees. They can use the tool to report regular and overtime hours worked, including time in, time out, and lunch breaks for each working day.   
You can then use this data to calculate payroll and monitor authorized and unauthorized absences. It can also help you keep track of the efficiency and productivity of your teams. This can be a good solution for small businesses, contractors and the self-employed. 
What's an Excel Timesheet Calculator?
An Excel timesheet calculator is very easy to use. Once you design or download your template and send it to your employees, they can use it to track the hours they work each day. You can then use this data to calculate payroll, pay contractors and keep a record of hours worked.
The next step up from a simple Excel timesheet is using an automated Excel timesheet calculator. A timesheet calculator is a software that automates the calculation of the work hours of an employee. Instead of you calculating the hours worked by an employee each week or month, the calculator does it for you. You can also use an Excel timesheet calculator to work out how long your employees spend on breaks, how much overtime they have worked, and what their total pay is for a given period. 
A calculator simplifies the time tracking process, reduces errors, and ensures you have the right data to calculate payroll. It can also increase productivity as you spend less time calculating hours manually. Plus a calculator can be a great tool for accurately measuring and reviewing employee performance.
If you are looking for a Time & Attendance solution for your company, we have created a ready-to-print PDF template that will help your employees to record their daily working hours and breaks.
How to Create a Timesheet in Excel
Microsoft Excel is a program that can be used to create a time and attendance sheet for your employees. To start, you will need to install the Microsoft Excel software on your computer. Keep in mind that this is a paid program that can only be used for a limited time unless your company buys the corresponding license. If you do not have access to this software, you can utilize an alternative program such as Google Sheets.
Create a new Excel file and give it a relevant name so that it can easily be found and recognized. An example would be, Time and Attendance [name of employee] [name of month].
Enter relevant information such as the name of the employee, employee number, department and manager.
Create five columns below the information that you have entered in the spreadsheet. These columns can be used for the date, start and end times as well as the total amount of hours worked. The last column can be used for time off, comments or other relevant information that you would like to include.
Lastly, you can add a formula that counts the number of hours that are entered into the spreadsheet.
If you have followed the steps correctly, you will have a template that looks similar to the one below: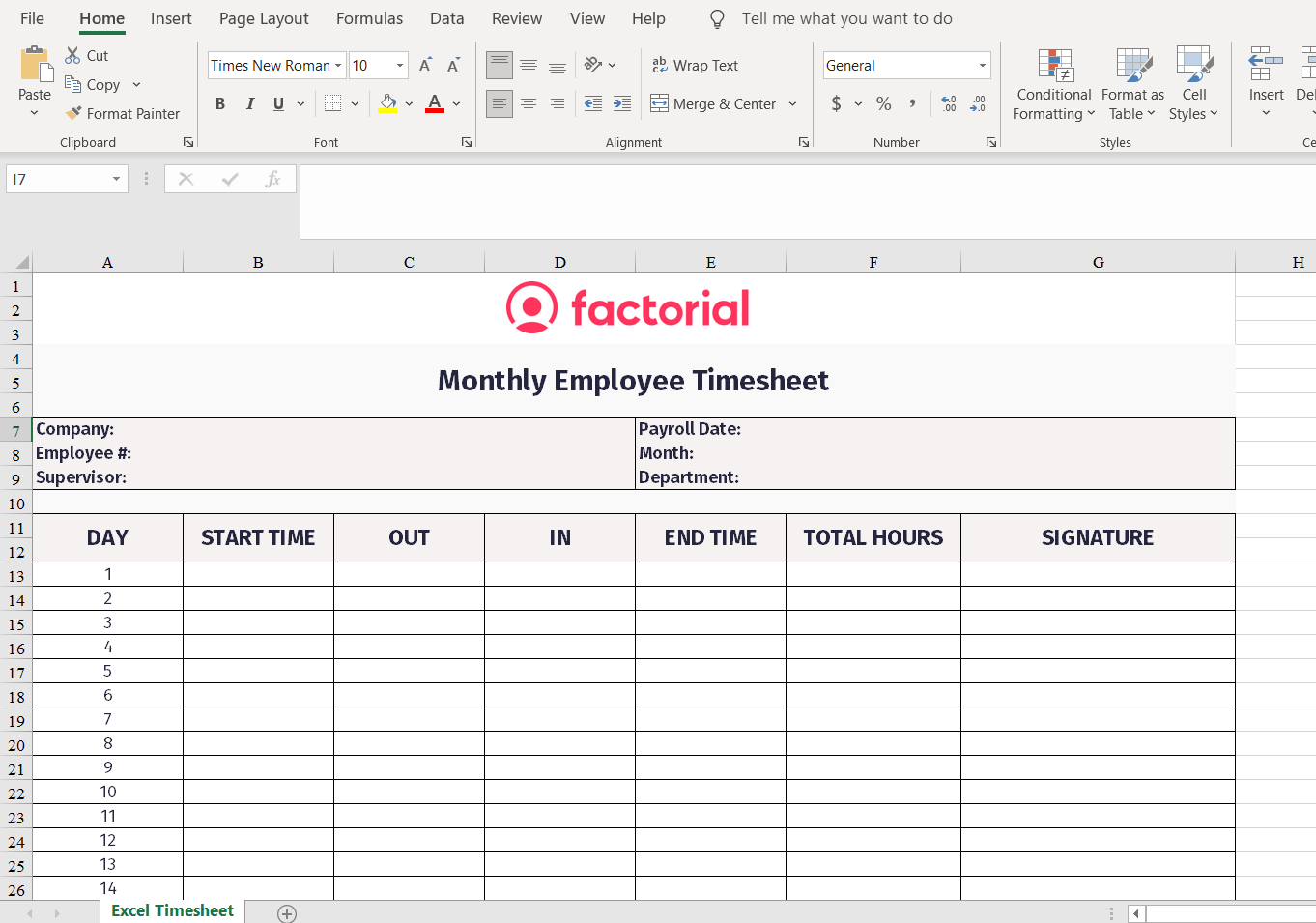 How to Use the Excel Timesheet Template
An Excel timesheet template is very easy to use, provided your employees follow regular shift patterns and working arrangements are not too complicated. Just download a printable blank timesheet and customize it with your company, employee, and pay rate information. Then share it with your employees and get them to complete it on a daily, weekly or monthly basis.
Excel timesheet formula
There are a number of free printable timesheets available, including Factorial's free Excel timesheet template which we shared above. All are based on the same range of excel formulas. These are used to calculate daily, weekly and monthly totals for hours worked, breaks, overtime hours, and start times and end times. 
Most timesheets can be customized to suit the needs of your company. Keep in mind though that Excel is very limited in terms of time and attendance functionalities, so you might need to create your own formulas for some calculations.
Now let's take a look at the differences between daily, weekly and monthly timesheets.
Daily Excel Timesheet Template
You can use a daily timesheet template to calculate work hours and pay periods on a daily basis. These are best for tracking project activities and hours. 
Weekly Excel Timesheet Template
Use a weekly timesheet if you prefer to calculate work hours and pay periods on a weekly basis. These are best for contractors and the self-employed.
Monthly Excel Timesheet Template
Finally, monthly timesheet templates are used when you calculate work hours and pay periods on a monthly basis. These tend to be more detailed as they provide an overview of monthly hours and pay together with a weekly breakdown of data.

Digital vs. Printable Employee Timesheet Templates
There are pros and cons to using digital or printable timesheets.
Printable timesheets are great if you only need something basic. The manual method is cost-effective and easy to master. This is a good option if you are a very small company with a limited team. 
Digital solutions collect all the same data, but they offer a few extra perks. For one thing, they streamline the process and ensure accuracy as there is less chance of human error. They give you a better overview of the entire company at a glance, and they help you ensure compliance with legal recordkeeping requirements. It's also easier to identify trends or potential problem areas. Ultimately, they are more reliable and they give you more control of your employees' working hours. This is not only important from a legal perspective, but it also helps improve efficiency and productivity. 
Easily Manage Employee Hours with Software
Although a digital or printable employee timesheet can be a great solution for keeping track of time and attendance, an automated time tracking app can streamline and speed up the process. It's also a great way to manage employee absenteeism and time and expense tracking. This can be especially useful if you work in a large organization. 
With the right software, such as Factorial's time tracking solution, you can be sure you are keeping a record of all schedules at all times. Aside from legal compliance, a good time tracking app can also help you calculate hours correctly (with rounding up and overtime), rendering it a valuable resource for large and small businesses.
There are many benefits to implementing a digital time clock system compared to using an Excel timesheet, especially if you have a large workforce or your employees are assigned to multiple shifts:
A time tracker helps your employees keep track and take ownership of their workload and duties

Time and attendance tracking software helps you keep track of contractors to comply with budgetary restrictions

With the right timestamp data, you can focus your strategic direction and measure the progress of goals

You can review team and individual attendance and performance in real-time

Employee time tracking results in more efficient payroll processes

It improves the efficiency of employee schedules and creates individual employee accountability

It minimizes potential bookkeeping errors

The software includes

geofencing

features. This enables you to determine in which location employees have clocked in and clocked out (office, home or other).
Save yourself the headache of managing employee hours with a basic time tracking template and let Factorial keep you on track with its time attendance software. Sign up for your free trial today!