Remote work continues to be the preferred method of working for many people. Because of this HR managers need to learn how to deal with managing teams remotely. Remote team management brings many new problems for HR. Luckily, there are also a ton of new solutions for a new age of working remotely.
This post will inform you about everything you need to know regarding remote work. We'll respond to all your burning remote work questions and provide you with tips and tools to implement successful remote work.
✔️Download your free KPI template!
What are remote workers?
Remote workers are defined as those that can work from any location.
There are many argued benefits that come from remote working. These include decreasing employee stress through having a more flexible schedule, better work-life balance, and saving money and time by not having to commute and not buying lunch out every day.
Additionally, surprisingly to some, studies have proved that remote working actually increases productivity.
Those who worked from home reported getting less distracted, enabling them to be more productive and therefore get more work done.
Remote workers management
Managing remote workers from behind a screen can prove very challenging for managers, especially when they have no experience managing people remotely.
However, don't worry, Factorial is here to help!
Below we have provided some useful tips regarding ways managers can support and oversee their employees remotely.
Check-in regularly
Generally, it is important that the offset managers are assured that their employees have what they need to successfully do their job. They should create a continuity plan which covers the steps employees need to take to achieve their goals. This should also be coupled with regular check-ins.
In a nutshell, communication is absolutely key to successfully managing remote workers and keeping them on track to achieving their objectives.
So check-ins don't just need to be work-related either. It is a tough time for many at the moment, so showing support to your employees on a personal level will go a long way in helping them, but also improving the work they produce.
Provide communication options
As previously stated, communication is key to managing remote workers. It is important to establish different communication platforms in which employees and managers can easily speak to one another. This can come in the form of help through texting, or calling, or video calling.
In contrast, the different options are important as it gives the employee a selection, in which they can choose what they feel most comfortable doing.
Consider alternative perks
In these trying and testing times, traditional perks might just not cut it, employers may need to start thinking outside the box when implementing remote work initiatives to motivate and engage employees.
So companies need to find new and novel ways to inspire and reward employees for their good work so that they don't lose their motivation and drive.
✔️Click here to access our comprehensive guide on the best ways to manage remote workers
Tips for remote workers
All in all, working completely from home is a new experience for many. So optimizing remote a remote workforce can be quite difficult, especially if they are in the IT industry. This can be quite challenging so don't worry if you get discouraged on the way.
Above all, here are 8 useful tips to help workers thrive whilst working remotely.
Communicate with your colleagues and manager on a regular basis to stay in the loop with each other and feel connected
Give yourself time off at lunch to relax and disconnect from work for one hour
Don't let yourself get distracted by the housework that needs to get done. Compartmentalize between work and housework, as if not you will get distracted and won't be 100% productive.
It's important to give yourself regular breaks from work – listen to a podcast, read a newspaper do a quick workout. This is vital to improve your levels of productivity and keep you motivated throughout the day.
Try out the meditation – meditation and yoga have been proven to combat anxiety and stress whilst boosting productivity levels. During these difficult times, it can go a long way in helping combat the anxieties that have been brought on by the COVID pandemic.
Get some exercise- It is so important to get some exercise and not stay sedentary for the whole 8 hours of your working day. Exercising will help you disconnect and recharge your batteries whilst improving your brain flow and productivity levels.
Prioritize important projects- work smart and concentrate on the projects that matter most and that has the shortest deadline. Optimize the time you work best, for some it is the morning, and for others, it is the evening, but take advantage of these hours to get your most challenging and demanding tasks completed and out the way.
✔️Click here to read the fuller version of the best top tips to remote working 
Tools for remote workers
Working from home can prove a lot less challenging when you have with the right tools to make your job that little bit easier.
Below we discuss the top tools you need to successfully work from home.
Problem-solving tools
To successfully work remotely you need access to appropriate equipment. This includes essential equipment such as computer screens, keyboards, and routers.
Mental health tools
Mental health is a very relevant issue, however, now it is more relevant than ever. According to the US Centers for Disease Control and Prevention (CDC) report, mental health issues rose by 40% due to the COVID pandemic.
Managers can provide tools to support their employees, such as informing their employees which counselors and psychotherapists are covered under the companies benefits.
Meditation apps such as headspace and InsightTimer can also help to gain focus and clear employees' minds.
Brainstorming tools
Mindmapping tools such as MindMeister can help brainstorm ideas. List-making software such as  Workflowy can help you explore thoughts and new ideas deeply whilst recording your ideas in an organized systematic way.
Focus Apps
Focus apps can help improve employees' productivity and concentration levels. These include apps such as Forest. This app grows a tree on your phone screen and the longer you go without checking your phone the bigger it gets. This motivates you to go as long as possible without getting distracted and also enables you to monitor the frequency in which you get distracted.
Communication tools
There are many excellent communication tools that facilitate group meetings such as Krisp– a noise cancellation feature so you don't need to put yourself on mute in group meetings. Another great app is Yac, enabling you to send voice notes to your colleagues, facilitating communication
Security Tools
Companies which operate remotwly are more susceptible to security breaches. That is why security tools such as 1password can be of great use. This password manager tool protects companies from breaches in its security by providing one uncrackable password for each website you have an account for.
Upskill tools
Upskilling employees in this new distance economy can prove very useful for businesses. These include programs such as Coursera, which hosts classes from the best universities to develop users' IT learning. Additionally, Linkedin Learning can help users develop skills to further their careers.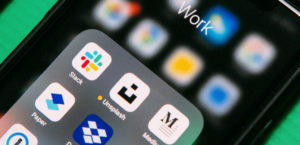 ✔️ Find out more about the best tools for remote workers
Sustainable tips for working remotely
What has remained abundantly clear is that remote work is here to stay, for a fair while at least. Here are 5 tips to conquer sustainable remote working.
Stay healthy
Mental and physical health issues can detrimentally affect employee performance.
So that's why it is so important that employees feel support by their employers. This can be achieved through the encouragement of healthy lifestyle practices or by providing employees with support.
How?
Simply through commissioning therapy sessions, or yoga classes, for example.
Have a designated working space
When working from home, it can become easy to blur your work life into your personal life, as they're no longer exists a clear distinction between the two. This can lead to working longer hours, or not being able to switch off from work once you have finished your 8 hour day.
Also, this is bad for employees' mental health and can quickly lead to burnout. That's why it is important to create a separate space in your home, in which one you work and the other you sleep in.
Work in short bursts
Working in short bursts has proven to be a very effective way of improving productivity levels.
By mentally breaking up your workload, it helps compartmentalize the amount of work you have to do, which can help boost your motivation to get it done.
Also, it seems a lot less daunting working for an assigned 50 minutes and then taking a break, rather than trying to commit to finishing an entire project in one day. So employers should increase their employees' productivity levels using this technique.
Celebrate success
It can become demotivating to work alone from home, as you don't have your team beside you working away, which encourages you to stay concentrated and keep working. It can also feel dispiriting when you feel like your manager isn't there supporting and encouraging you. This is why it is important to create schemes in which employees success' is celebrated, this could occur through company-wide employee recognition programs.
Above all, the program could involve messages of appreciation being displayed through a companies social feed. These motivate employees, encouraging other employees to celebrate a team-member success, and therefore encouraging collaboration through a team-work mentality.
Adopt a growth mindset
Adopting a growth mindset, it enables you to regard talents less as something fixed and concentrate more on developing skills through hard work and dedication. Those with a growth mindset are always ready to develop and evolve, by always seeking opportunities for improvement and investing time and effort into growth.


✔️Read more about adopting sustainable remote work habits 
Software for remote workers
The challenges brought on by employees having to work from home have been numerous.
Working from home has forced companies to make the switch to all-digital all the time. And with managers far from their employees, it has been hard to make sure they are meeting their goals. This is why it is important to utilize software that facilitates employees in working from home.
Reasons HR software for remote workers is essential:
Facilitate continuity- During these unstable and uncertain times, it is important that companies continue functioning as before. This is why software systems such as payroll continue operating through an automated software system.
Foster growth- Hiring new candidates is an essential way businesses can facilitate growth. This is facilitated by HR software such as Factorial's applicant-tracking feature.
Measure employee satisfaction- run HR reports which measure, productivity levels, attendance, and project development as well as employee satisfaction surveys.
Manage absences better- During these trying times employees may take more sick leave off, due to being ill or having to look after unwell family members. Having an absence management software enabling employees to request time-off will therefore prove indispensable
HR software tools facilitating remote work
Applicant tracking and onboarding for remote workers
Attract the best candidates through a custom company career page. One which syncs up to job sites such as Indeed or LinkedIn is also a plus. Once you have found potential employees, you can streamline the hiring process through an applicant tracking system. Then you can easily send the contract to new hires using a secure digital signature.
The onboarding process is also made simple through custom workflows. Additionally, document sharing enables employees and managers to easily share important materials.
Time-tracking and payroll
Factorial enables managers to easily manage time and attendance. Managers can receive a notification when employees clock in or out (if they so choose) as well as having access to the timesheets which they can review at any time.
The time-tracking feature is integrated with payroll, meaning employees do not need to be concerned about incorrect or late cheques.
✔️Click here to view the newest HR software for remote workers
Holidays and absence management
Managers should have a process in place when employees need to make any time-off requests, especially during these precarious times. With Factorial, employees can submit their requests digitally and managers are able to approve them quickly and easily. Managers are also able to view absences on the calendar, whilst also being able to run custom HR reports to better understand absences and the repercussions this is having on the company.
Access from anywhere
All data kept by Factorial is on the cloud. That's why all the data ranging from performance management to time tracking can be easily accessed through the employee portal or mobile app.