Finally an Employee Vacation Tracker that lives up to the hype!
Manage the vacations and absences of your team better with Factorial's automated system. Replacing Excel is one of the best decisions the human resources team can make. Why? Let us share 5 reasons why switching over to an automated employee vacation tracker is a crucial step in managing your employee vacations better and streamlining your HR processes.
Save time and money, all while offering your employees the best solution for requesting holiday days and organizing their time off management.
If you want to know how to create an Excel holiday planner, we've got you covered. Here, you can download the staff holiday planner template free Excel version here 👇
---
Save time with Factorial's Holiday Management HR Software and increase your productivity! If you want to learn more about Factorial and our employee vacation tracker, let us know you'd like to connect with us. We'd love to see how we can support you by relieving some of your HR stress.
Employee Vacation Tracker
If you think you want to kick it old school and work from Excel, we won't stop you. You can find all the information for the 'old school' method in our post on managing holidays and time-off requests.
5 reasons to manage your employee vacations with Factorial
1) Automate 90 % of your work with Factorial 
Forget about exchanging emails back and forth with employees every time they want to request or change their holiday. As a matter of fact, by using Factorial's automated system, you'll cut your workload, thus increasing productivity.

With Factorial, you have all your requests in one place. You can easily see if there are overlapping requests so you can better manage your employee holidays. 

Accepting and rejecting requests is as simple as pushing a button!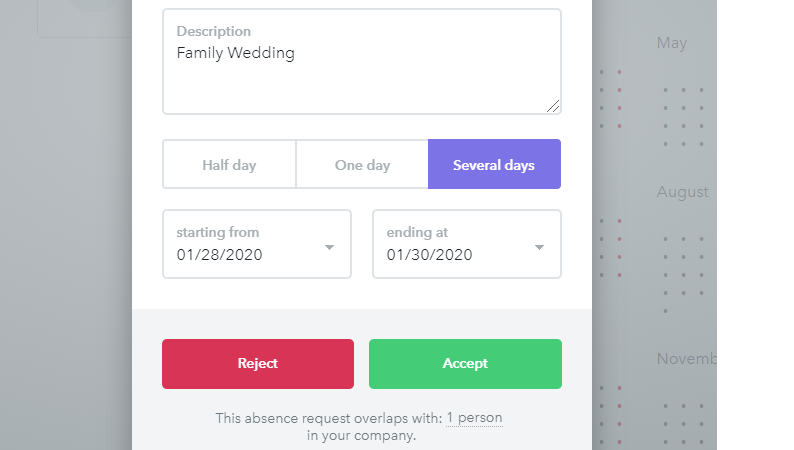 2) Watch your holiday calendar upload automatically, like magic.
✨ 
Employees often need a quick response on whether their vacation requests are approved or rejected, so they can plan their holidays. With an automated system, you can view all the employee requests made, accepted, and rejected.

Eliminates the need to manually go through an Excel finding out whether the dates requested are available or not. Using an Excel sheet is incredibly time-consuming and leaves room for human error.

With Factorial, once you accept or reject a request, the employe receives an email. In this communication, they are given the status of their holiday request. 

Upon a vacation request status, the calendar is automatically updated to reflect the number of holiday days the employee has left, and how many they have used.

Moreover, any conflicting vacations are visible here as well.
3) No more manual tracking required
With Factorial, easily keep track of the number of days an employee has left of their vacation days without needing to track vacations via an excel template. 

Let your employees know what their expected working days are, and when they have their vacation time. Establishing a vacation policy in Factorial, assists team members in tracking leave and absences. 

Employees can select the leave type when they request for time-off. As an admin, you are able to add leave types to customize your reports later on. 

Easily view employee time-off requests, number of available days an employee has, and how many they have already taken.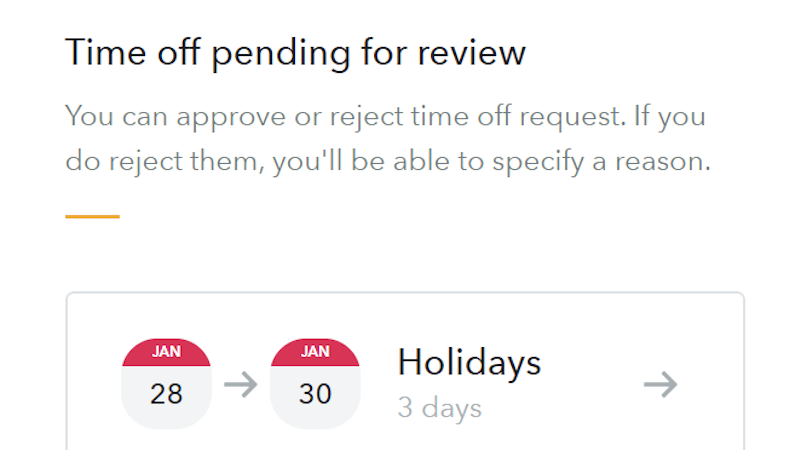 4) Improve Organization
When you know right away the numbers of employees who will be out of the office, you can easily delegate the workload and organize the tasks while the employee is away.
With Factorial, you can assign a supervisor to each employee, who will moderate their vacation requests.
The supervisor can easily moderate employee vacations, and keep track of who is in and out of the office.
5) Free trial!
Try Factorial's HR software, free for 14 days OR
For less than the cost of a coffee/per employee/per month, you can manage your HR processes with Factorial.