Although pay transparency and equality should be a top priority for employers, having a satisfied and healthy team takes more than just a high salary. In fact, many employees consider work-life balance and adequate PTO benefits to be top priorities.
According to a recent Forbes article, 28 million employees in the United States go without paid time off benefits, even though roughly a third of employees regard mandatory PTO as a top benefit. 
In this article, we'll discuss why paid time off is such an important aspect of your company's compensation and benefits package. Then, we'll look at some of the specific ways that employers and employees stand to gain from a PTO benefits program. Lastly, we'll discuss the amounts of PTO that companies typically offer and the best ways to reduce the costs associated with PTO benefits.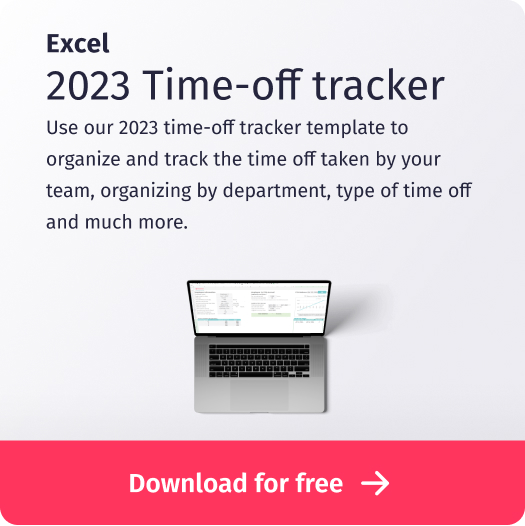 Why are PTO benefits so important?
While no federal law requires businesses to provide paid time off for employees in the United States, including sufficient paid time off can positively impact your team in many ways. Often, workers depend on paid time off to spend time and take care of loved ones. Aside from this, many workers need periods off to focus on other aspects of their life and reduce work-related stress. 
By allowing your workforce time to attend to their personal needs, you are helping them to stay present and engaged while at work. Ultimately, PTO works out to be a win-win for everyone involved. In the next sections, we'll cover some of the main reasons why PTO benefits benefit employers and employees.
Benefits of PTO for employers
Although it might seem that paid time off policies and unlimited PTO policies only help employees, they're actually advantageous for employers in many ways. Here, we'll explain why. 
More productive and efficient workplace
That's right. Contrary to popular belief, paid time off and holiday pay can actually boost productivity and efficiency in the workplace.
Firstly, with PTO practices, employers tend to have lower rates of employee absenteeism. Although unplanned emergencies and family or health issues are always bound to occur, having a PTO plan will help to curb at least some last-minute scheduling changes. And with fewer disruptions and organizational issues, you'll be able to plan more strategically and carry out tasks with optimal efficiency.
Secondly, when employees feel stressed or tired, they tend to make more errors and lose focus. After taking a few days of paid time off, employees can come back to work feeling recharged, refreshed, and ready to take on new tasks. Having employees work 40 hours per week is only beneficial for employers if they can concentrate and put forth the right amount of energy.
Reduce stress and workplace hostility
In addition to increased absenteeism, insufficient PTO leads to more on-the-job stress and hostile interactions. It can even create a toxic working environment that employees will want to leave. Giving employees the option to take a paid personal day now and then can make a huge difference on this front as well.
PTO benefits help to fight burnout
Unsurprisingly, extra PTO can also help organizations minimize employee burnout. However, even with a paid time off program, many employees work while on vacation. Many workers never use PTO benefits in their entirety. Research by the U.S. Travel Association indicates that more than half (55%) of workers do not use all of their annual paid time off.  
Even with a paid time program in place, employees might be hesitant to go on vacation. Many employees feel that they run the risk of looking replaceable. Others know that even with days off, their workloads go unchanged. Rather than facing a mountain of work when they return, they choose to put in extra hours while away from the office.
In these cases, it often defeats the purpose of having a paid time off policy to begin with. It's not enough for leaders to allow workers to not be physically present from their positions. In order for PTO benefits to be effective, there must be a guarantee that workers have reduced workloads as well.
Reduce costs
Some employers might be hesitant to include paid time off in compensation and benefits packages due to the costs associated with lost days. However, your company will save in other ways, including:
Reduced turnover expenses

Less absenteeism

Improved internal communications
Another concern that many employers face has to do with the operational expenses and extra processes involved with managing PTO requests and ensuring that there aren't overlapping employee absences. With the right PTO tracking software, you can automate the process and approve requests within seconds. PTO benefits don't have to mean extra work and labor costs for your operations team. More on this later.
Improve brand loyalty and commitment
Having PTO benefits and smooth operational processes while managing requests and time off approvals can encourage feelings of organizational commitment and loyalty. 
Although PTO requirements vary by state, The United States is the only Organization for Economic Cooperation and Development (OECD) nation without a federal paid time off requirement for workers. And when workers find a company that advocates work-life balance through paid time off benefits and policies, they will be more likely to cultivate feelings of respect for the company and take more of a vested interest in their position.
Benefits of PTO for employees
PTO helps employees to take care of their mental, emotional, and physical well-being. Here are some of the key advantages.
Work-life balance
Too often, workers are forced to decide between family needs, outside personal objectives, and their jobs. While FMLA law allows employees to take unpaid time off for medical emergencies and family issues, forgoing paychecks is not always an option, and in most cases, it adds to an already stressful situation. 
In contrast, having paid time off to take care of a family member, travel, or simply relax can be a game changer for many employees. With PTO benefits, there's no need to pick and prioritize. Employees will have the time that they need to take care of external issues without sacrificing their job status. 
In addition, employees can use paid time off to learn new skill sets and explore interests outside of their jobs. By having a paid time off benefits plan, you are essentially cultivating an accomplished and well-rounded team of individuals.
Health benefits
Going long periods without time off is not only bad for your mental health, but can also impact your physical health. According to a 2021 study conducted by the World Health Organization (WHO), long work hours can put you at higher risk of heart disease and stroke. The study linked 745,000 deaths over the year to chronic overwork.
It's clear that poor time off policies can lead to accumulated amounts of stress. Which, in turn, could cause smaller health concerns such as back pain or computer-related vision issues. Having a once-per-year vacation doesn't necessarily fix all of these issues. However, adequate PTO benefits and fair overtime practices are a key part of a well-balanced and healthy work environment.

How much paid time off do companies normally offer?
Paid time off benefits that companies offer vary by industry and by position. Generally speaking, companies tend to grant more paid time off to employees that have held their position for several years.
To help you benchmark and create a competitive PTO benefit policy in your company, here's the average number of vacation days according to the US Bureau of Labor statistics:
| | | |
| --- | --- | --- |
| | Private industry | State and local government |
| PTO after 1 year of employment | 11 days | 13 days |
| PTO after 5 years of employment | 15 days | 16 days |
| PTO after 10 years of employment | 17 days | 19 days |
| PTO after 20 years of employment | 20 days | 22 days |
Source: "Paid leave benefits: Average number of sick and vacation days by the length of service requirement", March 2021, U.S. Bureau of Labor
Keeping PTO-related operational costs to a minimum
While offering paid time off benefits to your team can potentially increase productivity levels and revenue, operational expenses can easily get out of hand. Your best option is to keep paperwork, emails, and back-and-forth communication to a minimum and look for a more streamlined approach to paid time off management. 
Automation can be a huge time saver for organizations. Especially when it comes to tasks like managing and approving time off requests. However, not all platforms are created equal. And you'll want to be sure that the platform that you choose offers you the maximum amount of paid time off management tools and a reasonable pricing plan.
With Factorial's affordable and effective time off software, you can approve time off requests with a click. Our comprehensive time off management features allows you to visualize, track, and report time off across your entire company. 
Specifically, our time off features include:
A calendar view

where you can see scheduled employee leave and vacations

Customization features

that allow you to provide the right amount of days off for employees, depending on your company's policies.

Visualization tools

for employees used, accrued, and remaining PTO 

Tools to personalize settings

based on leave types and your company's needs.
Investing in your operational processes means investing in your team's communication and well-being. Get started with Factorial today.