HR software, short for Human Resources software, is a revolutionary technology that transforms organizations' HR processes. It serves as a comprehensive platform designed to streamline and automate various human resource tasks.
This powerful tool has become a must-have for businesses of all sizes, from small startups to large enterprises.
Now, let's understand everything about HR Software: History, types, features, benefits, trends, and some recommendations!
TABLE OF CONTENTS
Introduction to HR Software: Digital Transformation
What is HR Software?
At its core, HR software is a digital solution that consolidates and centralizes HR functions.
This includes employee data management, recruitment and onboarding, time tracking, payroll processing, performance management, benefits administration, and more.
By bringing these disparate tasks into a unified platform, HR software eliminates manual and time-consuming processes, reducing human error and freeing up HR professionals to focus on strategic initiatives.
HR Software: A digital transformation for small and medium businesses
HR software evolution can be traced back to manual record-keeping, where HR departments relied on filing cabinets and paperwork to manage employee information. These analog systems were labor-intensive, prone to errors, and lacked real-time data insights.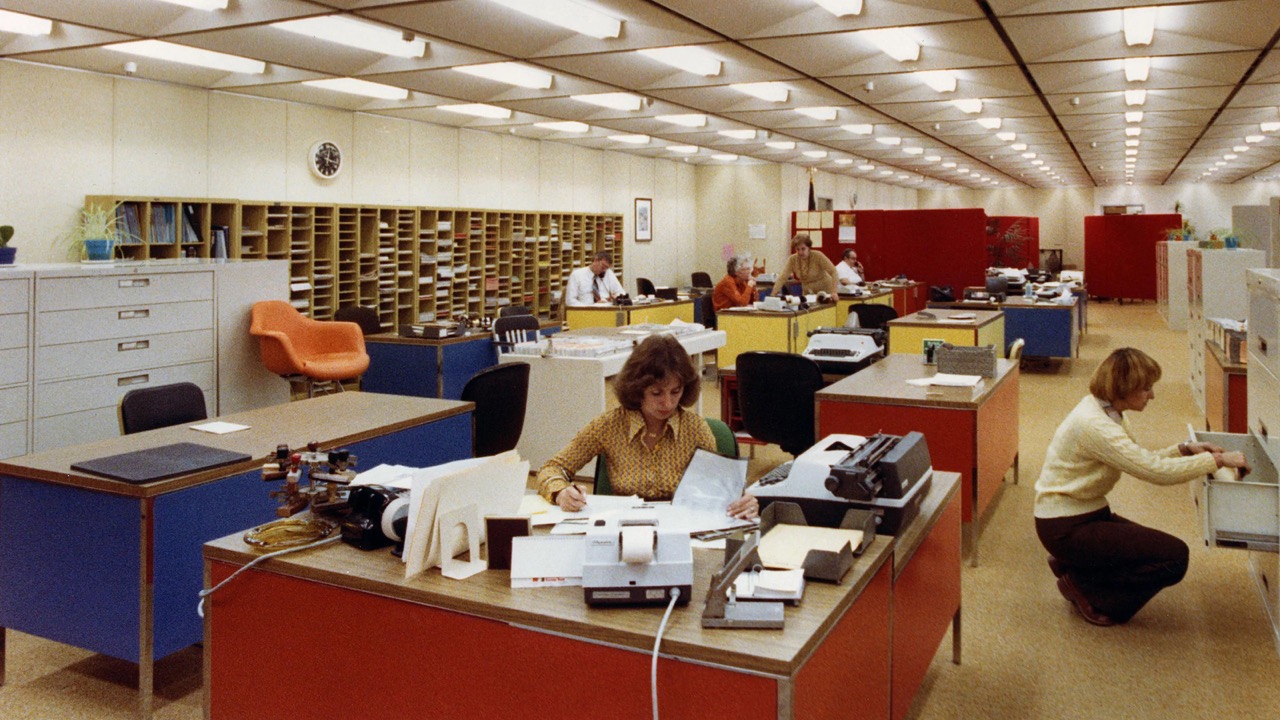 With the advent of computers and technology, digital HR software emerged in the late 20th century. This puts us in an exciting era in HR management. These early solutions focused on automating basic tasks like payroll calculations and employee record storage.
However, they were often stand-alone applications that lacked integration with other HR processes.
As technology advanced, HR software underwent significant transformations. The integration of cloud computing and internet connectivity revolutionized the HR industry, enabling cloud-based HR software. Cloud-based HR software allows businesses to access HR systems securely from anywhere, facilitating remote work and collaborative processes.
In recent years, HR software has evolved into comprehensive, customizable platforms that cater to different businesses' specific needs. Modern HR software, like Factorial, offers a range of features tailored to different HR requirements.
These features include time and attendance management, payroll, employee onboarding, employee performance tracking, and more.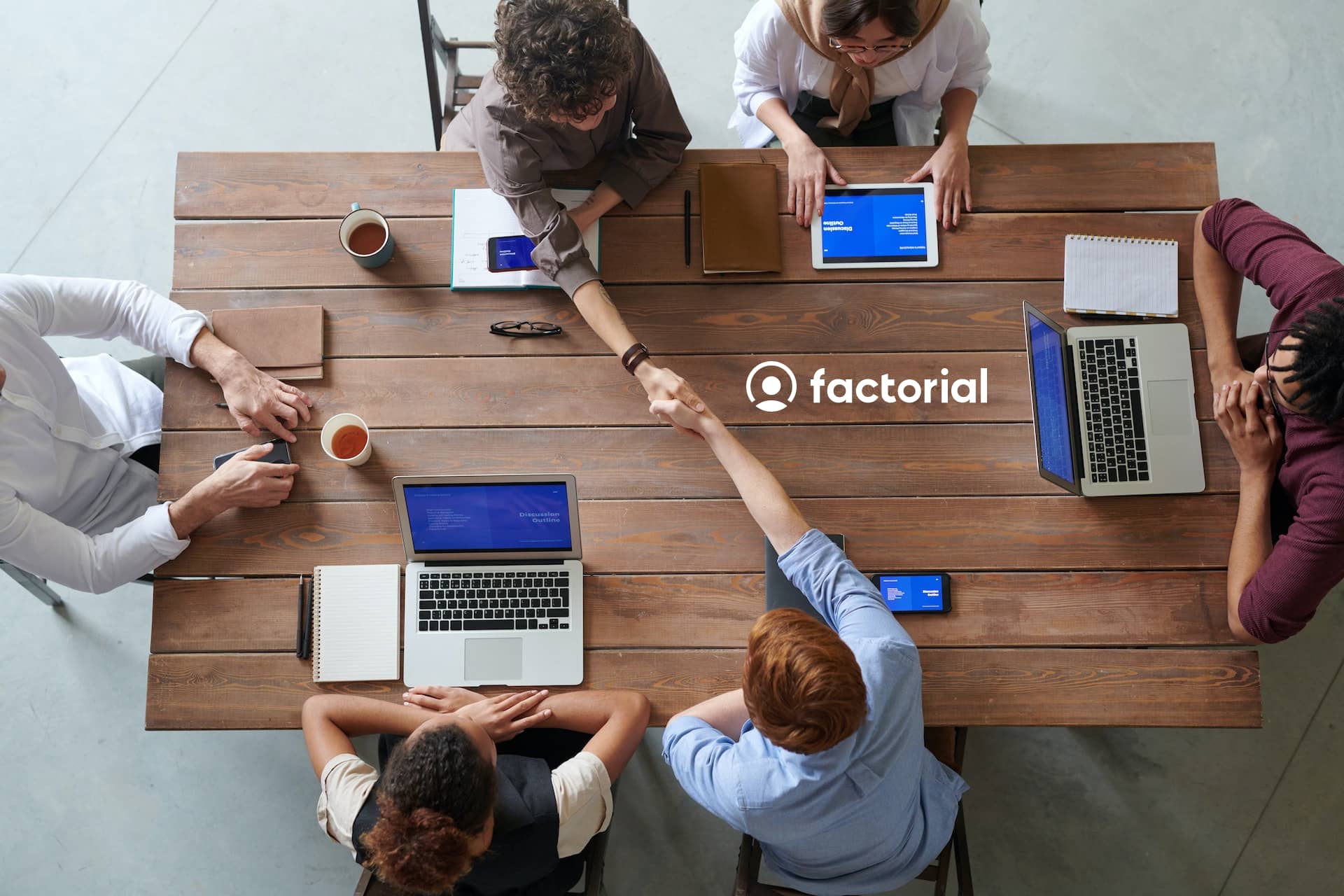 The shift towards AI-driven features, analytics, and data-driven insights has further enhanced HR software's capabilities, empowering organizations to make informed decisions about their workforce.
Click here, you can try the latest HR technology (Factorial) for yourself!

A Modern HR Software: All the Features & Benefits
HR software comes packed with a range of features that cater to human resource management needs. HR software is designed to simplify administrative tasks, boost employee engagement, and provide valuable insights for HR professionals and decision-makers.
Here are all of the key features & their benefits:
☞ Employee Data Management Feature
HR software serves as a centralized database for employee-related information. Using it, HR teams can store and manage employee profiles, personal info, job histories, certifications, and performance records.
Benefits for HR
⭐️ Higher Compliance and Data Security
⭐️ Centralized Data Management
⭐️ Cloud-Based Accessibility
⭐️ Scalability
☞ Recruitment / Onboarding & Offboarding Feature
By using this feature, HR teams can post job vacancies, manage applications, and schedule interviews. Onboarding tools help new hires navigate the induction process and complete paperwork quickly.
Benefits for HR
⭐️ Enhanced Employee Experience
⭐️ Cost Savings
⭐️ Talent Acquisition & Onboarding Success
☞ Time and Attendance Tracking Feature
HR software offers time tracking functionalities to record employee work hours accurately. It can automate time-off requests, track attendance, manage overtime, and provide real-time insights into employees' attendance patterns.
Benefits for HR
⭐️ Increased Efficiency and Productivity
⭐️ Improved Decision-Making
⭐️ Customizable Solutions
☞ HR Payroll Management Feature
Payroll processing becomes more efficient with HR software. It automates payroll calculations, tax deductions, and direct deposit payments, reducing errors and ensuring timely and accurate salary disbursement.
Benefits for HR
⭐️ Increased Efficiency and Productivity
⭐️ Cost Savings
⭐️ Customizable Solutions
⭐️ Scalability
☞ Performance Management Feature
This feature allows managers and HR professionals to set performance goals, conduct performance reviews, and provide feedback to employees. HR Reports & Analytics help identify areas of improvement and recognize top performers.
Benefits for HR
⭐️ Increased Efficiency and Productivity
⭐️ Improved Decision-Making
⭐️ Employee Engagement
☞ Employee Self-Service Feature
Employee self-service portals empower employees to access their personal information, update details, submit time-off requests, and view payslips and benefits information independently, reducing HR's administrative workload.
Benefits for HR
⭐️ Increased Efficiency and Productivity
⭐️ Centralized Data Management
⭐️ Enhanced Employee Experience
⭐️ Customizable Solutions
☞ Benefits Package Administration Feature
HR software manages employee benefits, including health insurance, retirement plans, and other perks. It streamlines enrollment processes, tracks benefit usage, and provides employees with visibility into their benefits package.
Benefits for HR
⭐️ Enhanced Employee Experience
⭐️ Employee Engagement
⭐️ Customizable Solutions
☞ Training and Development Feature
HR software often includes training modules for employee development. It allows HR teams to assign and track employee training programs, ensuring continuous learning and skill enhancement.
Benefits for HR
⭐️ Enhanced Employee Experience
⭐️ Employee Engagement
⭐️ Customizable Solutions
⭐️ Scalability
☞ Employee Engagement and Surveys Feature
HR software may incorporate features to measure employee engagement through surveys and polls. This data helps HR professionals determine employee satisfaction and address any issues affecting workforce morale.
Benefits for HR
⭐️ Increased Efficiency and Productivity
⭐️ Enhanced Employee Experience
⭐️ Improved Decision-Making
⭐️ Cost Savings
☞ HR Reporting and Analytics Feature
Powerful reporting tools in HR software provide valuable insights into various HR metrics, such as turnover rates, workforce demographics, and performance trends. Data-driven analytics support informed decision-making.
Benefits for HR
⭐️ Increased Efficiency and Productivity
⭐️ Centralized Data Management
⭐️ Enhanced Employee Experience
⭐️ Improved Decision-Making
⭐️ Cost Savings
☞ Compliance and Document Management Feature
HR software helps organizations stay compliant with labor laws and regulations by managing documents such as employment contracts, policies, and regulatory paperwork.
Benefits for HR
⭐️ Compliance and Data Security
⭐️ Centralized Data Management
⭐️ Cloud-Based Accessibility
☞ Mobile Accessibility Feature
HR software solutions typically come with mobile apps or responsive interfaces, which make it easier for employees and managers to access HR information and functions on the go.
Benefits for HR
⭐️ Increased Efficiency and Productivity
⭐️ Enhanced Employee Experience
⭐️ Scalability
These features are just a glimpse of what modern HR software can offer.
An HR software simplifies HR management, improves employee experiences, and contributes to organizational success.
With a wide range of features and benefits, HR software is a strategic investment.
Let's dive into the types of HR software currently available in the market:
Types of HR Software: HRIS, HCM, HRMS
HR software comes in various types, each catering to specific aspects of human resource management. Here are three common types of HR software:
1. HRIS (Human Resource Information System)
HRIS, or Human Resource Information System, is a software solution that serves as a centralized database for all employee-related data. It is like level 1 for HR Software, it is the most basic of the three.
It includes essential HR functionalities such as employee records, payroll management, benefits administration, time and attendance tracking, and performance management.
Key features of HRIS
Employee database: Storing and organizing employee information, including personal details, job history, and performance data.
Payroll management: Automating payroll calculations, tax deductions, and generating payslips.
Benefits administration: Managing employee benefits, such as health insurance, retirement plans, and vacation policies.
Time and attendance tracking: Recording employee work hours, absences, and leaves.
Performance management: Setting goals, conducting performance reviews, and tracking employee progress.
2. HCM (Human Capital Management)
Human Capital Management, or HCM, takes HRIS a step further by encompassing a more strategic approach to managing human resources.
HCM software not only focuses on administrative tasks but also emphasizes employee development and talent management.
It includes features like learning and development, talent acquisition, succession planning, and employee engagement tools. HCM aims to optimize workforce performance and align HR practices with organization strategic goals.
Key features of HCM:
Learning and development: Providing training opportunities and tracking employee skill development.
Talent acquisition: Attracting and recruiting top talent through applicant tracking systems and talent management platforms.
Succession planning: Identifying high-potential employees and preparing them for leadership roles within the company.
Employee engagement tools: Conducting surveys and feedback mechanisms to gauge employee satisfaction and engagement.
Analytics and workforce planning: Using data-driven insights to make informed decisions about human capital investments and workforce planning.
3. HRMS (Human Resource Management System)
HRMS, or Human Resource Management System, is a comprehensive software suite that combines HRIS and HCM functionalities.
It integrates various HR processes, from employee data management to strategic HR planning. HRMS provides a complete end-to-end solution for human resource management, suitable for organizations looking for a holistic approach to HR administration and talent management.
Key features of HRMS
All the features of HRIS and HCM in a unified platform.
Centralized employee data management.
Talent acquisition and applicant tracking.
Learning and development tools for employee training.
Performance management and employee engagement features.
Time and attendance tracking and payroll management.
Advanced analytics and reporting capabilities.
In summary, HR software comes in different types, each designed to cater to specific HR management needs.
HRIS focuses on administrative tasks and employee data management, while HCM emphasizes talent management and strategic HR practices. HRMS combines both functionalities, providing a comprehensive solution for end-to-end human resource management.
Organizations can choose the type of HR software that aligns best with their specific requirements and business objectives.
Let's take a look at how Factorial HR Software will help your HR deparment be more efficient, as well as why Factorial is one of the top HR Software solutions for Small and Medium-Sized Businesses like yours.
HR SaaS Software: Definition & Types
HR Software-as-a-Service (SaaS), also known as cloud HR software, is a subscription-based service used for human capital management that users can access online from any location. Most modern human resources management systems (HRMS) these days are SaaS solutions. Typically, you pay a subscription rate depending on the number of users instead of a large up-front cost as you would in the case of traditional on-premise HR software.
HR SaaS software usually includes features for managing employee timekeeping, recruitment and applicant tracking, payroll, performance management, and learning and development. It can be a highly effective system for managing a range of HR functions, and it is growing in popularity in companies across a range of industries. This is primarily because HR SaaS software can be an easily adaptable and cost-effective system for managing a great number of HR functions from any location.
Benefits of HR SaaS also include extreme flexibility, high-speed implementation, and low maintenance requirements. Plus, cloud storage means that data is both secure and protected against crashes and malfunctions as all data is encrypted and automatically backed up.
Types of HR SaaS
When it comes to HR SaaS, there are a number of options on the market. These HR solutions consist of two types of HR SaaS software: all-in-one solutions and pure-play specialized solutions . Whether you are a large established company or a small startup, investing in HRMS software can be a game-changer.
Here's a bit of information about both types to help you decide which HR SaaS solution is the best fit for your business.
All-in-one HR SaaS solution
An all-in-one HR SaaS solution isa generalist HR platform that you can use to manage all your human resources functions. For example, you can process tasks such as recruitment, onboarding, performance management, training, and payroll through one single platform. All data is centralized, and processes are streamlined and automated from one location.
By using one interface for all your processes,it makes it much easier to move data through each stage of the employee lifecycle. This removes the potential for information siloes.
Managing all your processes from a centralized all-in-one HR SaaS solution also makes things easier in terms of invoicing and budgeting as you only have to deal with one supplier. This makes it much easier to control costs. Plus, dealing with one supplier is usually much cheaper than purchasing dedicated tools for each HR process. This can be particularly beneficial if you are a small to medium-sized company with limited resources.
Pure-play specialized HR SaaS tools
The other option is using a variety of dedicated HR SaaS tools. For example, you can use an applicant tracking system (ATS) for recruitment, performance management tools to monitor productivity, payroll software to process wages and salaries, and a learning management system (LMS) to manage training and development, amongst other tools.
This can be a good option if you are a large multinational company with dedicated HR professionals for each function. However, there are a number of disadvantages to using dedicated platforms for each area of HR.
For one thing, if you buy specialized tools from multiple providersit can be complicated and expensive . Not just in terms of outright cost, but also because you will need to train your HR staff so that they are able to navigate multiple platforms efficiently. Plus, the more systems you use, the more chance there is that siloes will spring up. In contrast, you can use an all-in-one solution to keep all your data centralized. This makes it much easier to seamlessly transfer information from one tool to another.
Factorial HR Software is a HRMS. It is a versatile and customizable solution that simplifies and streamlines human resource management for growing businesses.
Recognizing the challenges faced by agile and evolving teams, Factorial offers a user-friendly platform that strikes a balance between powerful features and ease of use, making it an ideal choice for businesses of medium and small sizes.
Key features of Factorial's HR software
Make time off easier with an automated request and approval process, visualizing absences, and tracking vacation days:
Make it easy for employees to clock in and out, generate timesheets, manage breaks, and implement custom work hours: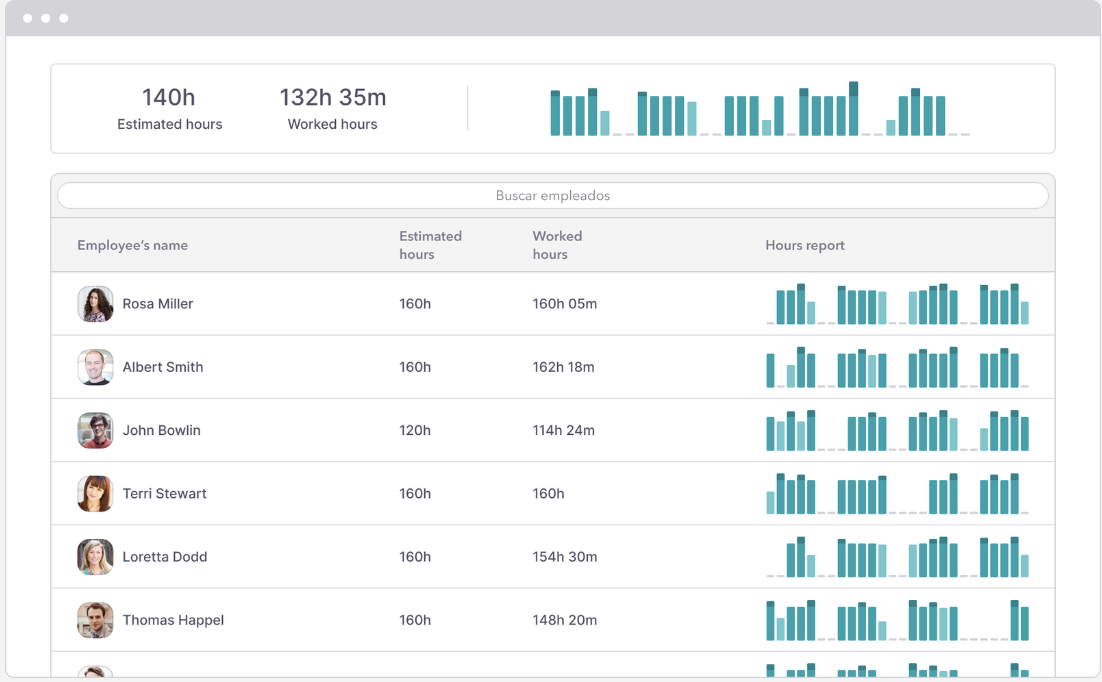 Manage employee shifts, absences, holidays, and schedules to keep things running smoothly: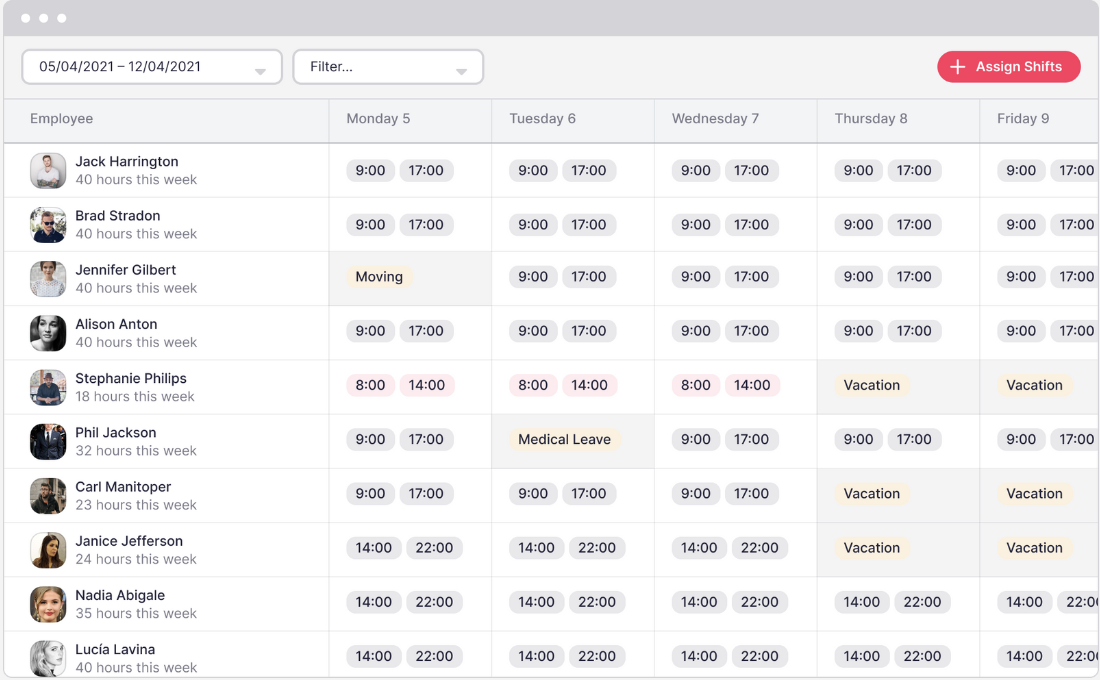 Speed up employee development and boost engagement with centrally managed performance reviews, goals, and feedback: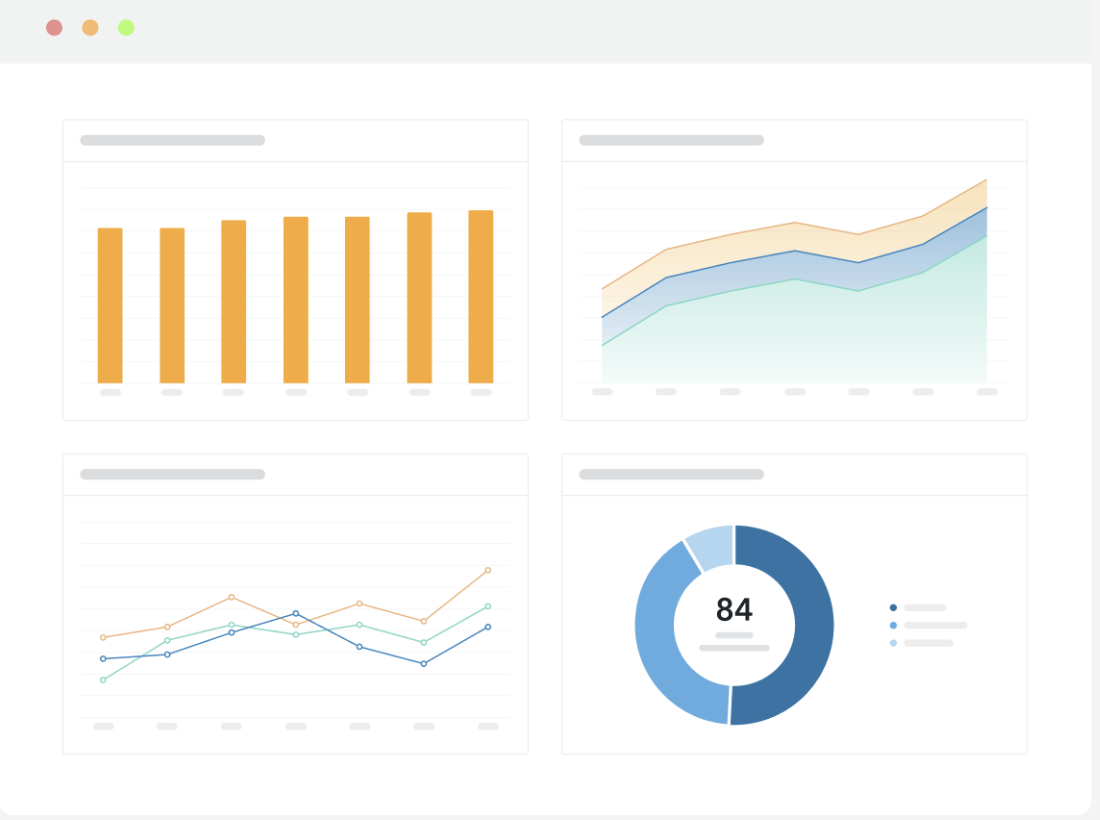 Track, manage, and collect candidates quickly with a candidate tracking system: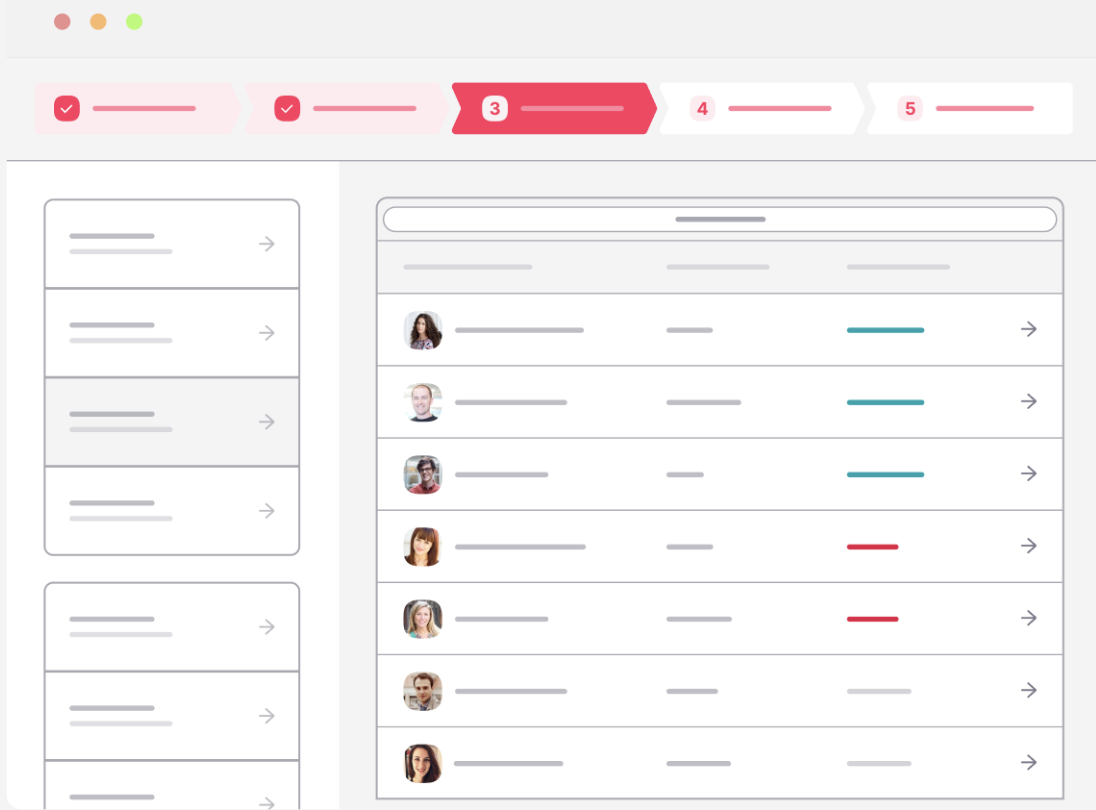 Simplify the onboarding and offboarding processes for new and departing employees, ensuring a smooth transition and compliance: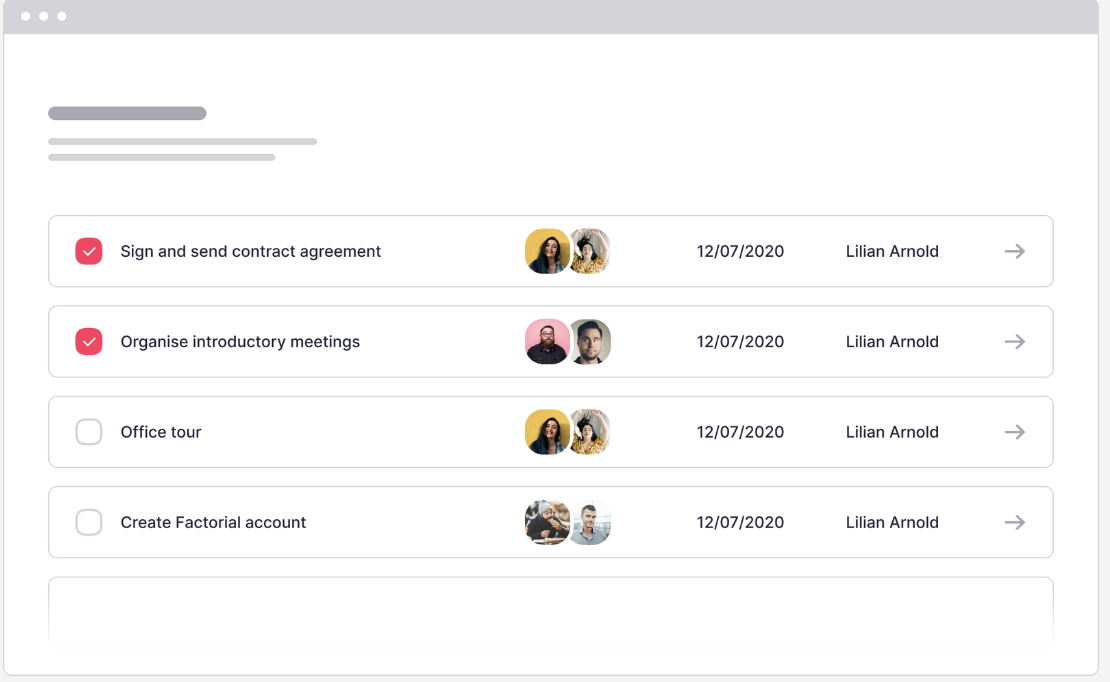 Facilitate goal setting and tracking with qualitative and quantitative metrics, increasing visibility and transparency in performance evaluations: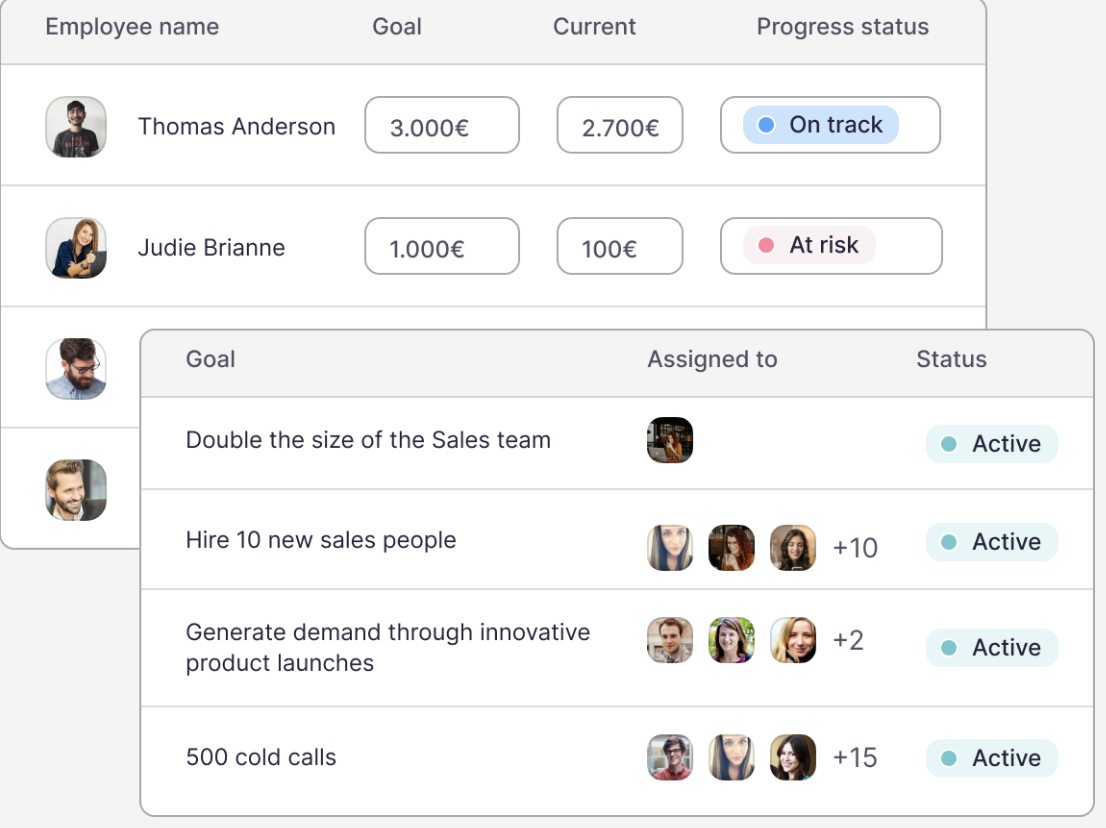 Seamlessly manage employee payslips, payroll cycles, variable calculations, and reimbursement through payroll integration:
Manage employee and company expenses in real-time, track spending, analyze reports, and simplify invoice approval processes: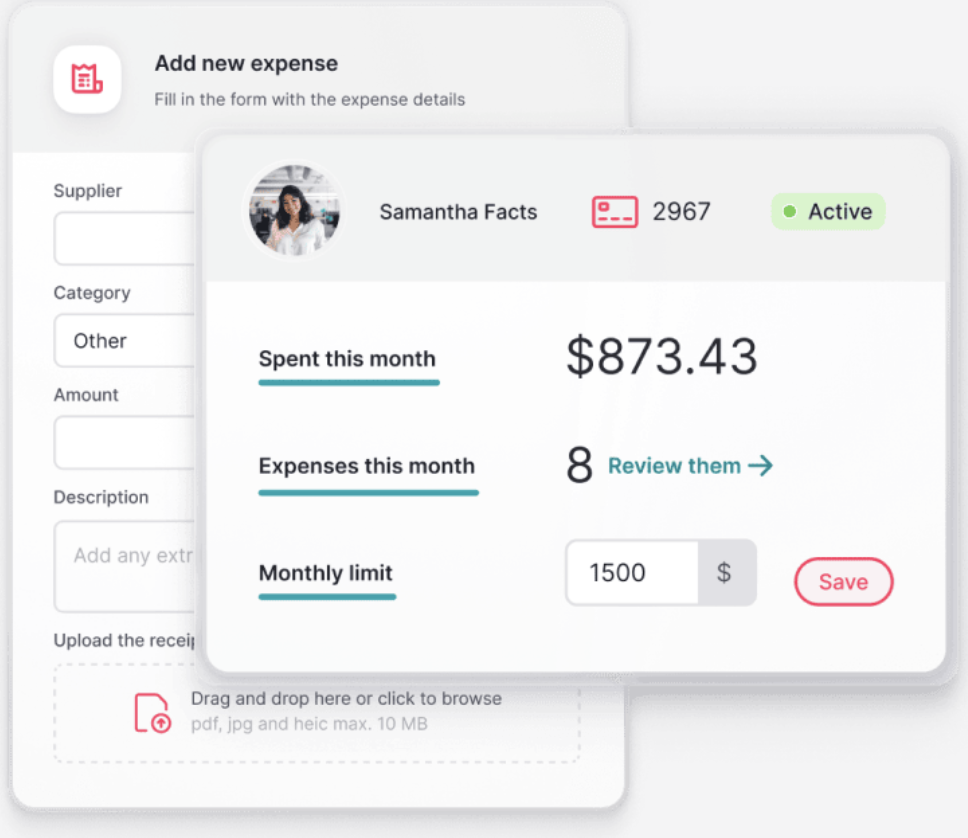 Integrate with other apps and platforms to enhance HR processes and streamline workflows: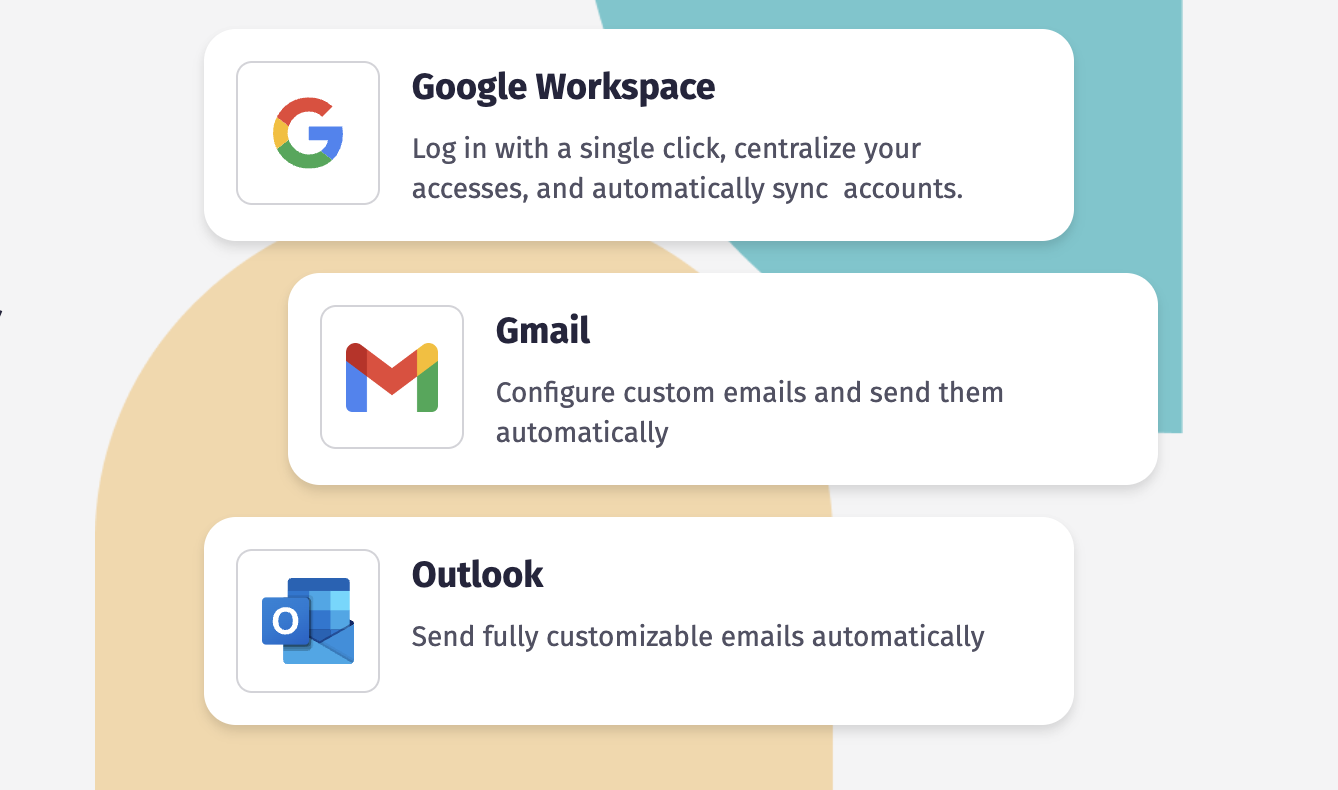 Store and organize employee documents securely, including e-signatures, ensuring easy access and compliance: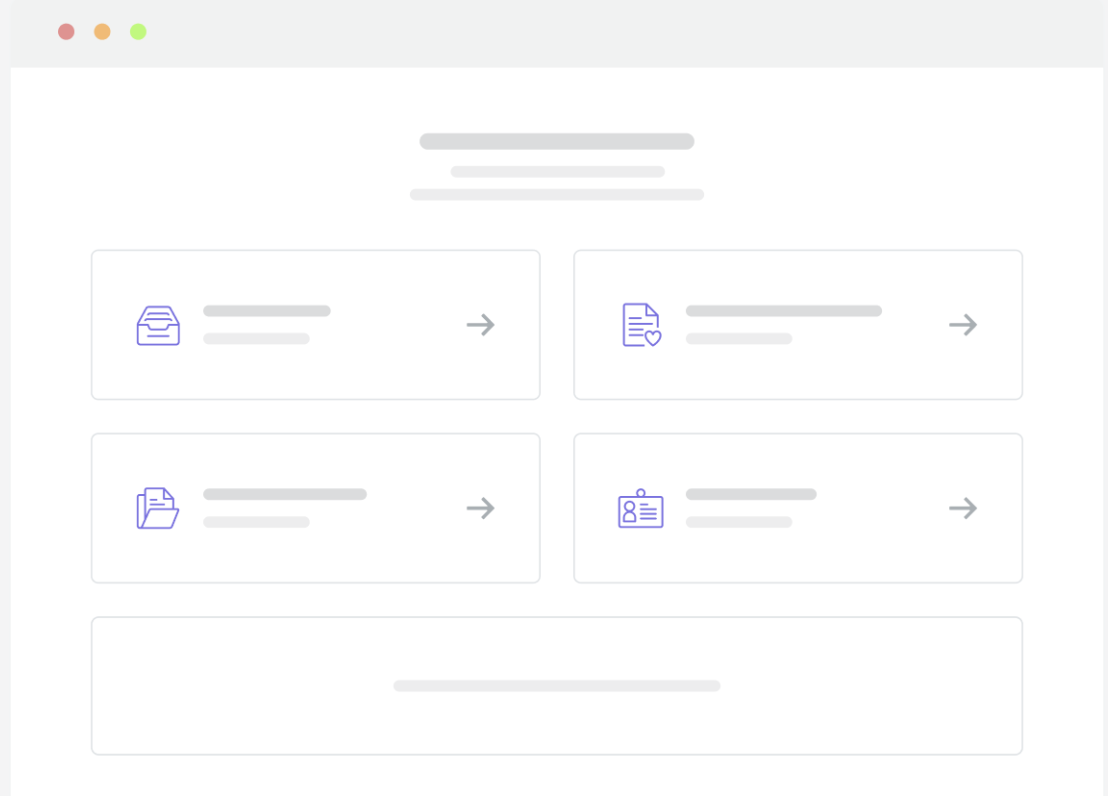 Utilize data-driven insights and analytics to track HR key performance indicators (KPIs) for better decision-making: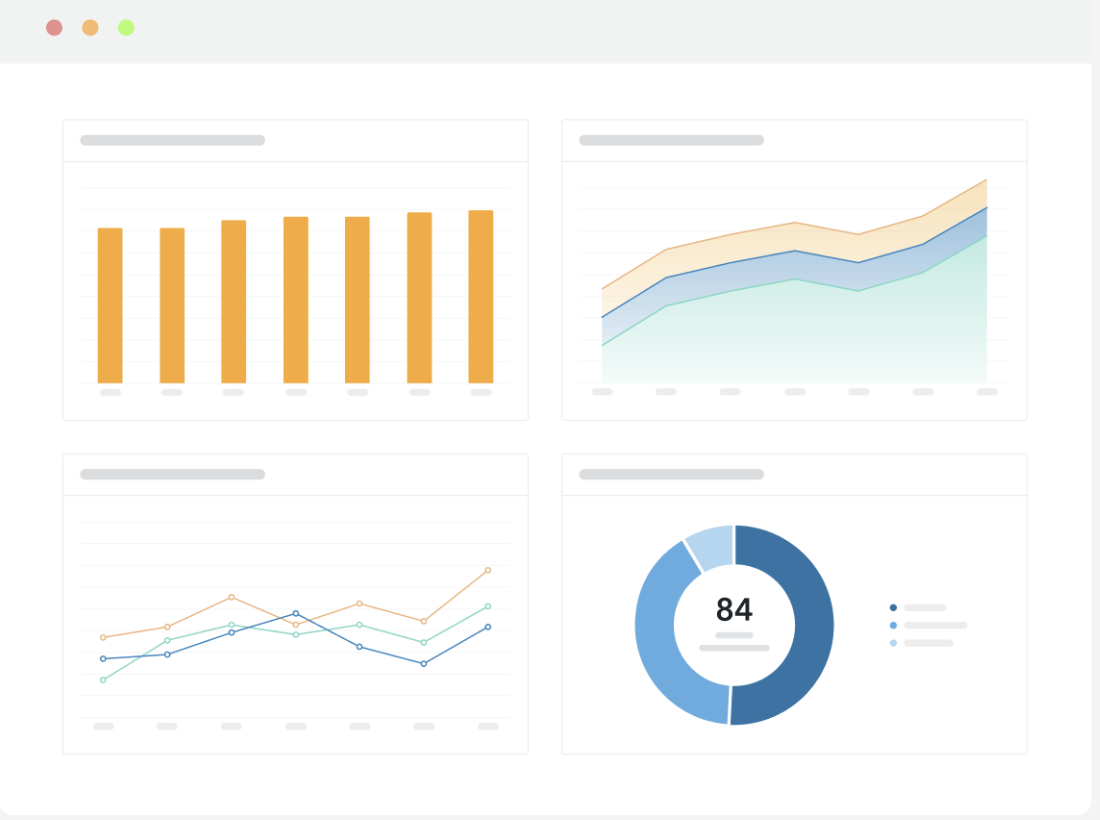 Visualize organizational hierarchies and structures, improving communication and understanding within the company: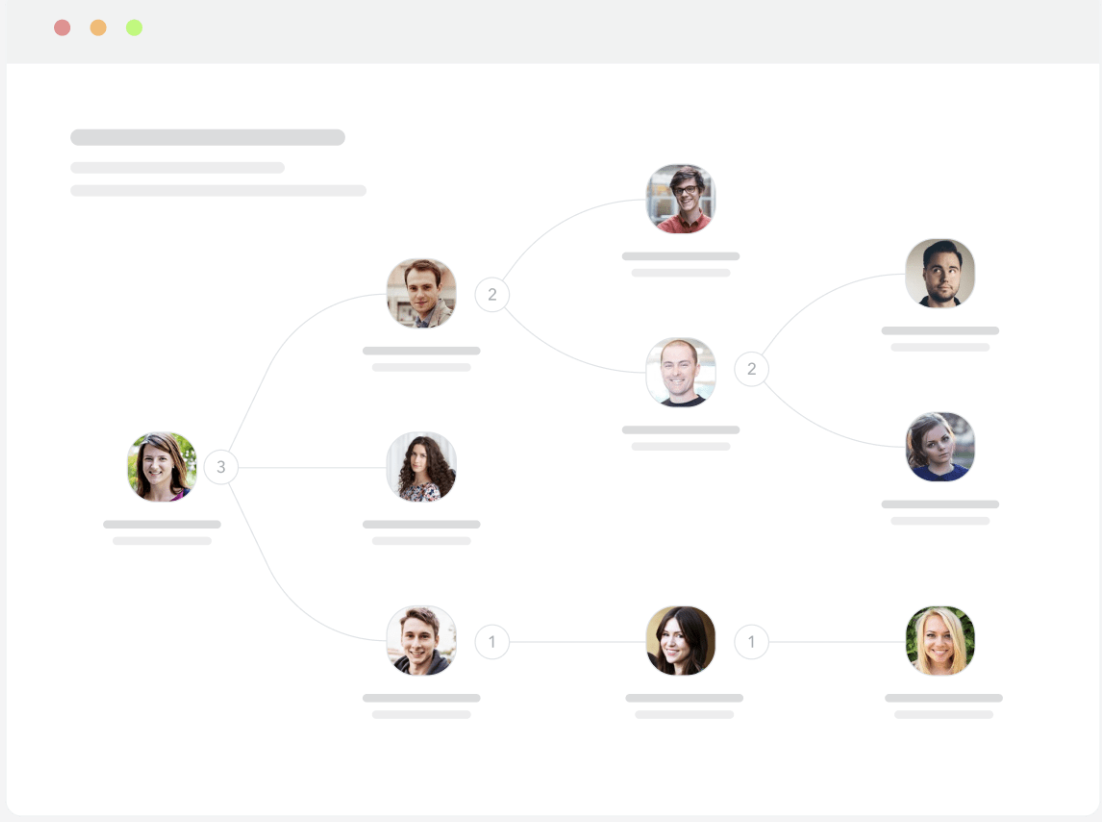 Provide employees with a mobile app for accessing company activities, clocking in/out, requesting leave, and staying connected to HR processes:

2023 HR Software Trends
In 2023, HR professionals are at the forefront of implementing strategies and leveraging technology to meet evolving expectations and challenges in this new era.
Here are some of the most relevant HR trends for 2023:
Remote/Hybrid Work Policies
With the prevalence of remote and hybrid work models, HR professionals prioritize HR software solutions that accommodate this new work environment.
Mobile app access, employee self-service portals, document management, and remote collaboration tools have become essential features to ensure seamless communication and efficiency in a dispersed workforce.
People-First Culture and Overall Well-Being
Employee well-being has taken center stage, as most of the workforce reports increased stress and burnout. HR professionals and senior leadership recognize the importance of a "people-first" culture that values employees as individuals and prioritizes their well-being.
HR software solutions are now incorporating tools for employee engagement and learning and development to support the mental and emotional health of the workforce.
Learning and Development
To retain top talent and maintain a competitive edge, companies are investing in learning and development initiatives. More than half of the workforce feels the need for additional training to enhance their job performance.
HRMS and HCM platforms with integrated learning management systems (LMS) are becoming popular choices for upskilling employees and unlocking their full potential.
DEIB in Workplace Culture
Diversity, equity, inclusion, and belonging (DEIB) have become critical factors in fostering an inclusive workplace where employees feel valued and accepted. While many companies recognize the importance of DEIB, there is still room for improvement in its implementation.
To address this, HR professionals are using objective metrics and analytics to track and respond to relevant data, allowing them to integrate DEIB into the company's structure and culture effectively.
Data-Driven

HR Strategies

Data and analytics in HR decision-making are gaining prominence. HR professionals are leveraging HR software solutions with advanced analytics capabilities to make data-driven decisions related to talent acquisition, employee performance, and workforce planning.

Employee sentiment tools and pay equity dashboards are helping HR teams uncover potential inequities and identify areas for improvement.

In conclusion, 2023 is shaping up to be a year of transformation for HR practices. HR professionals are embracing technology and data-driven strategies to create a people-centric workplace culture, support employee well-being, and foster an inclusive environment.

By staying ahead of these trends, companies can attract and retain top talent while adapting to the changing dynamics of the modern workforce.

Try Factorial HR Software for Free Now!