Back in the day, managing the time and attendance of employees was considered a simple task. Workers would come in every morning and punch the time clock. At the end of their work day, they would repeat this action and go home. However, times have changed. Nowadays people are juggling their work-life balance and as a result, flexible working arrangements have become more common.
With these changed work schedules, it has become crucial to find the right system to keep an accurate hour registration of your employees. Nevertheless, more often than not, the task of entering worked hours is put off. Workers rely on their notes, paper timesheets, email history and agenda. Which increases the chance of human errors. To keep organized and improve the hour registration, we are going to show you how you can create a time and attendance tracker for employees.
Create an Excel template step by step
Microsoft Excel is a program that can be used to create a time and attendance sheet for your employees. To start, you will need to install this software on your computer. Keep in mind that this is a paid program that can only be used for a limited time, unless your company offers the corresponding license. If you do not have access to this software, you can utilize an alternative program such as Google Sheets.
Create a new Excel file and give it a relevant name so that it can easily be found and recognized. An example would be: Time and Attendance [name of employee] [name of month].
The next step is to enter relevant information such as: the name of the employee, employee number, department and manager.
Create five columns below the information that you have entered in the spreadsheet. These columns can be used for the date, start and end times as well as the total amount of worked hours. The last column can be used for time off, comments or other relevant information that you would like to include.
Lastly, you can add a formula that counts the amount of hours that are entered into the spreadsheet.
If you have followed the steps correctly, you will have a template that looks similar to the one below: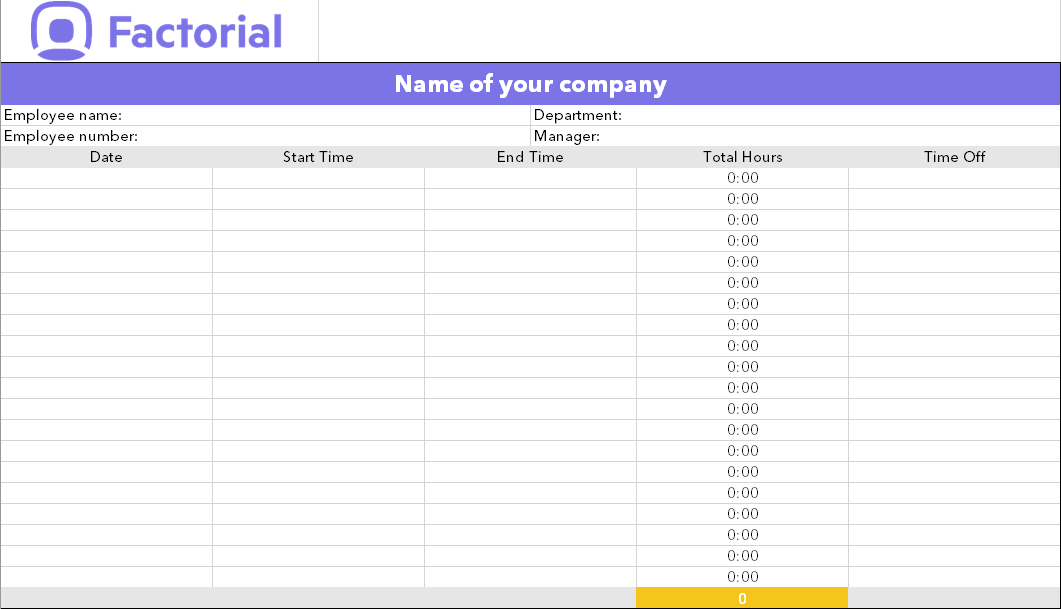 Do you want to save time?
We are not going to lie, entering data in Excel can become a tedious task and can take up a lot of precious time. Whether you are looking for a reliable system or want to speed up the process, we have the right solution for you. Our time and attendance feature revolutionizes the way HR operates. Employees are able to enter their worked hours with just one click of the button. At the end of the month, managers can review and approve timesheets. They also have the option to download a monthly report that summarizes the valuable data. The risk of wrong calculations is eliminated and time is saved.
Download Free Time and Attendance Template